New York may be known for a lot of things…but castles ain't one of them. However, let's change all that with this mega epic list of the best castles in New York state.
Because contrary to popular belief, this great state is positively brimming over with next-level beautiful castles that you need to see to believe.
Trust me. I should know. I've lived in this great state for 30+ years and am low-key obsessed with historic homes and ethereal castles.
Therefore, I've personally visited and know all about some of the top castles in New York state.
And I want to share all of my insider tips with you so that you can explore some top New York castles like the boss that you are.
So, if you wanna see the great state of New York like a REAL local then give this epic list a look. Because in this post, fairytales really do come true.
This post may contain affiliate links. Please see my disclosure for more information. As an Amazon Associate, I earn a small commission from qualifying purchases.
Best Castles in New York – NYC
1. Belvedere Castle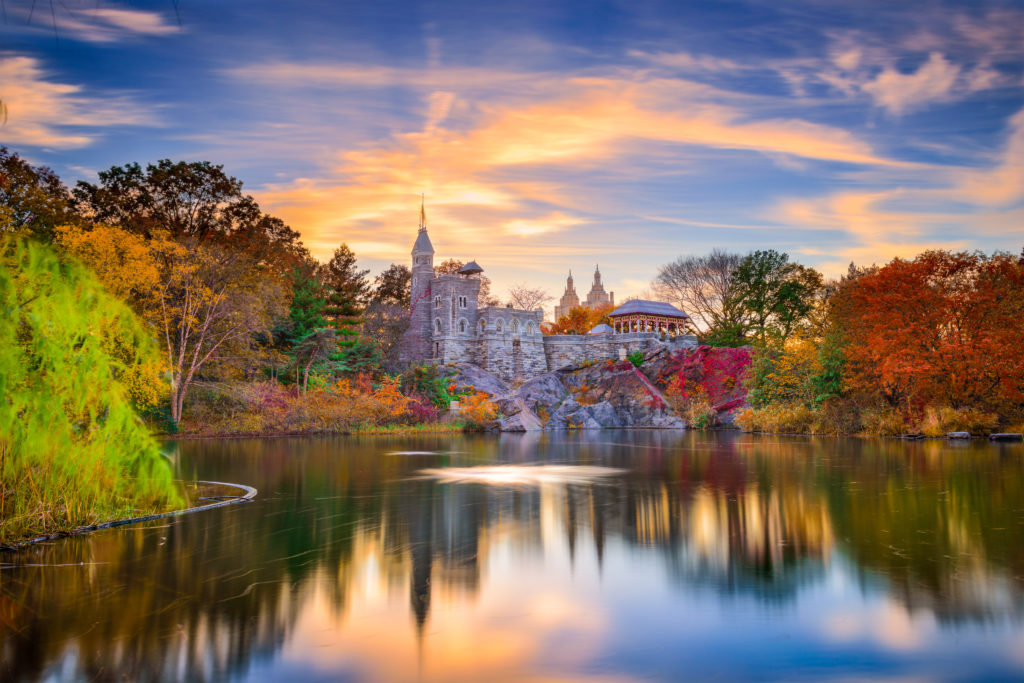 Belvedere Castle is one of the best castles in New York City for city slickers on a visit to the Big Apple.
I mean, you can't get any more convenient than a fairytale château right in the heart of NYC's famed Central Park.
Because this is one of the top castles in New York that blends Gothic and Romanesque architecture to create a postcard-perfect structure complete with turrets that sits atop Vista Rock on the edge of Turtle Pond.
And, once you climb the stairs, you'll also get a sublime view of Manhattan skyscrapers peeking up over all the greenery around you.
Now, in addition to its easy access from Midtown Manhattan, Belvedere Castle is also free to visit. So, lace up your sneakers and clamber up for epic views from the observation deck.
Because whether you're spending 24 hours or 4 days in NYC, Belvedere Castle should be at the top of your castle-hopping itinerary.
Pro Tip: Belvedere Castle sits right behind the MET so you could easily visit both at the same time.
Address: Central Park, New York, NY 10024, United States
Hours: Open Wednesday through Sunday from 10:00 am to 5:00 pm.
Price: Free
How to Get There: Take the C train to 81st Street/Natural History Museum and walk from there.
2. Castle Williams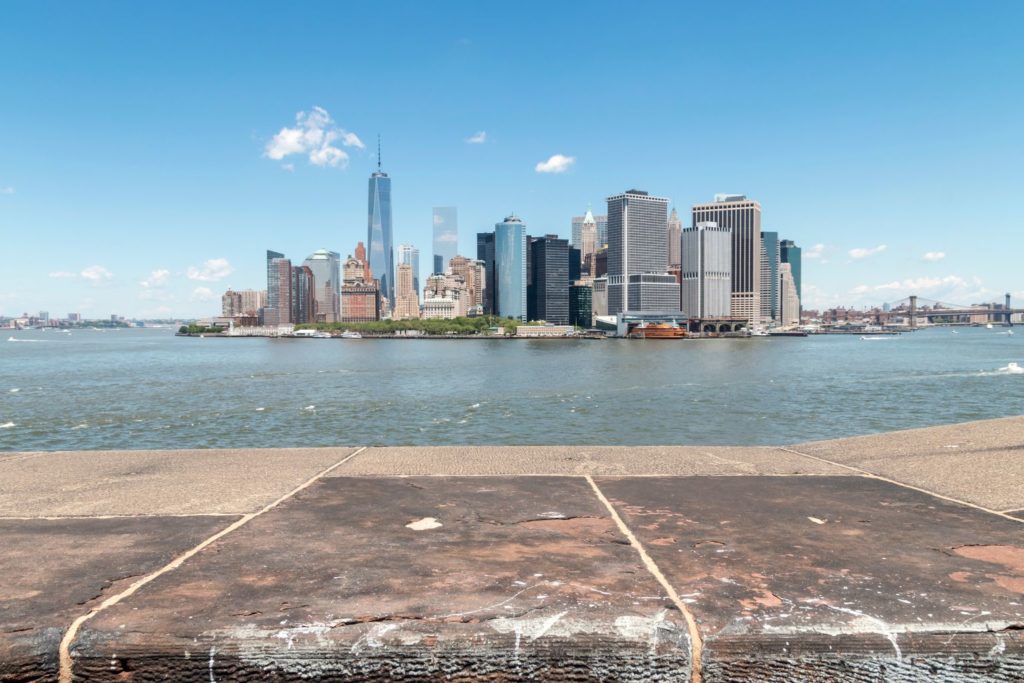 Castle Williams holds a commanding position on a former US Army base on Governors Island.
Completed in 1811, the construction of this defensive structure was overseen by Lieutenant Colonel Jonathan Willian of the US Army Corps of Engineers.
Therefore, it features top-of-the-line architectural elements that place it way ahead of the curve when it comes to design.
In fact, it was added to the National Register of Historic Places in 1972.
However, by that point, its use as a fortification had long since come to an end.
Actually, the sandstone fort has undergone extensive refurbishment and has served as barracks, a prison, a youth community center, and a museum.
And to think, there were some who lobbied to flatten Castle Williams once it was retired from naval duty.
This is also one of the best castles in New York for summer visitors since tours are held here throughout the warmer months.
However, you can roam around the exterior at any time of year.
Address: Governors Island
Hours: Open Saturday and Sunday from 10:00 am to 5:00 pm throughout the summer.
Price: Free
How to Get There: Catch a ferry to the island from the Battery Maritime Building in Lower Manhattan.
3. Bayside Historical Society
Bayside Historical Society is a handsome mansion built in the Late Gothic Revival style – complete with ornamental battlements and a scarlet facade.
It's also located in Fort Totten Park in Queens. Therefore, it's an easy castle to tick off your list of the best castles in New York while traveling in NYC.
Originally, the building was used as a mess hall by the US Army Corps of Engineers. Nowadays though, it's a cultural institution that doubles as an event venue and filming location.
There are also several exhibitions that cast a spotlight on Queens, specifically on the northeastern part of the borough.
And while these change periodically, you can expect to find the likes of family correspondence on display as well as vintage holiday cards and photography.
So, if you want to roam the interiors and check out the current exhibition, a suggested donation of $5 is highly appreciated.
Plus, you can expand your day out with a stroll through the surrounding gardens, ponds, and war monuments.
Address: 208 Totten Ave, Queens, NY 11359, United States
Hours: Museum is open from 12:00 pm to 4:00 pm from Tuesday through Thursday.
Price: $5.00 suggested donation.
How to Get There: Take the Port Washington Branch of the LIRR to Bayside and walk from there.
4. Castle Clinton National Monument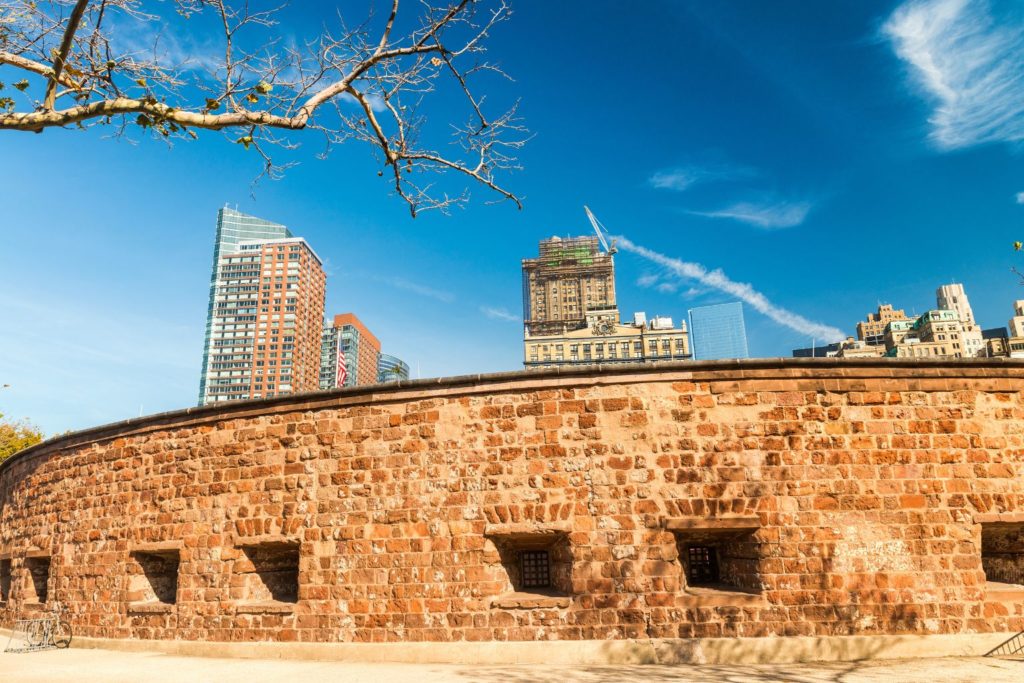 Castle Clinton National Monument is one of the best castles in New York that is situated in Battery Park.
Actually, the monument goes by a bunch of names. Those include Fort Clinton, Castle Garden, and West Battery.
But, more importantly, this fort was used as the inaugural immigration station in North America, between the years of 1855 and 1890.
At the time of completion, it was sited on an offshore island – where it warded off a planned invasion from the British.
However, it's now firmly rooted on Manhattan turf which makes visiting far easier. It's also where you can purchase ferry tickets to both Ellis Island and the Statue of Liberty.
In fact, Castle Clinton is considered symbolic of the growth of both the city and the US as a whole.
And with no admission fee, the national monument is one of the best castles in New York for travelers on a budget since it's one of many free things to do in NYC.
Address: Battery Park, New York, NY 10004, United States
Hours: Open daily from 7:45 am to 5:00 pm.
Price: Free
How to Get There: Take the 1 train to South Ferry and walk from there.
Best Castles in New York – Thousand Islands Region
5. Boldt Castle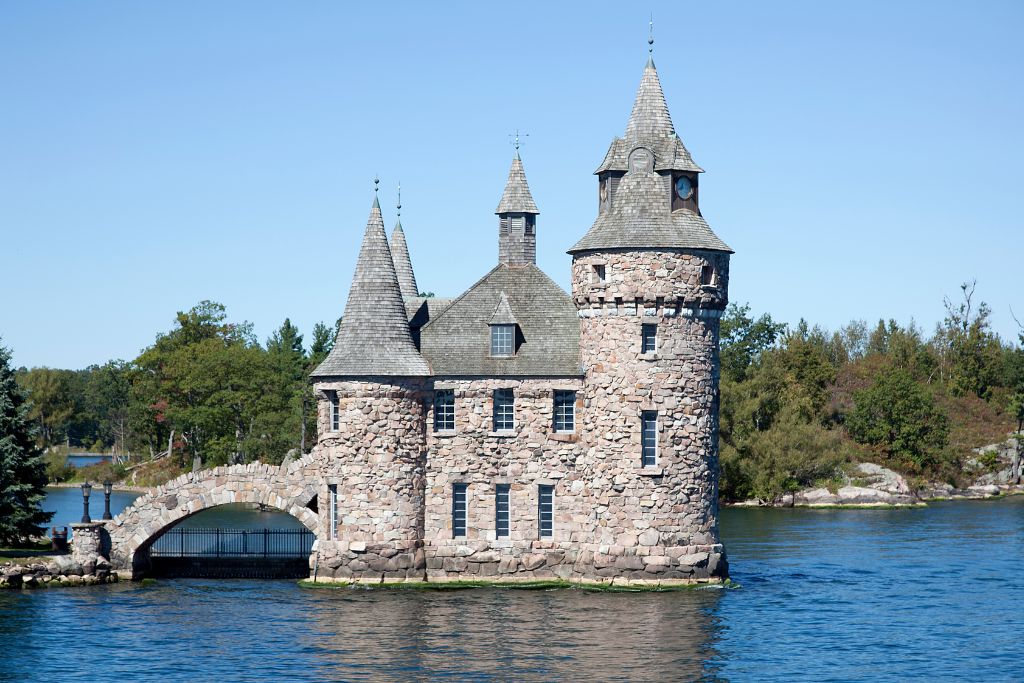 Marooned on Heart Island, Boldt Castle is one of the best castles in New York for jaw-dropping scenery and an insanely awesome experience.
See, this sumptuous mansion was initially built as a gift for the wife of millionaire hotelier George Boldt. However, sadly, she passed away shortly before work was completed in 1900.
Now, Boldt Castle is under the care of the Thousand Islands Bridge Authority. And a tourist attraction, the castle is open seasonally only.
So, besides touring the castle interiors, you can see the Power House, the Alster Tower, the Hennery, the Arch, and the stone gazebo.
And because the castle spans an amazing five acres of land, you can spend a whole day exploring the property
However, access is only possible via boat. And Uncle Sam Boat Tours is the premier operator in the area, running a shuttle service every 30 minutes to the island from mid-May through mid-October.
Plus, there is no need to pre-book tickets. Just show up and allow plenty of time for your visit.
Address: PO Box 428, Collins Landing, Alexandria Bay, NY 13607
Hours: Open daily from 10:30 am to 6:30 pm from May 13th through October 9th.
Price: Tickets are $11.00 for adults and $8.00 for children.
6. Singer Castle
Ever wanted to live like royalty? If so then you can fulfill all of your most regal fantasies at Singer Castle!
See, Singer Castle is located on Dark Island, which sits just northeast of Boldt Castle in the Thousand Islands region. Actually, it's pretty much right on the border between Canada and the US.
It was also known simply as "The Towers," and belonged to the Bourne family from the early 1900s through to the mid-1960s.
Story has it, the sewing machine tycoon Frederick Bourne wanted to surprise his family with new digs. Thus, Dark Island was acquired, and Singer Castle was born.
Today though, one wing of the castle is available to book for the night.
And the Royal Suite here comes fully furnished with an antique king-sized bed and period-style dressers, desks, and ornamentation.
Plus, in addition to your lodgings, you'll receive dinner, breakfast, and a private tour of the castle.
However, one of the most curious aspects of the castle is its network of underground passageways and dungeons.
And, these puzzling tunnels are open to the public. But, even if you don't rent the castle for the night, you can visit Singer Castle and its mysterious subterranean lair as part of a private tour.
Address: 1136 County Route 6, Chippewa Bay, NY 13623, United States
Hours: Open Monday, Wednesday, Friday, Saturday, and Sunday from 10:00 am to 4:00 pm from April 30th to October 17th.
Price: Tours are 45-minutes long and cost$14.75 per adult and $7.75 for children.
Best Castles in New York – The Adirondacks
7. Highlands Castle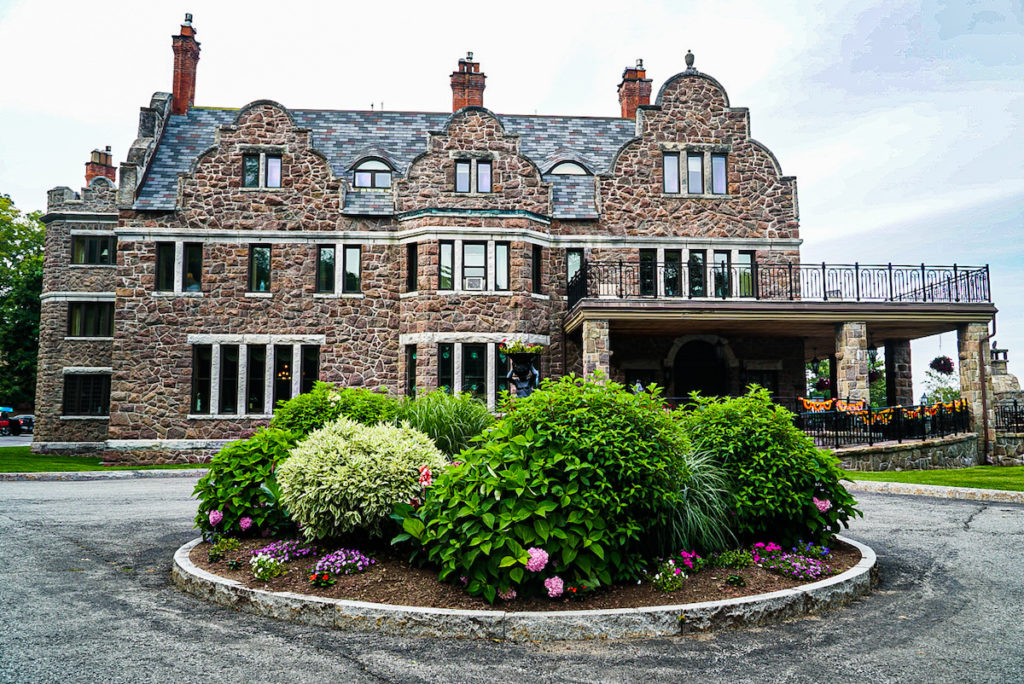 Highlands Castle is a heartstopping boutique hotel nestled in the Adirondacks.
Sitting on a hilltop within the forest, the property's terrace and suites grant patrons stellar views over Lake George and the Adirondack Mountains.
You also have the option to book a suite or rent the entire complex if you wanna be a total baller. After all, this snazzy, medieval-inspired castle is a popular spot for weddings, honeymoons, and other special ocassions.
And because this is one of the best castles in New York that can only accommodate up to 18 people, it retains an intimate feel about it.
Sadly though, it isn't possible to visit the estate without a valid hotel reservation.
But that's okay since the "Royal Bedroom" leaves no stone unturned with its high-quality bedding, an en-suite bathroom with a soaking tub, and a private balcony.
Then, elsewhere on the premises, you can check into the Castle Cottage or the Castle Gatehouse.
Whichever unit you pick though, you'll fulfill a once-in-a-lifetime experience during your stay at this family-owned castle resort.
Address: 19 Skyline Dr, Bolton Landing, NY 12814, United States
Hours: The front desk is open 24 hours per day.
Price: $1700+ per night.
8. Skene Manor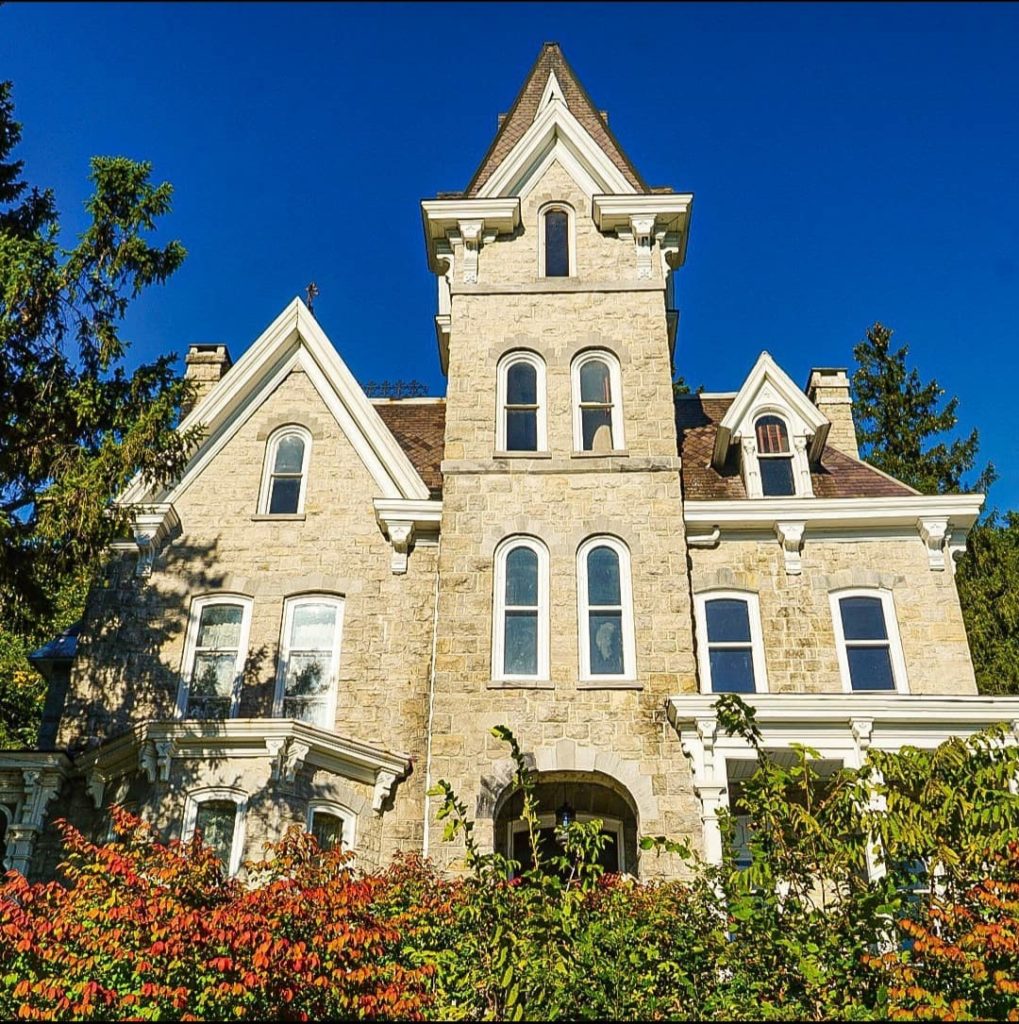 Erected between 1872 and 1874, Skene Manor marries imposing Victorian-Gothic architecture with delicate touches around the edges.
So, when you see it, you'll want to pack a bag and move right in one of the top castles in New York.
Eventually completed in 1874, the manor is assembled from pretty gray sandstone. It's topped with a mansard roof while a sequence of bracketed porches gives it a country-residence vibe.
In fact, Skene Manor was listed on the National Register of Historic Places as the Judge Joseph Potter House.
FYI, that's the original owner who was responsible for the construction of the residence.
However, Skene Manor has since passed through several different hands since then.
Now, the castle is in the safe hands of the Skene Manor Preservation, Inc.
Thus, it's been fully restored and regular maintenance keeps the property in excellent condition.
Regular free tours are also offered at specified times, generally on Fridays, Saturdays, and Sundays.
Plus, you can visit the tea room and gift shop during opening hours for a homemade bowl of soup and a delicious piece of cake.
Address: 8 Potter Terrace, Whitehall, NY 12887, United States
Hours: Open Friday through Sunday from 12:00 pm to 4:00 pm.
Price: Tours are free.
Best Castles in New York – Long Island
9. Oheka Castle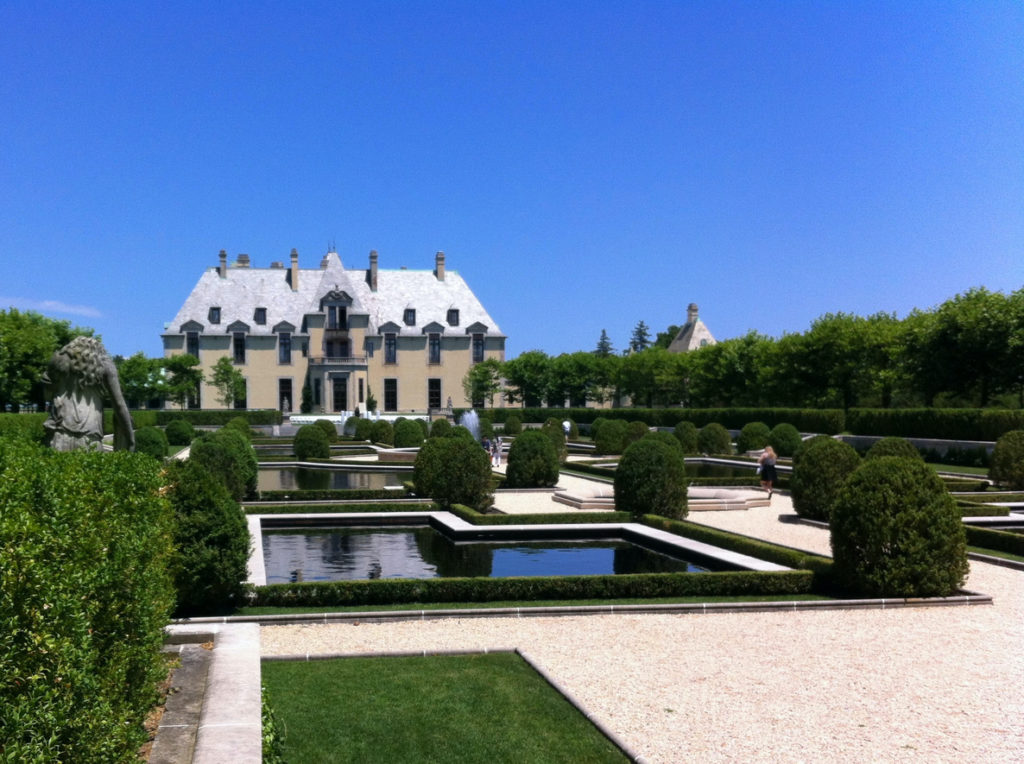 Oheka Castle is another of the best castles in New York for an indulgent night away from home on Long Island.
Plus, thanks to its awesome location you can easily squeeze in a night while on a shorter visit from NYC.
So, let Oheka Castle whisk you away to rural France since the edifice is painted a vibrant cream color with a chateau-style estate that is set within verdant landscaped gardens.
Now, before being revamped as a resort, Oheka Castle was the summer residence for investment financier Otto Hermann Kahn.
Richly appointed with period piece furniture, authentic pieces of art, and twinkling chandeliers, you can't get more luxe than this.
Plus, when you're not soaking up the comforts of your room, the estate has an award-winning restaurant and bar for you to enjoy.
But if you're not able to stay overnight but want to fawn over the architecture and interiors, tours are available upon advance reservation.
Address: 135 W Gate Dr, Huntington, NY 11743, United States
Hours: Tours are 1-hour long and offered somewhat daily at 11:00 am. They also must be booked in advance.
Price: Mansion tours are $30.00 for adults, $25.00 for seniors, $15.00 for hotel guests, $20.00 for students, and $10.00 for children.
10. Castle Gould
If Castle Gould looks a little familiar to you, that might be because it was modeled after Kilkenny Castle in Ireland.
And at the time of completion, the castle functioned as the stables, carriage house, and servants' quarters for the main residence – Hempstead House.
Fun fact, Castle Gould was designed as a dwelling for the Gould family. But, the wife of Howard Gould, Katherine Clemmons, decided it wasn't quite to her taste.
Assembled from limestone, the castle features typical defensive elements including a fortified gatehouse with decorative battlements. You'll also spot a nifty little clock tower too.
Nowadays, Castle Gould houses a visitor center while its Great Hall hosts weddings and the occasional public event.
However, the main body of the castle is not open to tourists.
Plus, as a major component of the Sands Point Preserve, you can visit Castle Gould in tandem with a trip to several other local landmarks – like Sands Point Lighthouse and the Falaise Museum.
And, added bonus? The castle facade is a perfect spot where you can flex your photography skills like a boss.
Address: 127 Middle Neck Rd, Sands Point, NY 11050, United States
Hours: Open Wednesday through Saturday from 11:00 am to 6:00 pm and Sunday from 9:00 am to 6:00 pm.
Price: Falaise tour tickets are $15.00 per person, Hempstead House tickets are $10.00 per person, and entrance to the Preserve is $15.00 per car for non-members.
Best Castles in New York – The Catskills
11. Beardslee Castle
Seeking inspiration from the castles of Ireland, Beardslee Castle is a truly magical place.
And while work on the project began in the late 1790s, it took almost 70 years to complete the structure.
It's also named for the Beardslee family but the design was overseen by Augustus Beardslee – the son of widowed Lavina Beardslee.
These days though the keep is used as a restaurant where upscale American cuisine is served within the cozy banquet hall.
It's also comes complete with vaulted ceilings, exposed brickwork, and an open fireplace that gives the venue a tremendous amount of atmosphere. Coupled, of course, with landscaped gardens that look resplendent both throughout the day and in the moonlight.
Plus, Beardslee Castle is one of the best castles in New York if you're looking for some spooky happenings. Because legend has it that the castle is haunted.
However, that doesn't interfere with business at the restaurant. In fact, the castle hosts regular Murder Mystery-themed dinners with theatrical performances.
Advance booking is required though if you want to dine at the castle.
Address: 123 Old State Rd, Little Falls, NY 13365, United States
Hours: Open Friday and Saturday from 5:00 pm to 9:00 pm and Sunday from 4:00 pm to 8:00 pm.
Price: Entrees start at $26.00 each.
Best Castles in New York – Hudson Valley
12. Bannerman's Castle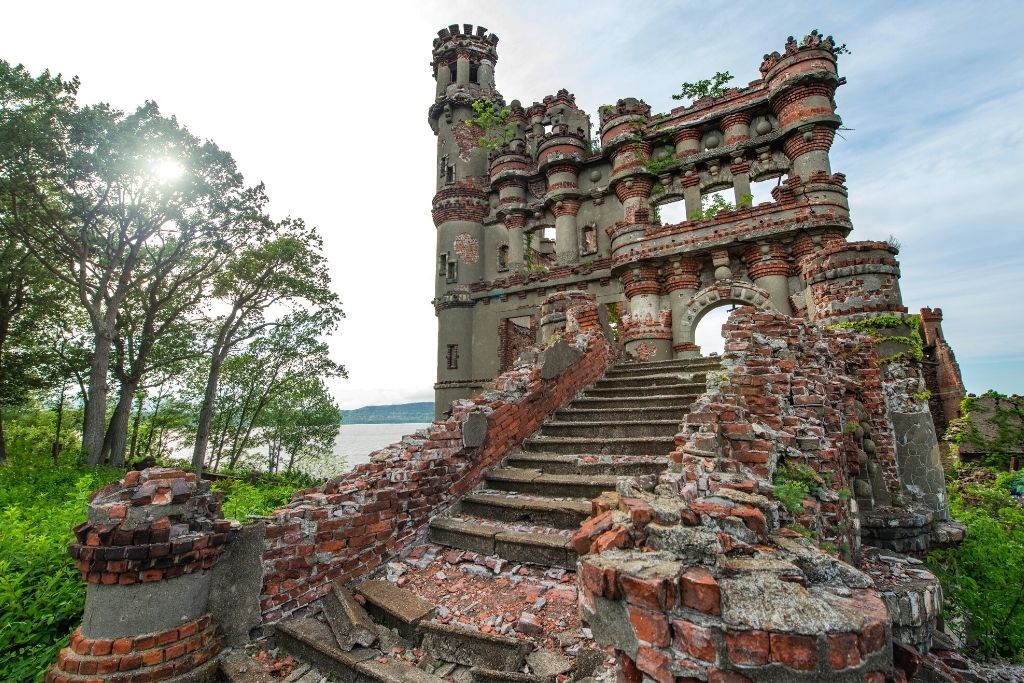 You'll need to get your feet wet if you want to visit one of the best castles in New York and the Hudson Valley.
Well, not really, but as with the Thousand Island castles, you will need to hop aboard a boat.
See, Bannerman's Castle is built on Pollepel's Island off the eastern shore of the Hudson River.
And while it was once used as a military warehouse and arsenal, the abandoned castle currently stands in a glorious state of ruin.
In fact, as the edifice rises from the woodlands you can often catch a glimpse of it from the train.
However, if you want to visit the island itself then you'll be delighted to know that ferries link Beacon with Bannerman's Castle.
Or, for something even more adventurous, you can take a kayak tour and then hike the island.
Furthermore, the castle hosts seasonal movie nights, theater productions, and fancy feasts fit for a king.
Per usual though the property is only open during the summer months so plan accordingly.
Address: Tours depart from the Beacon Institute Floating Dock, making this one of the best things to do in Beacon too.
Hours: Tours are 2.5 hours long and depart Thursday through Sunday at 6:00 pm, Thursday/Friday at 11:00 am, 12:30 pm, 2:00 pm, and 3:30 pm Saturday/Sunday. They can vary though so always check their website.
Price: $40 per person for adults and $35 for children.
13. Mohonk Mountain House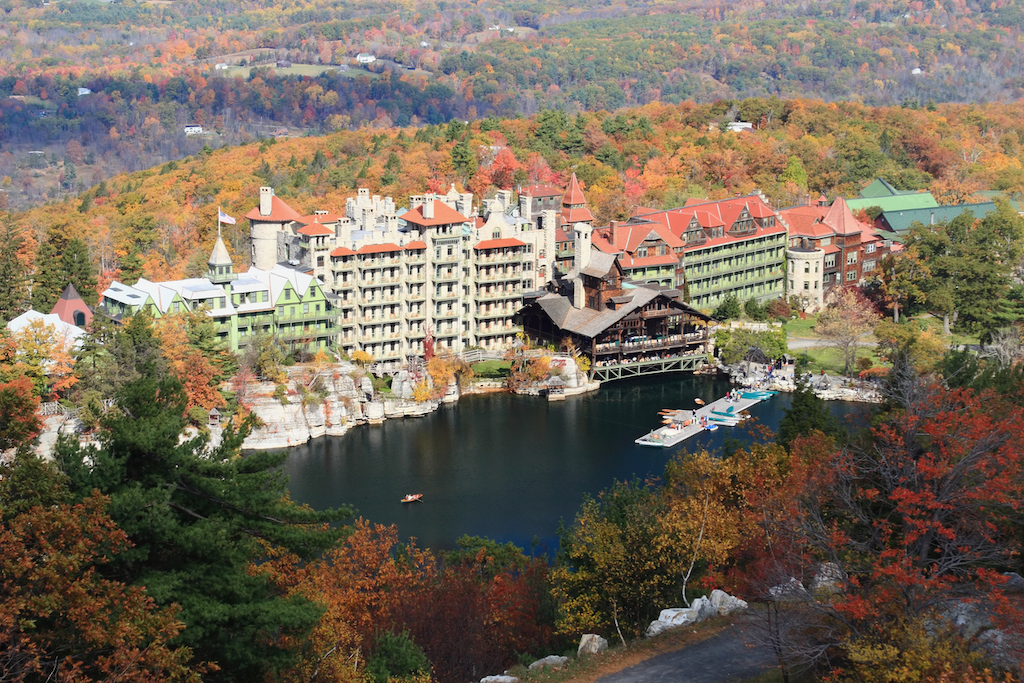 Mohonk Mountain House sits along the northern edge of Mohonk Lake in the Hudson Valley, right near New Paltz.
It's easily one of the best castles in New York for a sleepover since the Mohonk Mountain House is like a super deluxe vacation home with all the trappings of a luxury castle retreat.
So, given that the castle was built in the Victorian era, the rooms and suites are faithful to the building's incredible history.
Therefore, imagine opulent wood paneling, open fireplaces, and antique-style furnishings. Most units even come with private balconies that overlook the lake and/or forest.
Beyond the bedrooms, you've got exquisite dining options and daily subsistence courtesy of the old-fashioned soda fountain.
And if you're in the mood for some serious pampering, check into the on-site spa complete with a heated mineral pool.
Yeah, the menu covers all the necessary treatments to revitalize your mind, body, and soul. Plus, you can practice yoga or meditate at the summerhouse with a lake view.
Address: 1000 Mountain Rest Rd, New Paltz, NY 12561, United
Hours: Front desk is open twenty-four hours per day.
Price: $1,000+ per night for a room. But you can always just visit Mohonk Preserve and tackle some of the best hikes in the Hudson Valley.
14. Wing's Castle
Wing's Castle is a cute-as-a-button château that'll make you feel like you've wandered into Hobbiton.
In fact, if you're harboring dreams of sleeping in Bag End – this is about as close as you'll get in New York State.
And you're in luck because one of the top castles in New York is open for business as a bed and breakfast.
Built from stone and topped with medieval-style turrets, the castle residence is set among private gardens. Oh, and pack your swimsuit if you want to take a dip in the on-site pool.
You'll also love that all four guest suites are entirely unique. And snazzy options include the extremely atmospheric Dungeon, two palatial castle chambers, and a storybook cottage in the woods.
Plus, your stay includes a complimentary continental breakfast that is made using nothing but the finest local ingredients.
Oh, and this kooky guesthouse sits right near the Millbrook Vineyards and Winery. So, you can safely walk over for a tasting and/or tour without scrambling to find a designated driver.
Address: 717 Bangall Rd, Millbrook, NY 12545, United States
15. Olana Historic Site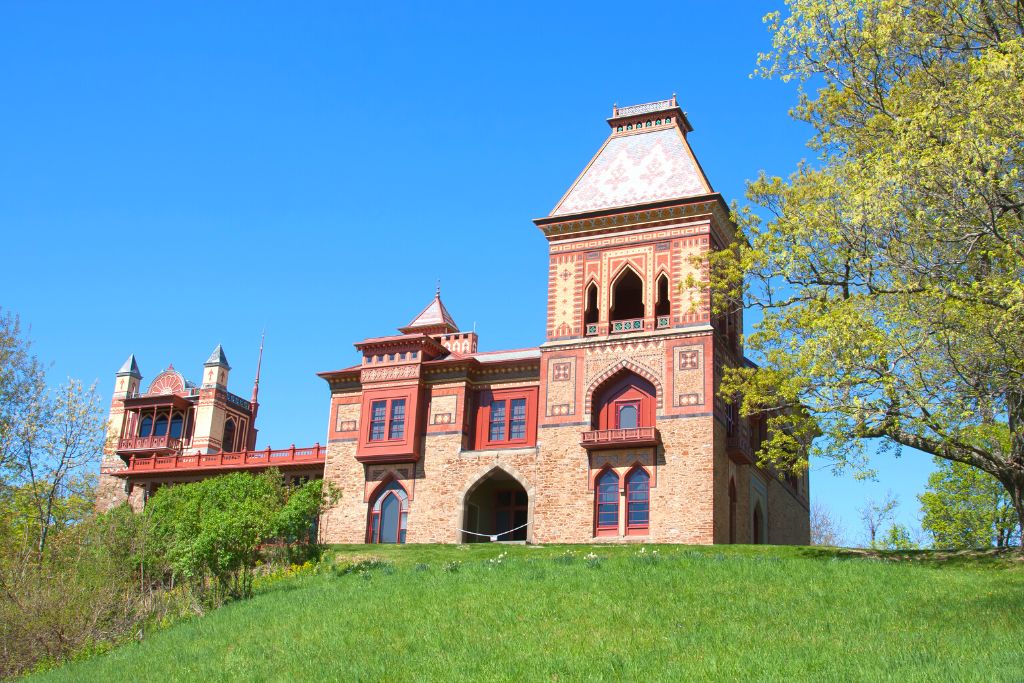 Olana Historic Site is one of the best castles in New York for showcasing spectacular Victorian architecture with a Persian twist.
See, this place was originally designed as the home of the artist Frederic Edwin Church and his family.
However, the property now displays his sketches and paintings, in addition to a lavish interior that looks exactly as it did when the family was in residence.
Besides his artistry, Church was also an avid traveler and a self-taught architect, farmer, and landscape designer.
Therefore, the entire complex is dripping with unique art and beauty. In fact, the exterior of the building alone is worthy of your time – particularly since it sits atop a hill and offers stunning views of the Catskills.
Naturally, this is an awesome pick for fall visitors.
Incidentally, the Olana Historic Site is one of only a handful of artist homes and studio estates in the US.
This building is also open year-round with different packages for tours based on how much of the collection you want to see. Meanwhile, self-guided tours operate Friday through Sunday.
Address: 5720 NY-9G, Hudson, NY 12534, United States
Hours: Open daily from 8:00 am to 5:00 pm.
Price: Tour prices vary between $10 and $40 per person based on the tour you select.
16. Lyndhurst Mansion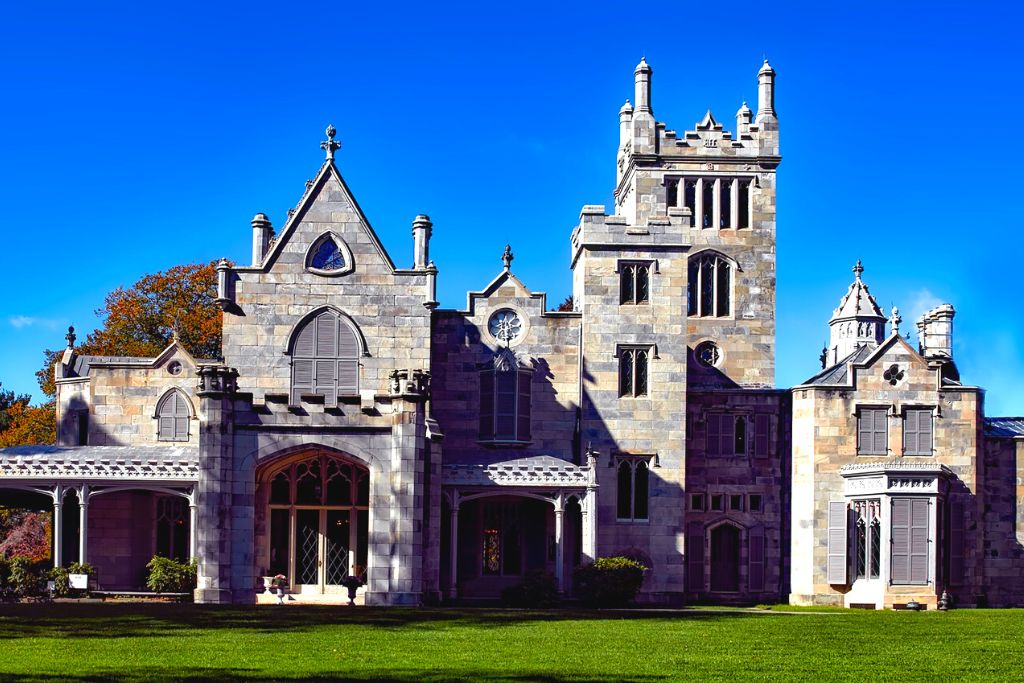 If there's a castle that'll cause you to look twice, it's Lyndhurst Mansion.
This majestic manor in Tarrytown sits on 67 acres on the banks of the Hudson River, right near Sleepy Hollow.
Developed by Alexander Jackson Davis in 1838, this Gothic Revival style property features unusual architectural elements.
So, take time to pore over the asymmetrical outline, fanciful turrets, and an imposing four-story tower in the north wing.
And as a National Historic Landmark, Lyndhurst Mansion is open seasonally for the public to explore.
So, for a general overview, the Classic Mansion Tour has you covered.
Or, book the Backstairs Tour if you want access to the observation tower, castle kitchens, and the laundry outhouse (do the tour and explore the property because the interior is exquisite).
But, make sure you factor in time to roam the tranquil grounds too, complete with flower beds, fountains, and an old-school bowling alley near the river.
Actually, the best way to go about your visit is to pack a picnic and turn your outing into a full-blown adventure.
Address: 635 S Broadway, Tarrytown, NY 10591, United States
Hours: Open Thursday through Monday from 9:00 am to 4:30 pm.
Price: Tickets start at around $26.00 and you will have to pay to enter the grounds as well.
17. Frederick Ferris Thompson Memorial Library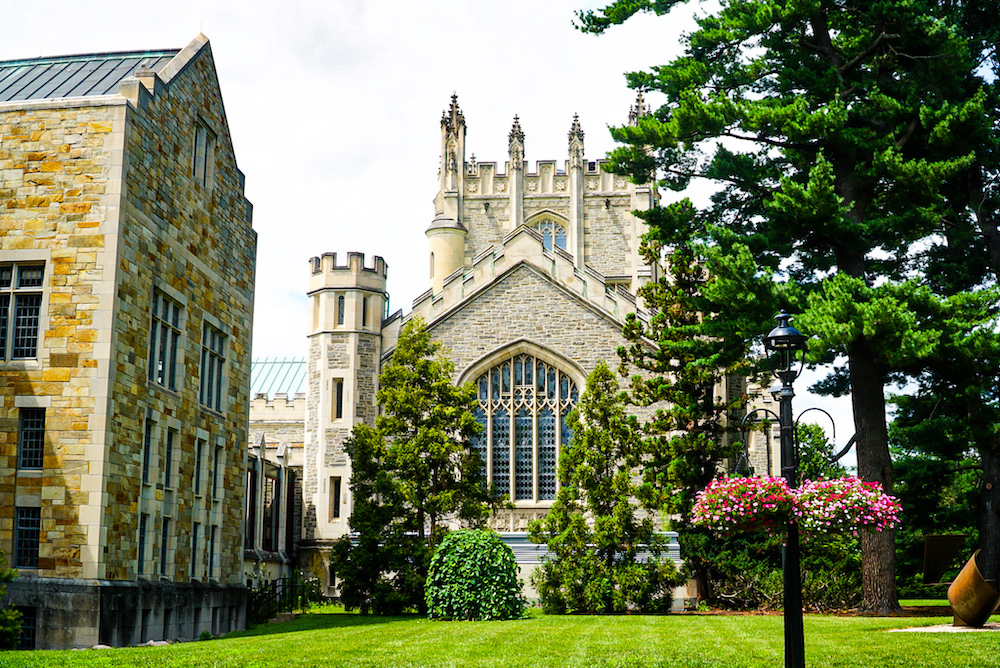 Situated in Arlington, the Frederick Ferris Thompson Memorial Library is part of the Vassar College complex – making this one of the best things to do in Poughkeepsie.
Now, this absolute knockout of a castle brings to mind Ivy League institutes and is chiseled out of Germantown stone since the structure was designed by Francis R. Allen in the Perpendicular Gothic style.
Divided across three wings, the central tower is crowned with battlements and pinnacles to create an imposing yet beautiful finish.
In general, the Thompson Library is exclusively open to students and external scholars only during semesters.
However, the venue is open to the public during winter, spring, and summer breaks.
Therefore, if you want to explore their collections or settle down for a few hours of reading, you'll need to visit at one of these times.
Otherwise, you can wander the campus and appreciate the facade from the lawn.
Address: 15 Main Campus Dr, Arlington, NY 12603, United States
Hours: Open Monday through Friday from 8:30 am to 4:30 pm.
Price: Free
18. Castle Rock
Now, Castle Rock is one of the best castles in New York for hikers.
Sited right on the outskirts of Garrison, Castle Rock is the estate of William H. Osborn, the former president of Illinois Central Railroad.
It occupies a lofty spot on a knoll with sweeping views of the Hudson River.
Somewhat dramatically, the castle is entirely submerged in thick forestry. So, expect to find fairytale turrets poking out above the pines.
Yeah, this is one of the top castles in New York that tends to turn the heads of drives on 9D.
Addtionally, the castle was placed on the National Register of Historic Places in 1977.
Fortunately, the area surrounding Castle Rock is open to the public. So, you can strap on your boots and submerge yourself in nature.
In terms of specific routes, the 2.9-mile out-and-back Sugarloaf Hill Trail is a must-do.
Also, keep your eyes peeled for the quaint farmhouse, Wing & Wing, which is located at the foot of the estate.
Address: 31 Wing and Wing, Garrison, NY 10524, United States
Hours: Open daily from 6:00 am to 9:00 pm.
Price: Free to explore the grounds.
Best Castles in New York – The Finger Lakes
19. Belhurst Castle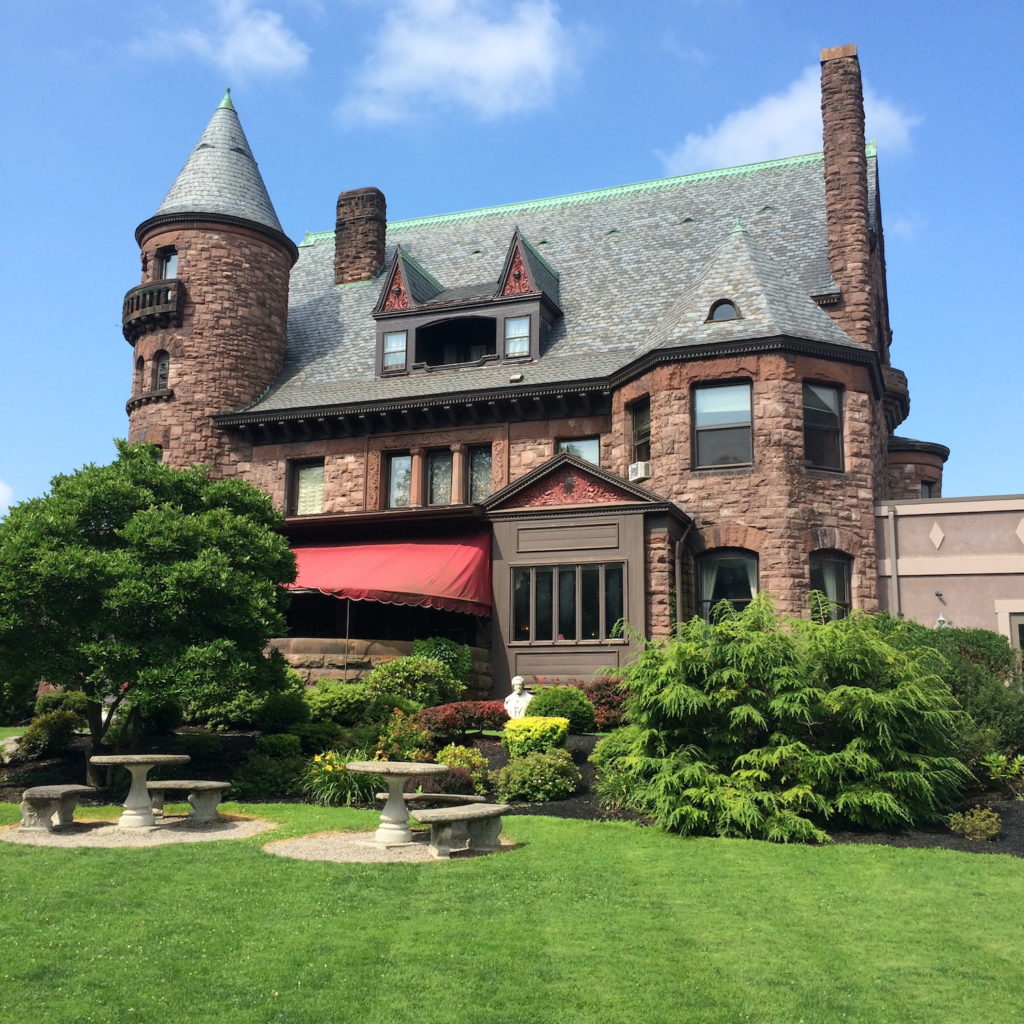 Belhurst Castle (and Winery – crucial if you're a traveling viticulturist!) is situated on the northwest banks of Seneca Lake in the charming town of Geneva.
Utterly decadent in every way, this 1880s stone castle was recast as a luxury resort. Well, actually, it's deemed a "wine" hotel and has scooped up praise and accolades aplenty from local media outlets.
So, this premier lodging option consists of "Chambers at the Castle". And these eleven, one-of-a-kind guestrooms are lavishly dressed with heritage decor and furnishings.
Each unit is uniquely appointed but definitely pay attention to the Tower Suite, the Billiard Room, and the Study in particular.
During your stay, you can also sip award-winning wines in the tasting room overlooking the lake and sample local craft beers and ciders.
And, if that all gets to be too much, unplug at the salon with a massage delivered by the pro therapists.
Yup, Belhurst Castle is easily one of the best castles in New York for a special weekend away.
Address: 4069 W Lake Rd, Geneva, NY 14456, United States
Hours: Front desk is open twenty-four hours per day.
Price: $300+ per night.
20. Greystone Castle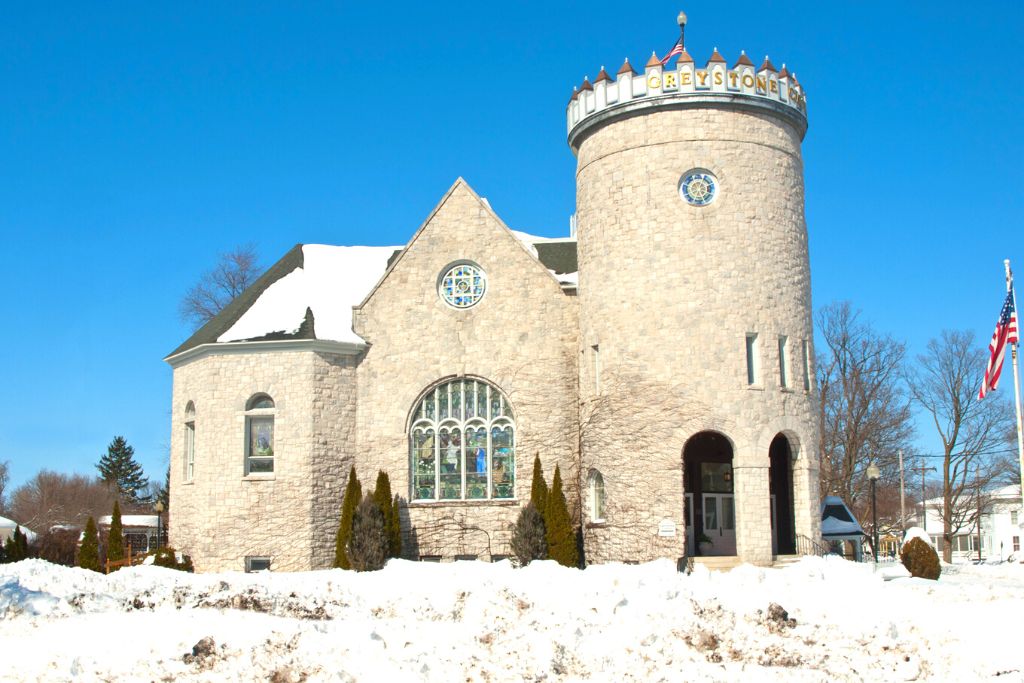 Greystone Castle is a dainty little tower that fuses citadel architecture with church features, including magnificent stained glass windows.
Actually, the castle is so darn beautiful that it primarily serves as a wedding venue for castle-loving New Yorkers.
However, it might surprise you that the Greystone Castle you see today was only constructed in the early 20th century.
See, the original wooden building was burned to the ground in 1908. As a result, the castle went through a major renovation recently to create in the handsome tower that you see today.
And in addition to wedding ceremonies, Greystone Castle hosts other private events and photo shoots.
But, there are occasional communal events that center around Halloween, holidays, crafts, and more.
It's also located just east of the Finger Lakes so don't forget to swing by on your way to Syracuse.
Address: 201 N Main St, Canastota, NY 13032, United States
Best Castles in New York – Greater Niagara
21. Old Fort Niagara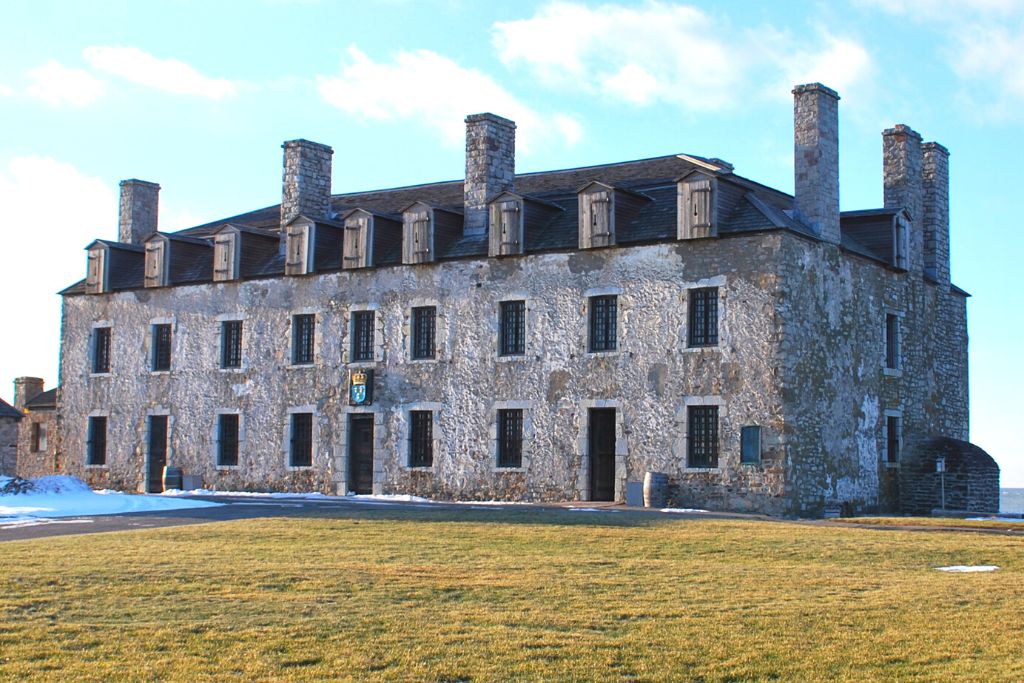 One of the best castles in New York for history buffs, Old Fort Niagara has kept watch over the Niagara River since 1726.
Actually, this is the oldest continuously occupied military site in all of North America.
And during the colonial era, it played a vital role in granting troops access to the Great Lakes.
Then, after being under the control of French and British forces, Fort Niagara was ceded to the US a second and final time in 1815.
Afterward, it served as a (peaceful) border post and as army barracks. These days though only the Coast Guard maintains a military presence at the facility.
Furthermore, the museum houses original 18th and 19th-century military artifacts that you won't want to miss. In fact, you'll spot an original war flag from 1812 while you're here.
Plus, once you're done ogling the fort, you can meander through Fort Niagara State Park.
However, do check theirt opening hours in advance since they're pretty sporadic.
Address: 102 Morrow Plaza, P.O. Box 169 Youngstown, NY 14174-0169 USA
Hours: Open Wednesday through Sunday from 10:00 am to 4:00 pm but varies seasonally.
Price: Tickets are $17.00 for adults, $12.00 for kids, and free for anyone 5 and under.
22. Tonawanda Castle
Tonawanda Castle is a second building to add to your radar while exploring Buffalo and Greater Niagara.
Now, this castle originally served as an armory for the 25th Separate Company of the National Guard.
And the brains behind the architecture of one of the best castles in New York state was Isaac Perry, who oversaw constructtion in 1896.
Later, it was reworked to provide a venue for wedding ceremonies, receptions, formal banquets, and corporate shindigs.
Although, at present, Tonawanda Castle is taking a hiatus from hosting events.
But, that doesn't mean you can't sidle down Delaware Street for a closer look at this bad boy of the architectural world.
Because these impenetrable walls are best admired on sunny days when the red hue really pops out. It's also just a nifty detour while enjoying a creekside stroll.
Address: 69 Delaware St, Tonawanda, NY 14150, United States
23. Connecticut Street Armory
Also going by the 74th Regimental Armory, the Connecticut Street Armory remains in use by the National Guard.
However, construction officially wrapped in 1899, even though renovations were required after a fire in the early 1980s.
So, due to its status as a working armory, you're not technically allowed to enter this one.
However, while in Buffalo it's a cool detour purely to do a lap around the exterior.
Fashioned from sandstone, it bears an uncanny resemblance to a sandcastle with six-story towers that will make you do a double take.
And come rain or shine, this is always an awesome place for photo-ops.
Despite not being open to the public, this is one of the best castles in New York that is used for private events, i.e. weddings and grad ceremonies.
Therefore, it's one of the top castles in New York for special occasions.
Address: 184 Connecticut St, Buffalo, NY 14213, United States
Map of the Best Castles in New York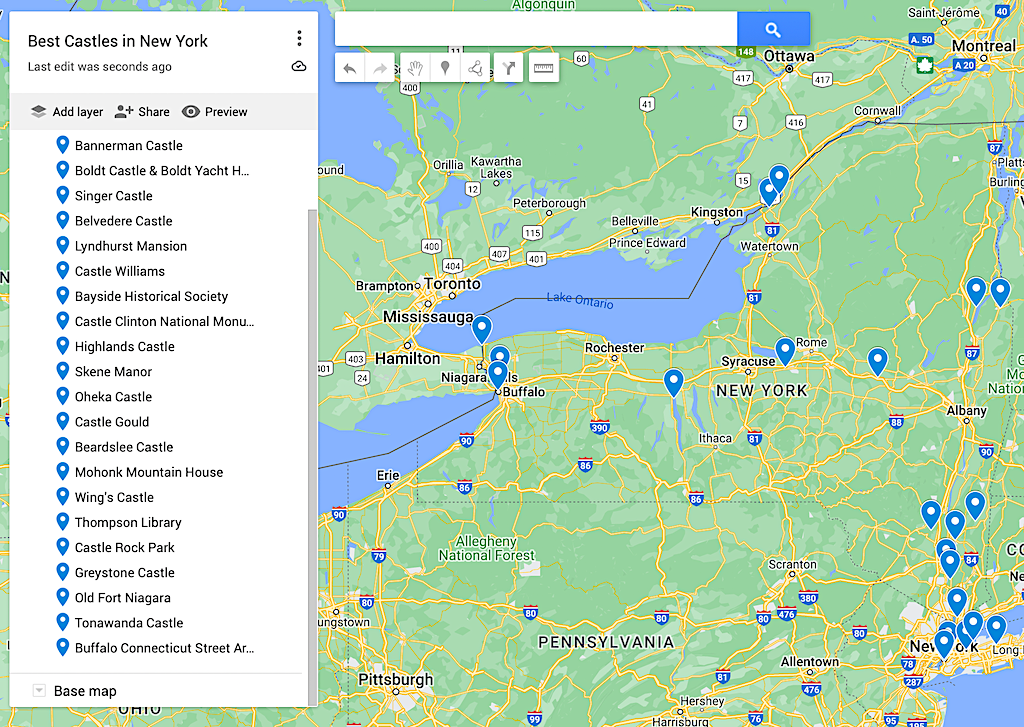 Additional New York Resources You'll Love
There you have it! That just about wraps up this guide to the best castles in New York.
Tell me, did your picks for New York top castles make the list? If not then let me know in the comments below.
And if you found this post useful don't forget to join our email list before pinning this post now so that you can read it again later.