Channel your inner Tarzan cool-kids and grown adults because we're about to check out 15 of the all-time best treehouses in New York – stunning treehouse rentals in NY that you and your entire family are sure to love.
Trust me on this. I'm nothing, if not quirky. So, I always like to find an "au natural" place to stay that beautifully reflects my over-the-top personality.
And since I've been living in New York for 30+ years, I know where to find all of the top treehouses in New York that totally fit the bill.
Plus, you'll love that these treehouse rentals in NY are scattered all across the state and come in a variety of different price points that are sure to satisfy any budget.
So, if you're ready for expert tips and secret tricks to help you find all of the best treehouses in New York, then continue on my friend, and prepare to enjoy all of these super rad accommodations.
This post may contain affiliate links. Please see my disclosure for more information. As an Amazon Associate, I earn a small commission from qualifying purchases.
Treehouses Rentals NY – Under $200 per night
1. Rustic Adirondack Treehouse Getaway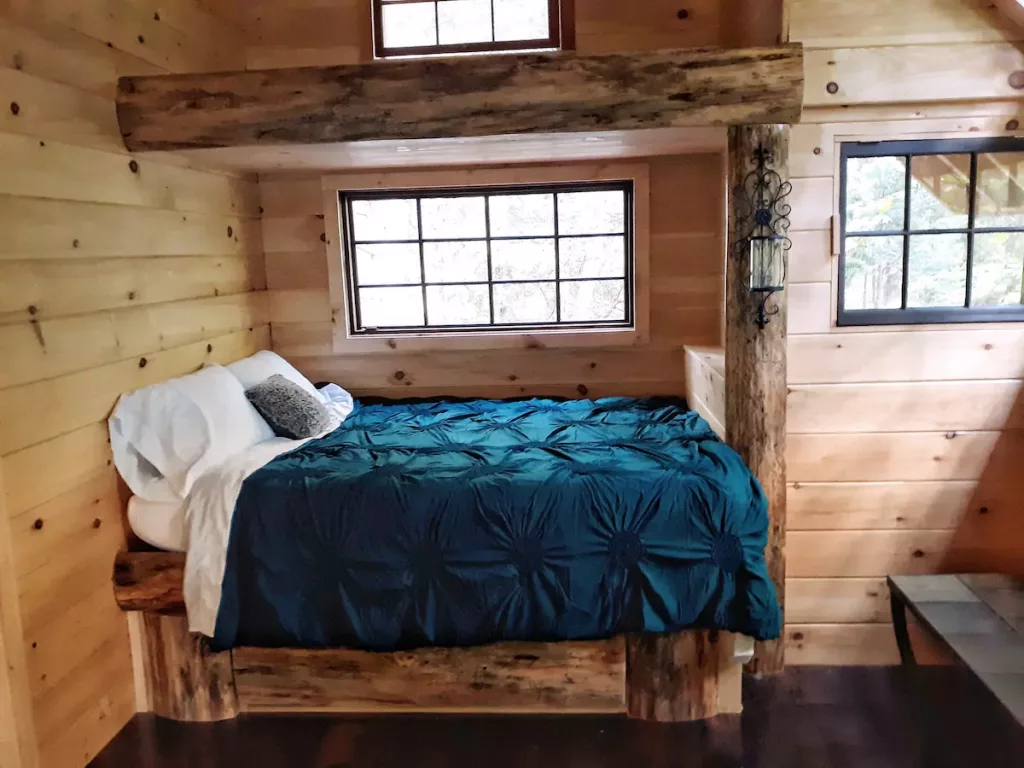 Brought to you by expert hosts John and Rachel, this reasonably priced hideaway oozes country charm with its Adirondack-inspired log cabin design.
And although the cabin itself is totally off the grid – so you'll just have solar panels for basic lighting and limited water with no official plumbing – you're still just a short drive away from Lake Placid.
Therefore, you can enjoy all that the High Peaks region has to offer while disconnecting from society at this nature lover's retreat.
So, if you're ready to stay inside one of the best treehouse rentals in NY, then mosey on down a 600-foot trail (no vehicles allowed) and discover an oasis of tranquility that includes:
A hammock
An outdoor kitchen – with a deck that connects this space to the treehouse
A queen-sized bed
A porch
Indoor wood-burning stove
Lovely stained-glass windows
Small indoor toilet
Price: $100 per night
2. Treehouse Surrounded by Birds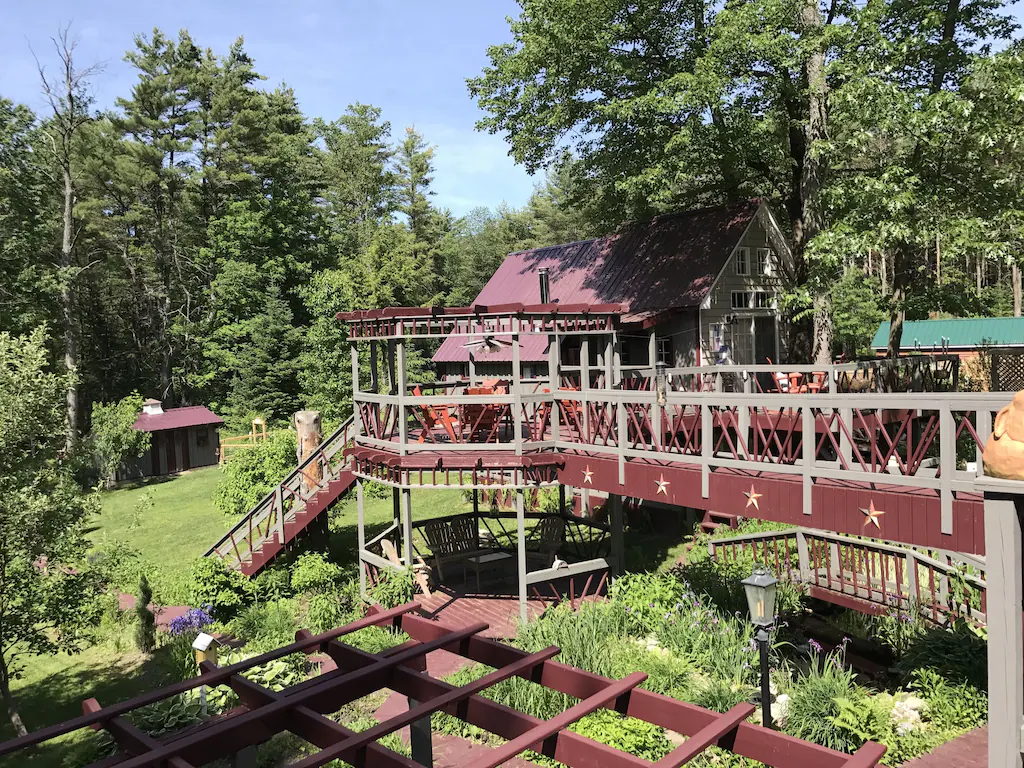 Located right near Sacandaga Lake, this well-priced, 600-square-foot treehouse sits just 35 miles away from Saratoga Springs and has one bedroom and two full baths for guests to use.
Accommodating up to four adults in total, this luxurious, country-chic space is well-designed with an outdoor deck and a spacious seating area where guests can savor delicious meals.
Other fantastic, on-site amenities include complimentary toiletries for both bathrooms, a stunning porch just outside the living room, a TV, WIFI, AC, heating, a full kitchen with stainless steel appliances, and more!
Plus, if you don't feel like taking a dip in the lake, then you can always use their amazing, above-ground pool instead!
Therefore, if you're on a budget but are looking for one of the best treehouses in New York, then this may just be the perfect place for you!
So, go on. Live a little and book your room now!
Price: $125 per night
3. The Rock House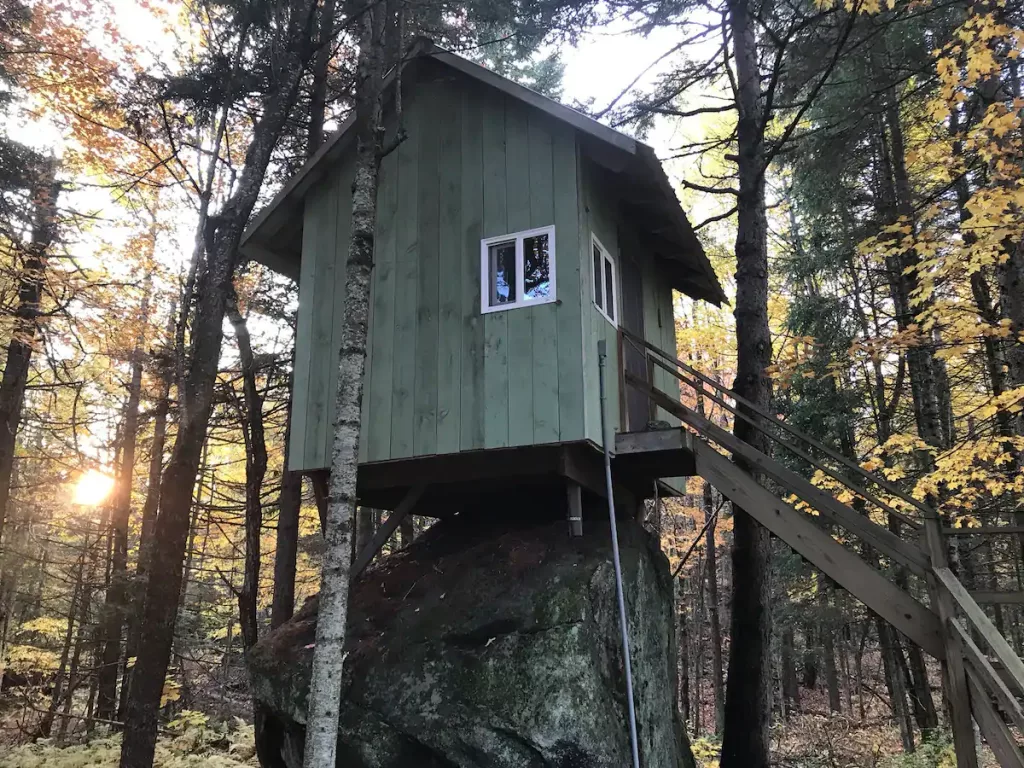 Nestled high atop a giant boulder in the western portion of the Adirondacks is this unique treehouse rental in New York.
It's a ten by twelve-foot, insulated, wood-paneled space near the St. Regis River that includes a private outdoor bath. a fire pit, an outdoor pavilion with a picnic table, and access to a private swimming hole.
There's also a full outdoor kitchen (stove, fridge, microwave, hot/cold water, etc.) for you to cook in as well as an outhouse and a recently added Finnish sauna with a shower.
Added bonus? There's an epic blueberry patch just near the host's farmhouse that you can eat fresh, wild blueberries from.
You'll also have the added benefit of being greeted by a herd of frolicking goats in the AM since the house is right near a goat pen.
Continue inside and you'll discover a dresser with a pull-out desktop, several storage cubes, an electric heater, a wood-burning stove, and a single bed with a pull-out futon bed beneath it if you need somewhere for a second person to sleep.
And although the WIFI is spotty at best, you'll be able to check your emails and can use the owner's extensive video library to watch a movie – making this one of the all-around best treehouses in New York.
Price: $126 per night
4. WAG Trail Inn on the Genesee Treehouse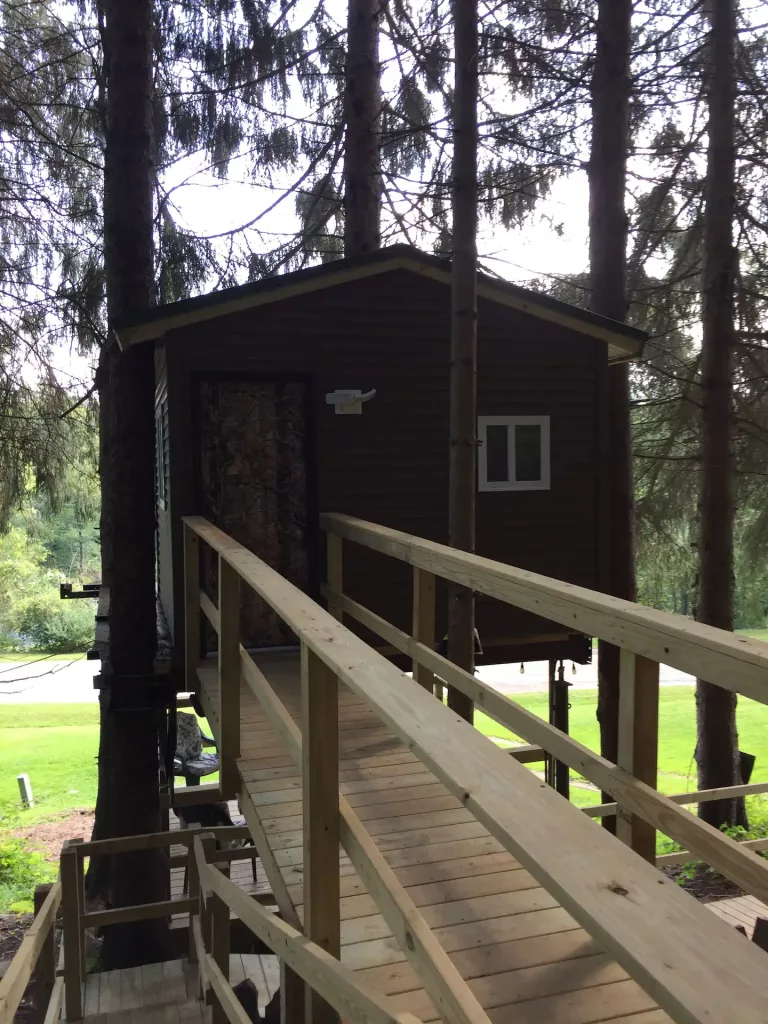 Honestly, this custom-built treehouse near Wellsville in southwestern New York is hands down one of the best treehouses in New York.
And that's mainly because I'm obsessed with food and your awesome stay here includes a freshly prepared daily breakfast AND dinner. Yes my friends, let's eat ALL the feelings.
FYI, coffee, tea, and bottled water are also complimentary, in addition to pretty plush treehouse amenities like bedding, towels, a toilet, a washbasin, and smart tv/surround sound hookups for your device.
And although you do need to head to the main house to take a shower, you still get your very own, private retreat overlooking a local river.
Just keep an eye out for local wildlife since sometimes dangerous animals do reside in the area.
Price: $128 per night
5. Cozy Treehouse in the Catskills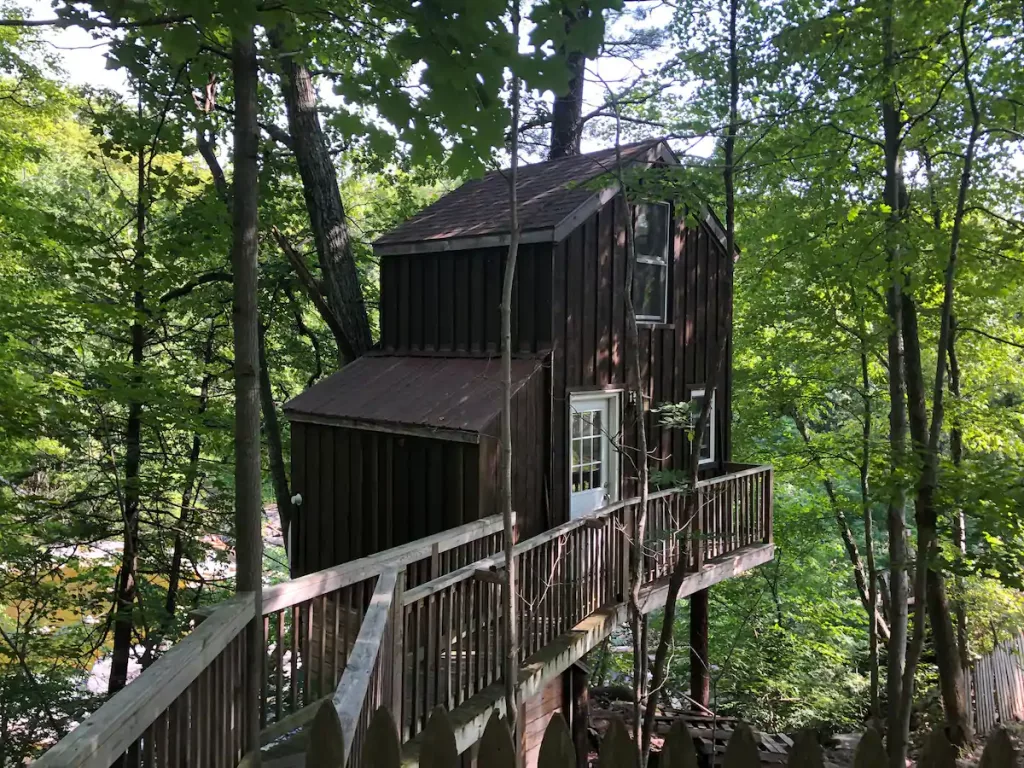 This well-priced, quaint treehouse in the Catskills is brought to you by expert host Emil, who provides guests with everything they need for a cozy stay at one of the best treehouses in New York.
I mean, not only is this charming house a perfect fit for two people, but it comes with a private swimming hole and has a waterfall right on the property.
There's also a great little deck outside and a full bathroom with a small stand-up shower that you can use to wash yourself off after a quick dip outside.
And while there's no full kitchen, there is a small fridge and grill for you to use, as well as WIFI available throughout the entire interior.
You can also sleep inside a comfy full bed in the loft, which can be reached via a ladder from the ground floor.
Pro Tip: This is one of the best treehouse rentals in NY if you want to hike the long trail, visit Kaaterskill Falls, or visit The Catskill Wild Forest.
Price: $150 per night
6. Whispering Wind Treehouse – Argyle, NY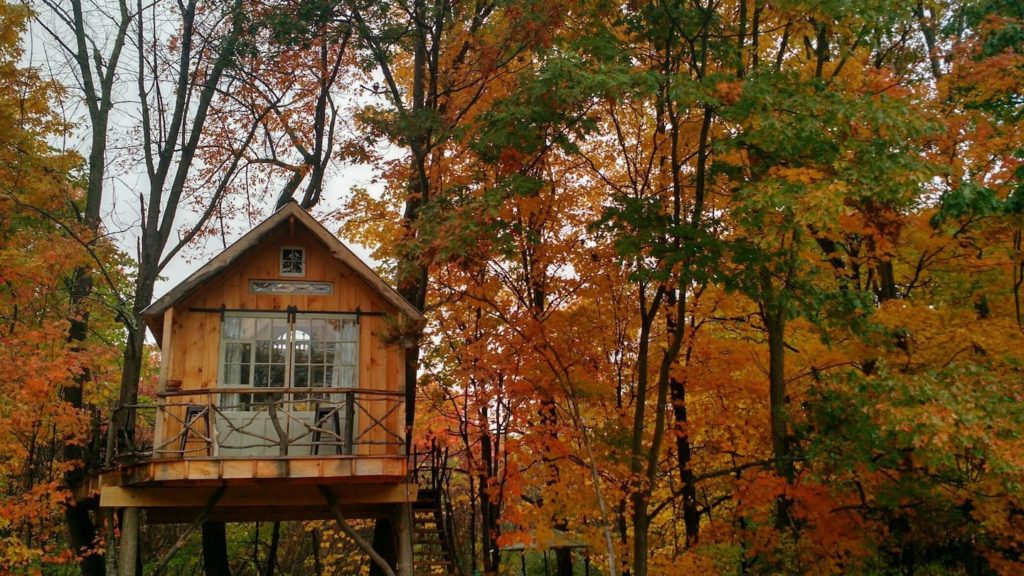 Just a hoot and a holler down the road from Glen Falls is this rustic, Whispering Wind Treehouse in Argyle, NY.
And by rustic, I mean that this handmade treehouse has no electricity, no WIFI, no toilet (save a composting one a few steps away) and is simply a cozy sleeping loft (featuring a full mattress) with a glass roof that helps you gaze up at the stars in the evening.
Although, it does sit towards the back of a charming field and is tucked beneath a canopy of enchanting trees. There are also plenty of windows and doors so the space always feels light, bright, and wonderfully welcoming.
Therefore, given its ability to transport you back to the simple life – and its insane Adirondack-inspired beauty – it's easily one of the best treehouses in New York.
Added bonus? Victoria is an exceptionally well-reviewed host who has provided her guests with an additional futon on the ground level, allowing this treehouse rental in NY to fit up to two people comfortably.
There are also several little nooks inside this treehouse Airbnb in New York that is perfect for relaxing, as well as antique carriage doors that lead you out onto an open balcony – giving this place a hell of a lot of character that any guest will love.
Other uber-fab treehouse rentals of NY amenities include:
An umbrella
A fire pit
A charcoal grill
A single burner stove for meals
Basic kitchen
Well water for washing up
Blankets/propane heater for cold nights
Composting toilet steps from the cabin
So, book your stay now and prepare for the experience of a lifetime.
Price: $195 per night
7. Nest in the Woods Treehouse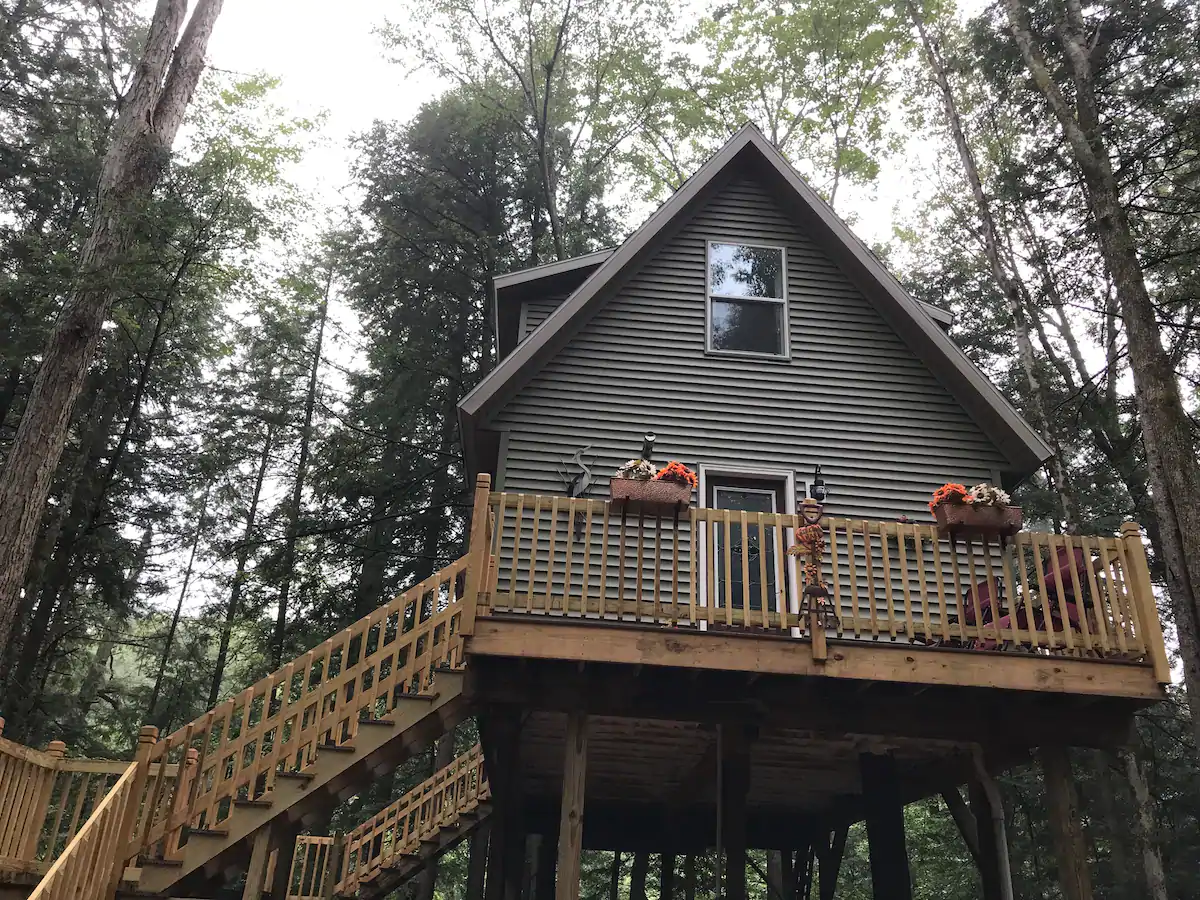 This well-reviewed treehouse in New York is brought to you by expert hosts Theresa and Brian – both of whom have worked hard to bring you this exquisite rental property in Oneida County.
It's one of the best treehouses in New York that sits on the edge of the woods and overlooks Fish Creek. Therefore, it makes for a perfect adult weekend getaway (FYI not appropriate for kids under 12 or pets) since guests can relax on the spacious front and back decks.
You can also make use of a protected picnic table, outdoor games, a fire pit, and a propane grill before exploring some of the best trails in the Finger Lakes.
Additionally, the overall design of this place is modern yet rustic. Therefore, you are well located next to various local attractions and can have up to three beds inside this cozy, one-bedroom space with a full-kitchen, private bath, and large seating area.
Price: $154 per night.
8. Goodall's Treehouse Cabin by the River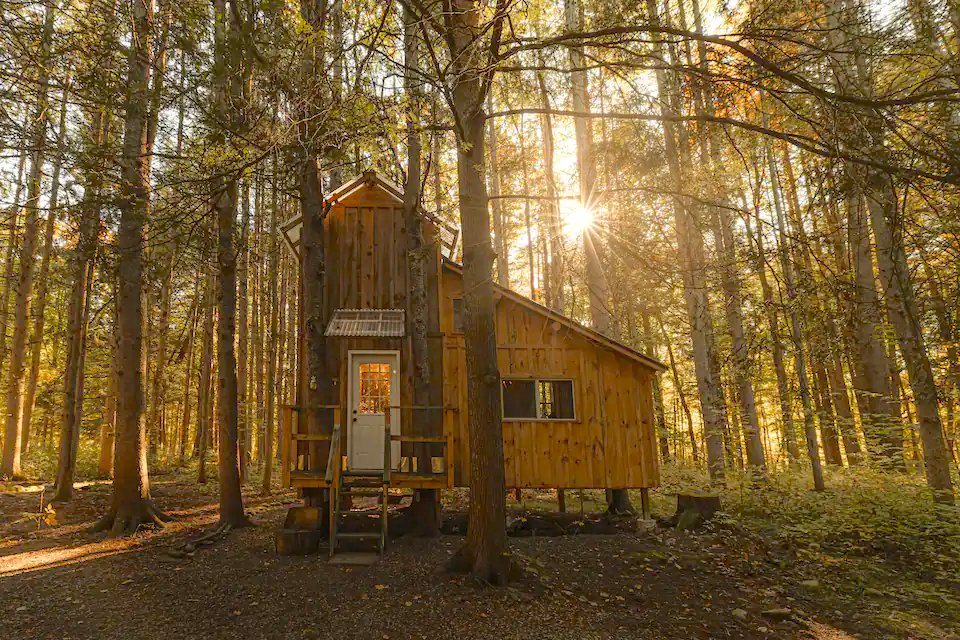 This divine treehouse cabin is situated on a 60-acre sanctuary in Taberg, NY that is named in honor of famed conservationist, Jane Goodall.
So, enjoy the sweet sounds of nature all around you as you sit on the 2nd story balcony and make use of the well-appointed kitchenette, reading nook, and a loft that is accessible via ladder.
Plus, even though this is a unique cabin on wheels, you still have access to electricity, heat, a sawdust toilet, and a shared, totally detached full bathroom and shower.
And while it's not the biggest treehouse on this list of the best treehouses in New York, it does come with a queen-size bed and provides guests with access to local ponds, volleyball courts, hiking trails, fire pits, shared BBQs, games, and more.
Price: $140 per night.
Treehouse Rentals NY – Under $300 per night
9. Spirit House Treehouse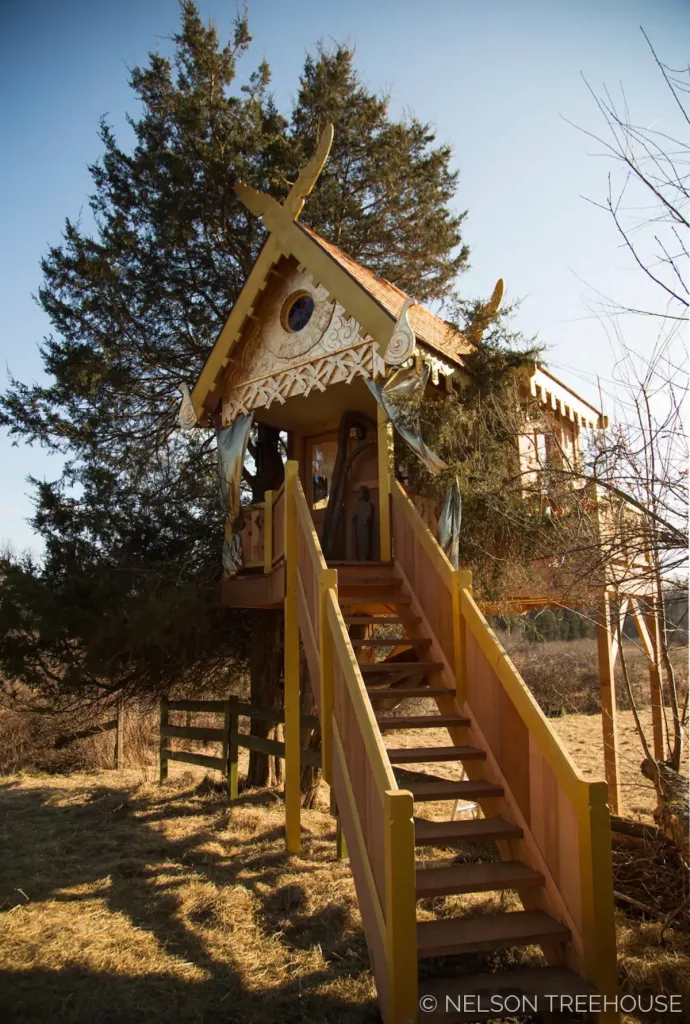 Conveniently located in the Hudson Valley, the Spirit House Treehouse is one of the best treehouses in New York that was actually built by expert Pete Nelson as part of the television show, Treehouse Masters.
Therefore, you know that the construction is exceptional and the attention to detail superb with charming touches like a small stained glass window just above the bed.
So, enjoy this cedar treehouse with a cozy Juliette balcony and a full-size bed in a loft that is accessible via a small ladder.
Just be aware of the fact that there is no running water or electricity in the treehouse itself. So, no heat and AC, although an electrical cord has been brought in from the main house.
It's also a pretty small space with a dry flush toilet that you can use inside an enclosed space on the balcony.
Price: $200 per night
10. Chez' Tree Rest Treehouse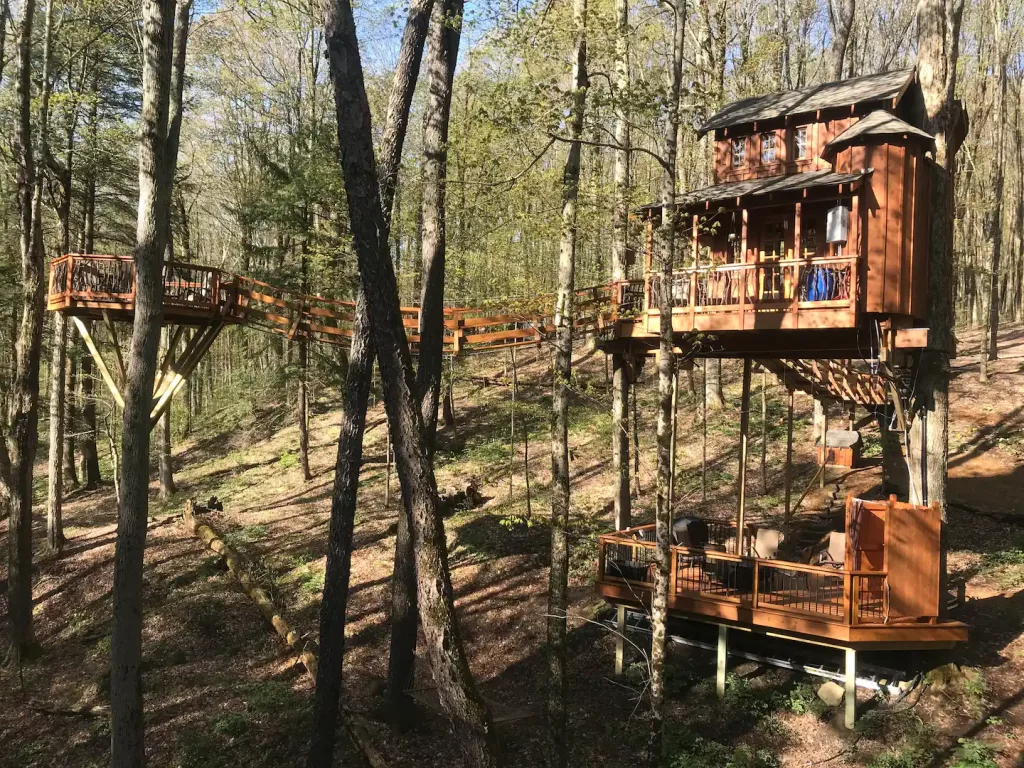 This is one of the more swank treehouses in New York that is just a short drive south from good old Syracuse, near the towns of Lafayette and Skaneateles.
It's hidden away on 17 acres of land and sits in between two Maple trees, where it stands 35 feet in the air and can be reached via a cable bridge.
Open the door of Chez Tree Rest Treehouse and you'll ascend a spiral staircase that will lead you to a comfortable double bed in a loft – an area that is outfitted with several windows that look out over the forest.
However, if one bed isn't quite enough for you, then you'll be happy to know that there's one futon in the central sitting area and another on the lower level too.
There's also a composting toilet inside (so no late-night strolls to the bathroom) and a spacious deck area on the ground level that is outfitted with a propane grill, a table, cutlery, and an outdoor shower with hot water (the heavens open up and rejoice with gladness).
Venture out onto a second deck and you'll find a fire pit with ample seating, as well as a secondary stone fire pit with Adirondack chairs that are the perfect place to sit while you do a little s'more making.
And added bonus? This uber-fab, treehouse New York getaway also has a super cool, octagon-shaped deck in the back that offers guests stellar views of the nearby creek.
There's also a sweet generator on-site that can be used to power the lights and TV inside one of the best treehouse rentals in NY. You know, just in case you want to put a brief hiatus on your digital detox of awesome.
Price: $260 per night
11. Out On A Limb – Magical Treehouse Experience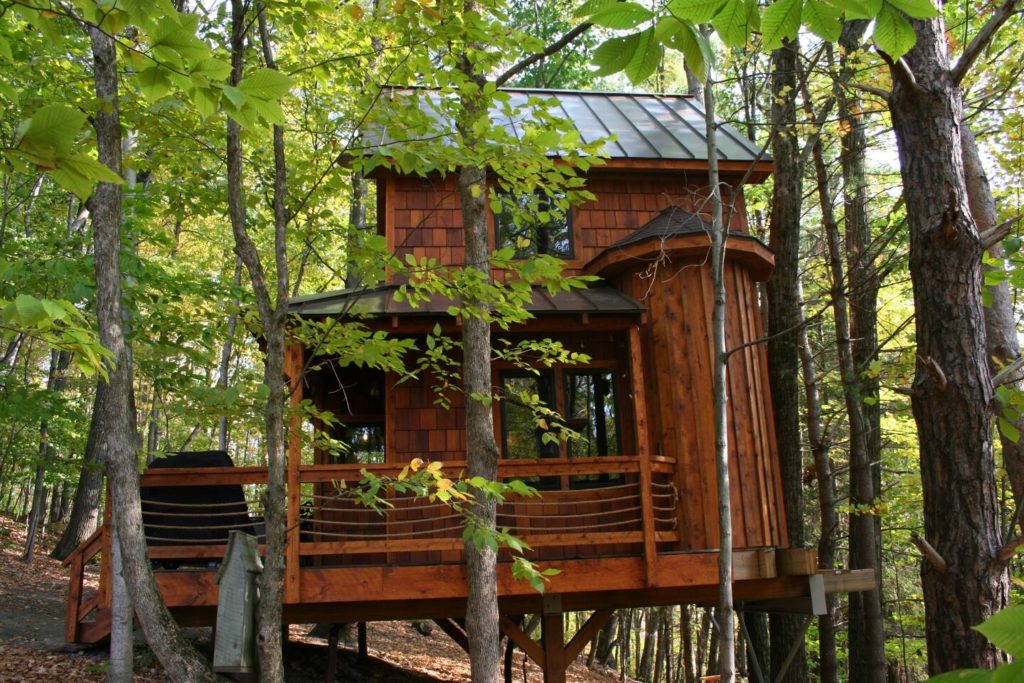 This swank with a capital "S" treehouse near Argyle, NY has everything you need for a luxurious stay in the great outdoors.
Available to rent all year long, this quiet, cozy rental in Washington County sits on 10-acres of heavily forested land and has one bedroom (that can be accessed via a set of spiral stairs) and one full bath (with an awesome tiled shower) for guests to enjoy.
There's also a cute little kitchen with a stove, microwave, sink, toaster oven, and dishwasher that you can use to prepare fresh buttermilk waffles first thing in the morning.
Yup, your host Kristin provides all the ingredients – including fresh, local maple syrup – and you take care of the rest since there's a waffle maker in your kitchen too.
Afterward, savor a fresh cup of coffee near a fire pit surrounded by two Adirondack-style chairs and take a refreshing dip in the outdoor hot tub!
A word of caution though. This is one of those treehouse rentals in NY with a lot of stairs. So, if you have mobility issues, this may not be the place for you. There is also a two-guest maximum and no children/pets are allowed at any time.
Price: $260 per night
12. Magical Treehouse in the Adirondacks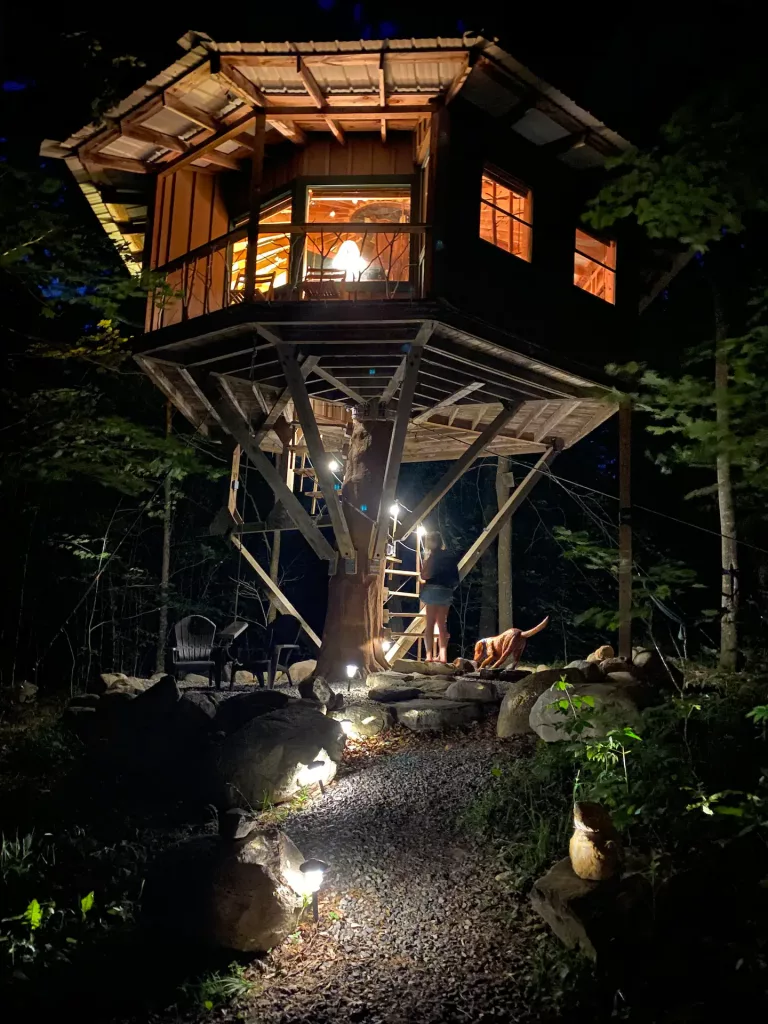 Th is hidden gem of an Adirondack treehouse is brought to you by Sheila – a warm and gracious host who has an astounding, 4.99 rating with more than 75 reviews!
And these exceptional reviews make sense when you realize that this is one of the best treehouses in New York that is located right near Paul Smiths College (25 minutes from Saranac Lake), on 27 acres of property that includes a river, bog, historic quarry, and access to local hiking trails.
It features one, octagonal, Adirondack-style, central room that has a futon bed, chairs and a nice little table. There's also a bathroom with a shower in a separate building that is only twenty feet away.
Additionally, there's a nice little cookhouse that sits just fifty feet from your main living area. It comes fully equipped with all the tools you'll need to prepare delicious meals throughout your stay.
You'll also get one complimentary bundle of firewood included with the price of your stay, making this a great treehouse Airbnb in New York.
Price: $264 per night
13. Ash Hill Treehouse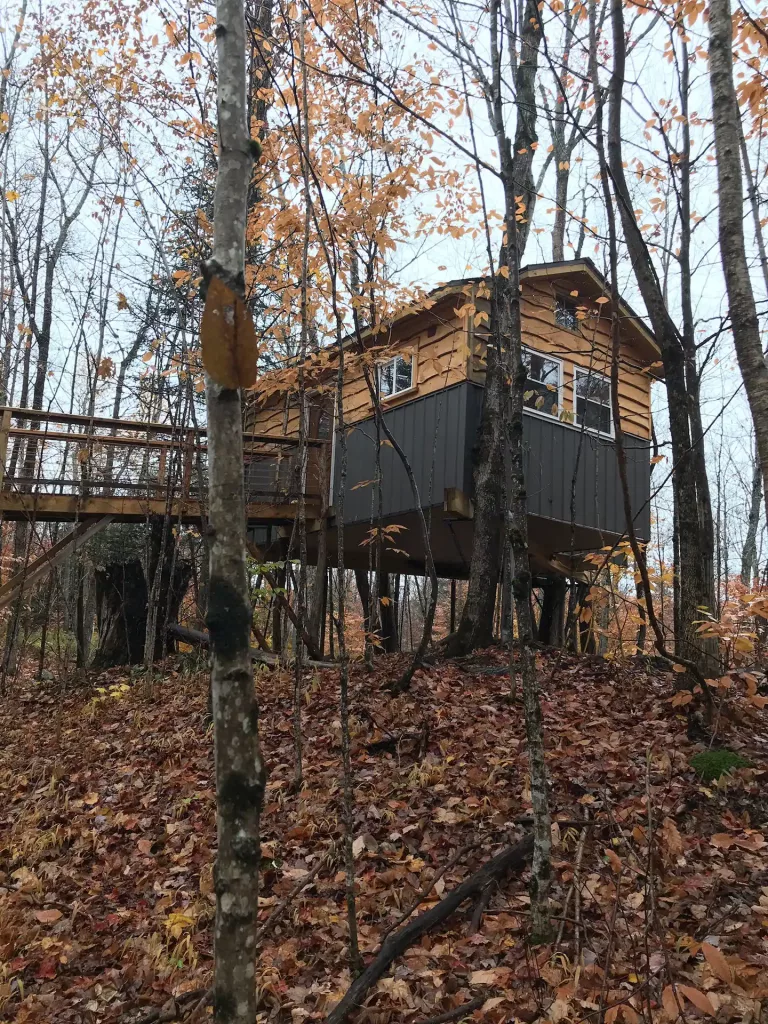 Located in Port Leyden, NY, this charming treehouse in the southern part of the Adirondacks is newly constructed and sits in the middle of a vast maple forest.
It is accessible via a winding, 100-foot bridge that takes you up into the canopy of the trees, where you can step inside, grab a comfy seat, and relax by a propane fireplace.
While here, enjoy the peace and quiet of this 15-acre property as you prepare a meal in a full, stainless steel kitchen with a stove, sink, small refrigerator, and any cooking utensils that you might need.
There's also a light and bright bathroom inside the structure, complete with a stand-up shower, a full sink, and a toilet.
Finally, enjoy a comfortable night inside a chic. minimalist-style bedroom that comes complete with wall lanterns, small windows, candles, and plush bedding.
Price: $278 per night
14. Adirdondack Treehouse Retreat, Saratoga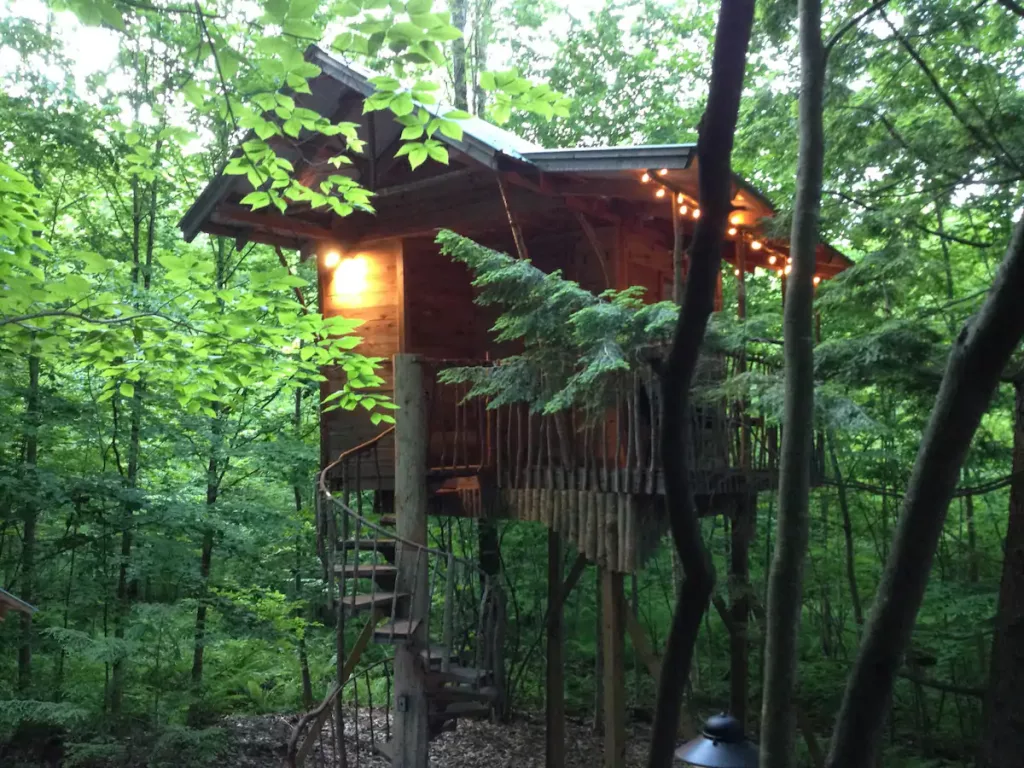 Looking for one of the best treehouses in New York that is a little bit closer to NYC? If so then check out this treehouse rental in Saratoga County.
It features an exterior, spiral staircase with log railings that leads you up to an elevated treehouse at the foothills of the Adirondacks.
Once at the top of the stairs, you'll find a quaint porch that is outfitted with two chairs for exceptional views of the area.
Continue inside and you'll discover one of the more spacious treehouse rentals in NY that can accommodate up to three people with a queen bed and a raised single bed that can be reached via a built-in ladder.
Now, come back down to earth and you'll find a full bathroom with a shower just outside the treehouse – a facility that is equipped with everything you need for an exceptionally comfortable stay.
Also on the ground floor is a fire pit with log benches, a stone-lined pond (plus a charming footbridge), a hammock, and an outdoor kitchen with a fridge, charcoal grill, microwave, fridge, wooden table, and utensils.
Yup, you'll basically have everything you need to prepare a delicious meal in the great outdoors at one of the best treehouses in New York.
Price: $295 per night
15. The Willow Treehouse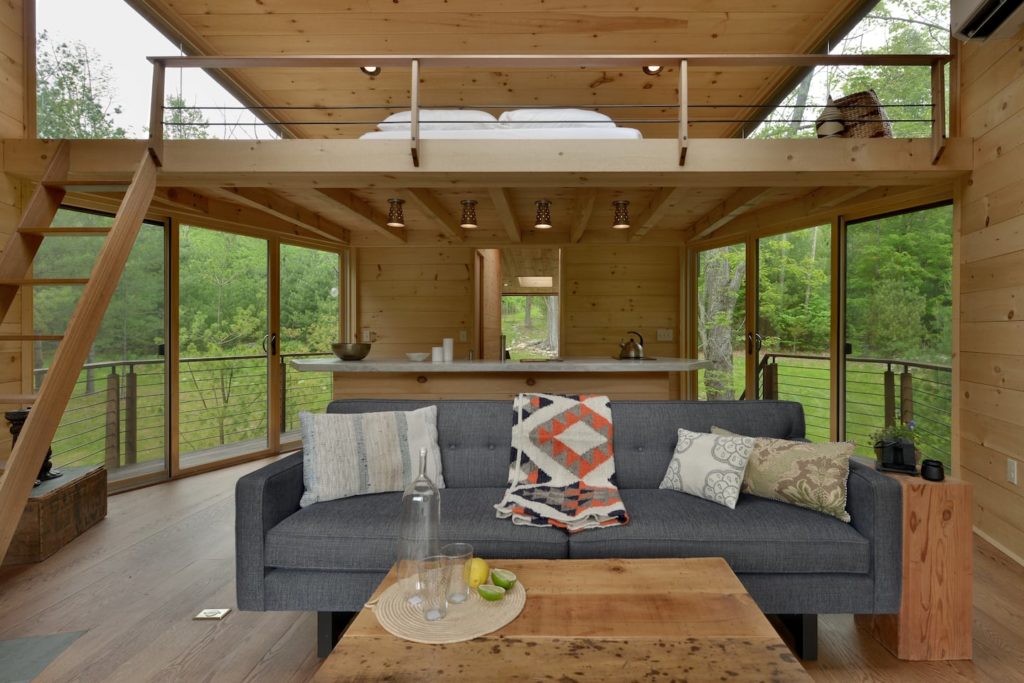 Brought to you by expert hosts Avner and Maskit, this secluded, almost palatial feeling treehouse near Woodstock an ideal place to stay if you want to get out into nature and explore the Catskills a little further.
After all, it's hidden away on 34 acres of land and overlooks a picturesque pond that guests can swim in when the weather is warm.
But, the real magic happens once you go inside and marvel at the well-appointed interior. Not only can it comfortably fit two guests, but this New York treehouse comes with a full king bed – that can be accessed via a ladder – in a loft that is set beneath two fantastic skylights.
And if you want to go downstairs, you can prepare dinner in a small, modern kitchenette before cozying up next to the wood-burning stove in the Bohemian-style living room (complete with alluring details like faux sheepskin blankets).
It has a minimalistic, chic vibe about it and even features floor pillows that you can sit on while admiring sweeping views of a nearby pond through an enormous, floor-to-ceiling window.
But my favorite part of all? The Swedish outdoor hot tub that you can take a dip in while admiring the star-studded, evening sky.
Yeah, this not-so-tiny detail quickly catapults this Airbnb to the top of my list of the best treehouses in New York.
Price: $382 per night.
Treehouse Rentals NY – Under $500 per night
16. Luxurious Treehouse with a Cable Bridge and Waterfall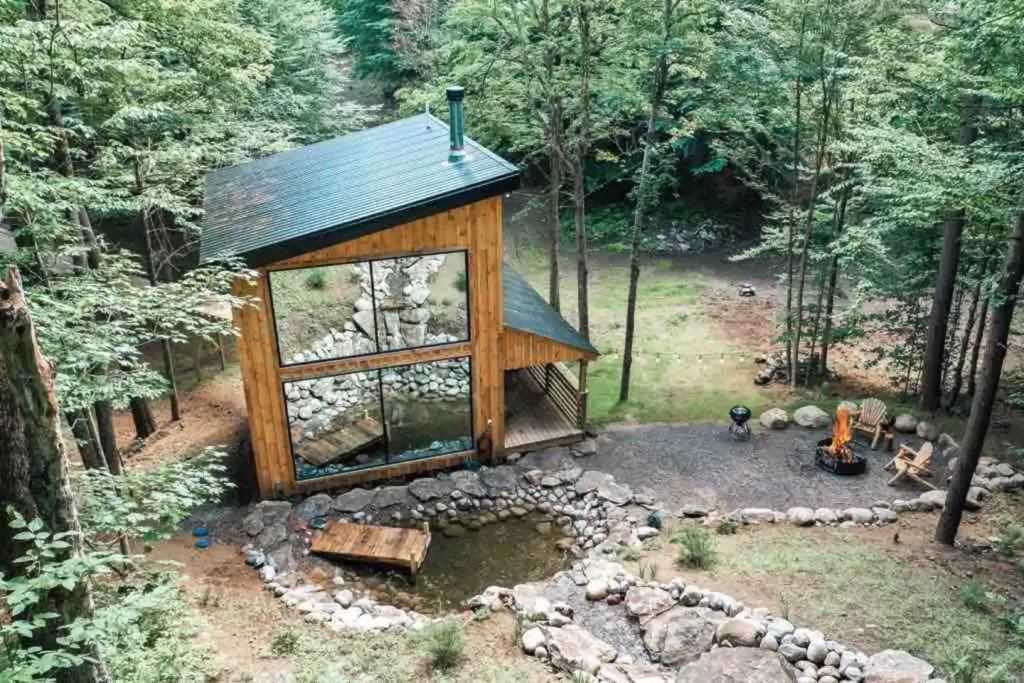 Putting the "swank" back in swanky is this uber-luxe treehouse near Hinkley Reservoir – in the Southern Adirondacks – that definitely isn't the cheapest accommodation on this list of the best treehouses in New York.
But, what it lacks in affordability it more than makes up for with an exquisite,, modern, two-story layout that includes a full-on suspension bridge and a lavish interior with two bedrooms – one with a king-sized bed and the other with a set of bunk beds.
So, enjoy one of the most decadent treehouse rentals in NY as you walk through a set of French doors into the main bedroom and then walk down the hall to a magnificent tile bathroom with a chic, rainfall shower.
Afterward, continue into the sitting room which features an indoor fireplace and a spacious sofa that is bathed in natural light from a wonderfully spacious window.
There's also a full kitchen where you can prepare all your meals and an exterior porch that overlooks a fire pit that is surrounded by Adirondack chairs.
Pro Tip: This Treehouse Airbnb in New York also offers visitors lake access and even has a sledding hill nearby that will be perfect for your next romantic winter getaway from NYC.
Price: $495 per night
Best Treehouses in New York – $500+ per night
17. Magical Lakefront Treehouse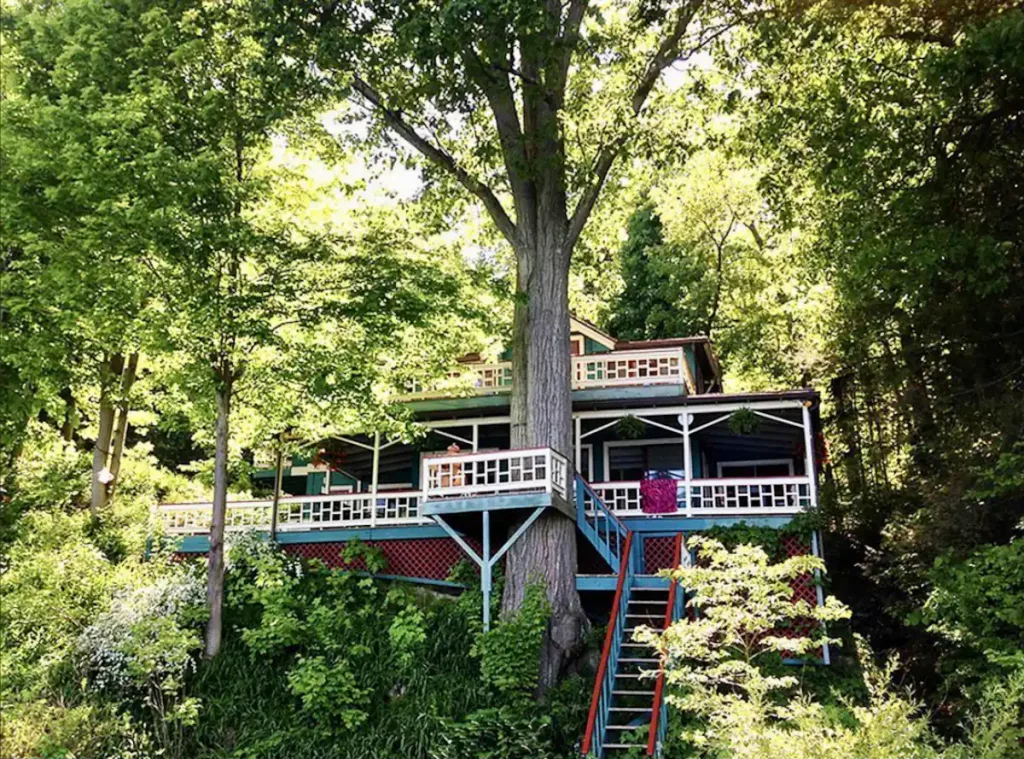 If you plan to visit Ithaca then splurge on a night at this lavish 4 bedroom, 5 bed, and 2 bath treehouse in the Finger Lakes Region.
It dates all the way back to 1890 and sits right on the edge of Cayuga Lake, just minutes from downtown Ithaca.
There's also a private dock with a fire pit that visitors can use, while the house itself can accommodate up to eight guests, all of whom will love using the spacious wraparound porch that surrounds an ancient oak tree.
When it comes to the interior though, guests will love the light and bright, country-chic bedrooms.
Both are well-decorated and perfectly complemented by a wealth of modern amenities like WIFI, TV, a washer and dryer, a full stainless steel kitchen with a dishwasher, a dining room, a spacious living room with a wood-burning stove, and so much more.
Heck, there's even a high-definition projector that you can use to create your very own family movie night on an 80″ screen – making this one of the best treehouse rentals in NY for anyone who wants the lavish comforts of an upscale hotel.
Pro Tip: There's also a small lakeside tea house here that can be used as an extra bedroom.
Price: $579 per night
18. Mariaville Goat Farm Treehouse
The Mariaville Goat Farm Treehouse is undoubtedly one of New York's most distinctive treehouses.
This treehouse, which is situated on a farm in Central New York, is really a raised tent positioned among the trees. Take use of the lovely outdoor and indoor dining spaces, relax by the bonfire in the evenings, and take in the sights and sounds of the farm.
In this opulent treehouse, embrace nature and relish the journey! Relax in your own private part of the farm during the day. choose a snack from the pantry's ample supply… take a hammock nap… create s'mores Come observe from the upper decks the "farm safari"! Allow the fairy lights to guide you upstairs in the evening so you can unwind in this lovely tree home as you sleep. Spend some time getting to know each animal on the farm up up and personal.
Go and experience the nature here on this tree house where you can go around as you can visit their farm as well wherein you can do goat yoga and receive goatie cuddles. They also have local communities that offers natural and homemade products like honey and soap.
If you want to book, click here.
Address: 233 N Rd, Pattersonville, NY 12137
Price: Starts at $105
Additional New York Travel Resources You'll Love
And there you have it, my friends because that just about wraps up this list of the best treehouses in New York!
Tell me, did your fave treehouse rentals in NY make the list? If not then let me know in the comments below.
And if you found this post useful, be sure to join our email list before pinning this post now so that you can read it again later!