Are you desperately seeking some of the best and most romantic cabin getaways in New York? If so then this is the perfect article for you!
After all, I'm a 30+ year local who wants to give you the inside scoop on some of the best upstate New York cabin rentals around, including my top picks for the best cabin rentals near NYC too!
So, whether you're looking for a rustic cabin, a luxury cabin, a cozy cabin, or an ultra-modern, posh AF cabin, this guide is sure to have the perfect rental for you.
After all, there's really nothing better than planning some romantic cabin getaways in New York, now is there? And, of course, the correct answer to that question is an emphatic, "no".
And if you're looking for a truly unique stay while in the great state of New York, don't forget to check out my super comprehensive guide to the best treehouses in New York too!
This post may contain affiliate links. Please see my disclosure for more information. As an Amazon Associate, I earn a small commission from qualifying purchases.
Most Romantic Cabin Getaways in New York – The Finger Lakes Region
1. Little Moose Lodge (Tiny House)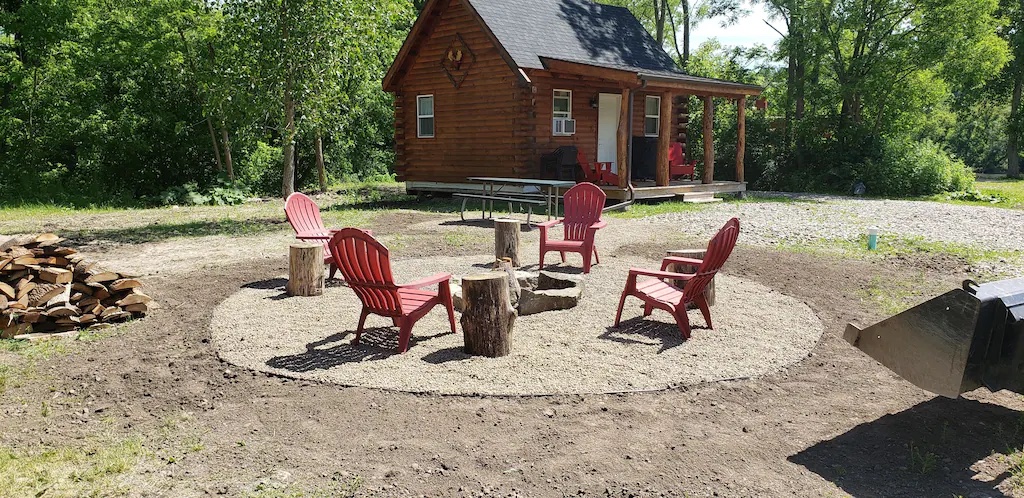 This rustic, made-for-all-seasons cabin will have you cozy and relaxed in no time, regardless of when you choose to take your romantic cabin getaways in New York!
Yessiree, sitting by the side of the Mohawk River in St Johnsville in this petite yet functional little cabin that is nicknamed Little Moose Lodge is just hella adorbs!
This cute cabin also comes with some awesome attributes, like the fact that many of the materials used to make this cabin were recycled, making it a more eco-friendly option.
The flooring is also made of repurposed planking from the 1860s, and the wood used for the cabin walls is part local timber, part reclaimed lumber.
See my friends, this is one of the best cabin getaways in New York that's historical AND eco-friendly! Now that's what I call a winning combination.
The outdoor fire pit is also perfect for roasting marshmallows in the fall, and the indoor gas-powered fireplace will keep you warm as you sip on hot cocoa in the winter evenings.
The loft has also been converted into an upstairs bedroom with ladder access – it's like a super luxury bunk bed!
And with a fully functioning kitchen and dining area, you'll be living your best life while feeling like you're right at home at the same time. It's a win-win this primo New York cabin that you NEED to book now!
Price: $149 per night.
2. Greenwood At Entangled Acres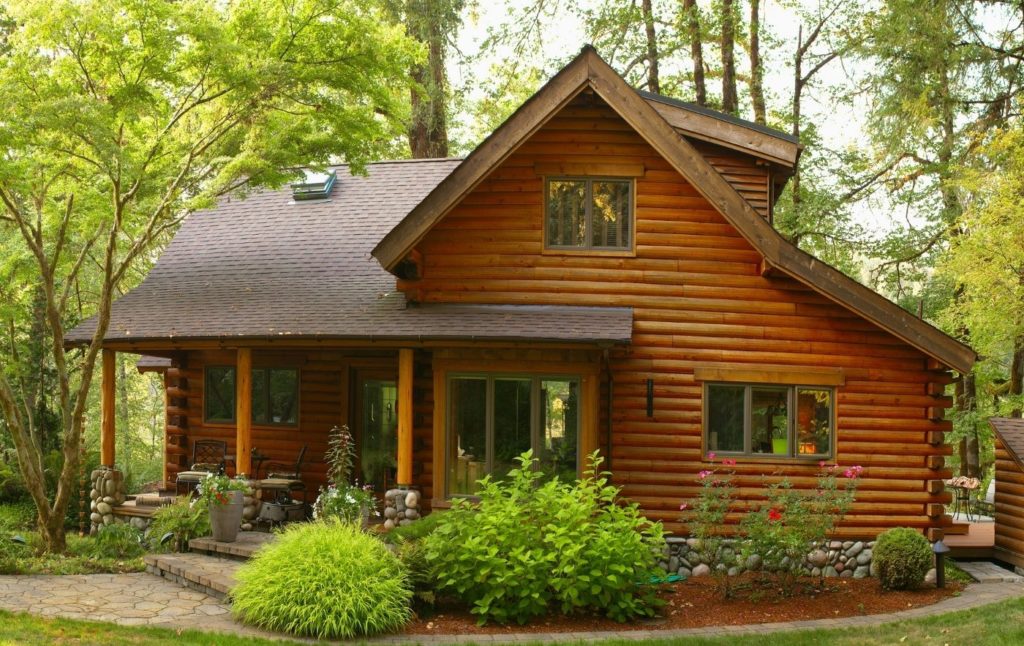 It's off to the Finger Lakes with this gorgeous log cabin that's situated just to the south of Ithaca NY.
Now, along with generous communal indoor space, you'll also be able to chill out on the covered front porch while you watch the sunrise with your morning coffee!
Guests at this cabin can also enjoy some serious animal interaction if they choose. It's optional, of course, but who doesn't love our furry friends?
That's because this is one of those romantic cabin getaways in New York that sits inside of a 16-acre animal sanctuary! So, you can wake up in the fresh air, and then your host can take you to meet some of the resident donkeys, chickens, and who knows what else as you enjoy the countryside atmosphere.
Once you're done cooking breakfast in the bright, open-plan kitchen, there are plenty of other attractions available nearby, including wildlife refuges, bird sanctuaries, a whole host of parks, and of course the Finger Lakes, which are less than an hour's drive away.
Though, you may be content to curl up with a good book by the wildlife pond just by the cabin the whole time you're there – no judgment!
So, book your stay inside of one of the best cabin getaways in New York now and prepare for the trip of a lifetime.
Price: $255 per night.
3. Cabin 1 Waterfront – Three Pines Lodging & Marina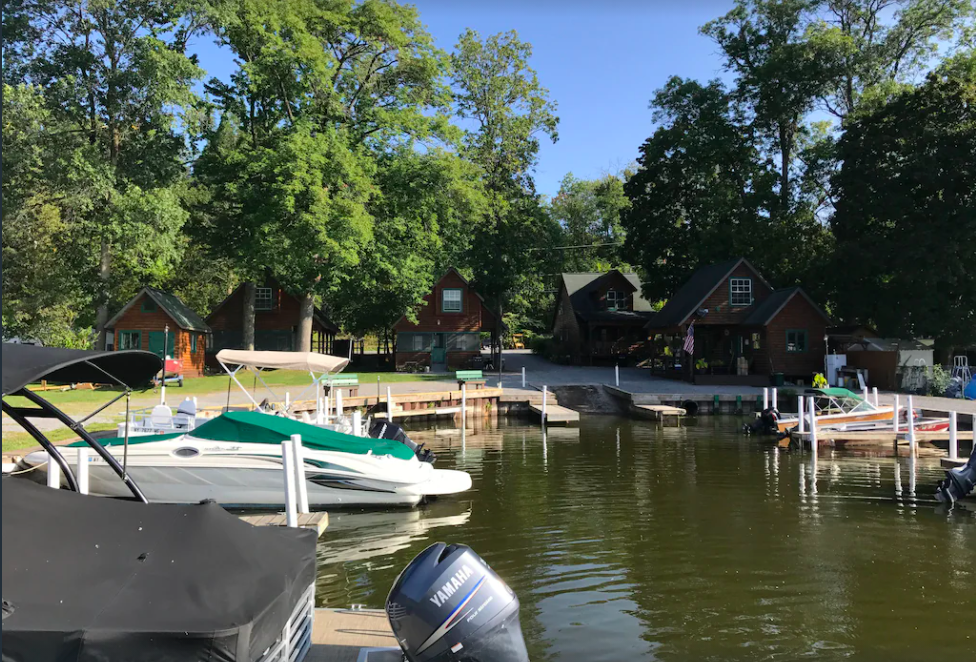 Whether you're taking a trip with the kids or planning on hanging out with friends, these robust cabins will make for a perfect (fun!) base of operations.
Plus, each one can sleep up to 13 people, so you can really make it a party and enjoy one of the most romantic cabin getaways in New York as a group!
Also, this area is home to one of the best cabin getaways in New York for fishing. So, visitors just need to bring their own boats, and then they can use the docks that are available for cabin renters.
Now, for those heading here in the summer, Sylvan Beach is right around the corner and features a wide selection of restaurants, stores, and, of course, plenty of warm white sand.
But, if you're planning a visit for the cold winter season, there's also a lot on offer for you to do! After all, adventurous holidaymakers can rent snowmobiles and take to the snowmobile trail that's right next to the cabin area, as well as head out onto the ice for some ice fishing once the lake has frozen over.
Throw in some outdoor cooking areas and some spacious porch decking and you've got yourself a great recipe for a cabin vacation in New York!
So, what are waiting for? Book your cabin now and start planning the trip of a lifetime!
Price: $475 per night.
4. Country Cousins Farm Cabin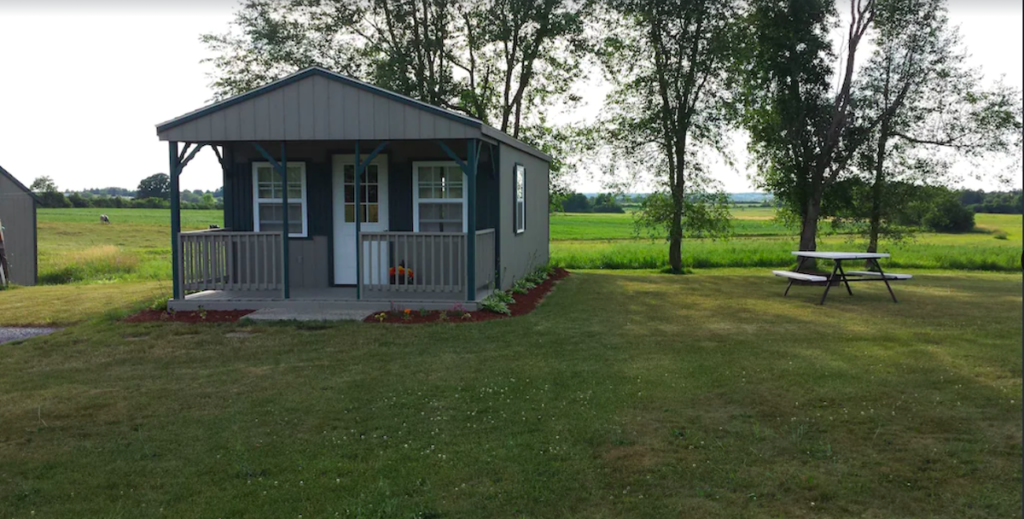 You can find this particular cabin way up north in Jefferson County, in Upstate New York. It's so far north that you're basically right on the border with Canada!
Now, this Country Cousins Farm Cabin is cozy AF and hospitality is the name of the game here, with the hosts making you feel like family.
After all, every morning you'll have continental breakfast provided, with farm-fresh milk.
Why is it so fresh? Well, it might be because this quaint lil' cabin is situated on a fully functioning dairy farm. Yeah, you really cannot get more rural than this, even if you're looking for one of the most romantic cabin getaways in New York!
In fact, if you want to kick your countryside experience up a notch, you can get a little more hands-on at the dairy farm and tour of the dairy operations with the super friendly hosts. It's a great fun way to learn more about where your daily dairy products come from!
Plus, in addition to the comforts of cabin life, you'll be right next door to several notable landmarks, ranging from the Fort Drum military reservation, and the Thompson park Interdimensional Vortex.
Intrigued much? Then book this log cabin in New York now!
Price: $130 per night.
5. Cozy/Chic Cabin (ISOLATED RETREAT!) Binghamton NY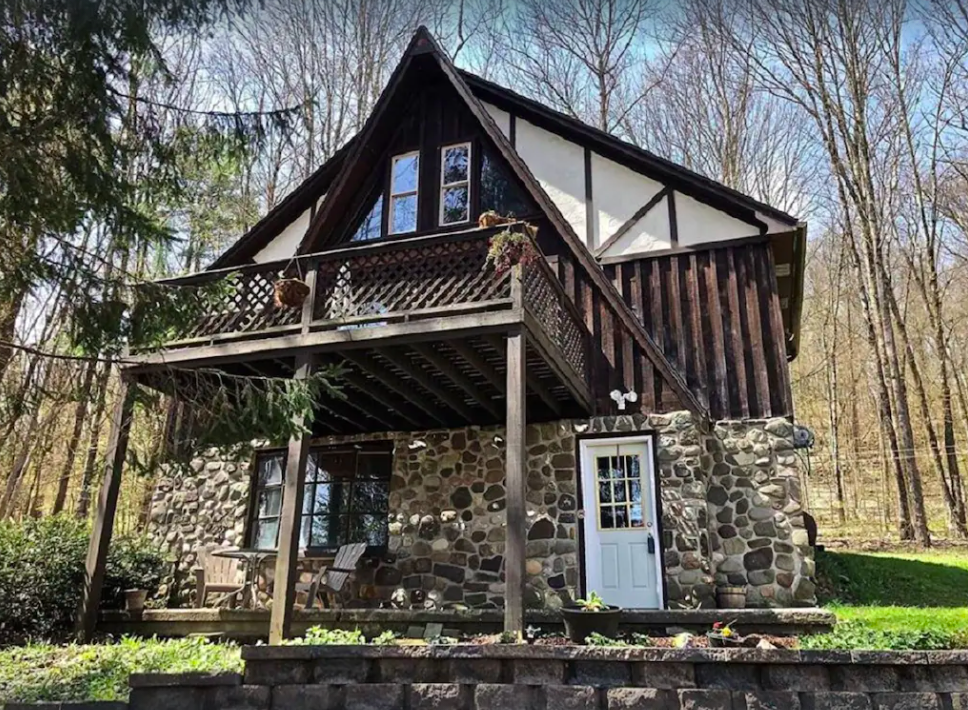 Sometimes you just want a little bit of luxury in your cabin, amirite? Well, look no further than this chic secluded retreat over in Binghamton NY!
This cozy cabin comes with four bedrooms (four!), a fire pit, a hot tub that's available every day 24/7, and two stone fireplaces, one of which is in the master suite.
Now that's what I call luxury! The whole building is also 100% solar-powered for an extra eco-friendly bonus.
And although this property is in an isolated location, the cabin is still well within driving distance of the town of Binghamton. So, there are plenty of stores, restaurants, museums, and parks for you to explore.
But, if you're looking to keep it rustic, the Chenango Valley State Park is (almost) right on your doorstep. So, if you're up for one of the best hikes in upstate New York, you can easily find plenty of hiking and biking trails in the area – in addition to a swimming beach, boat rentals, fishing and even sledding in the winter months.
Oh, and if you're planning your trip in time to catch the area's beautiful fall foliage, then this place is easily one of the most romantic cabin getaways in New York.
It should also be mentioned that throughout your stay, you'll be close to the Finger Lakes wine area. So, you and your designated partners in crime may find yourselves toasting your newfound favorite cabin paradise over a bottle of wine in front of a crackling fireplace!
Because at this glorious New York cabin, dreams really do come true – and then some.
Price: $186 per night.
6. Cozy, Rustic Cabin with Beautiful Views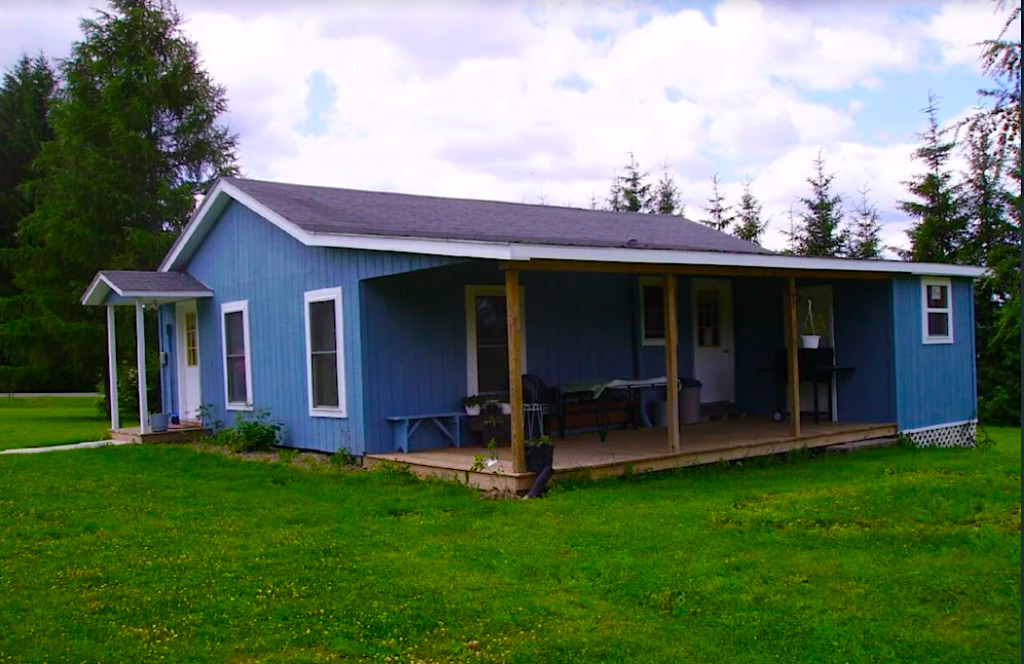 Nestled in between Seneca Lake and Keuka Lake, right in the heart of the Finger Lakes wine trail, this smart-looking yet very comfortable cabin will take you back to the simple life.
It has a large covered porch, plenty of green space for children to run around in the back yard area, and a fire pit for late evening marshmallow roasting and storytelling. Heck, I bet you could even imagine yourself writing a novel here. It has that kind of vibe.
This cabin is also well equipped with all the kitchen appliances you might need, and the large table is a great place for playing games and doing puzzles well into the night.
Being where it is, you'll be in a great position to explore the Finger Lakes region. After all, it's one of those romantic cabin getaways in New York where Keuka Lake is just 1 mile away while both Seneca Lake and Canandaigua Lake are a mere 30-minute drive away.
Additionally, Sugar Hill State Forest, Urbana State Forest, and the Finger Lakes National Forest are each also easily reachable by car, with neither being more than an hour away from the cabin.
So, you'll have plenty of attractions to choose from if you're looking to get back into nature during your stay at this amazing cabin.
Price: $200 per night.
7. Surprisingly Spacious Historic Railcar on Beautiful Skaneateles Lake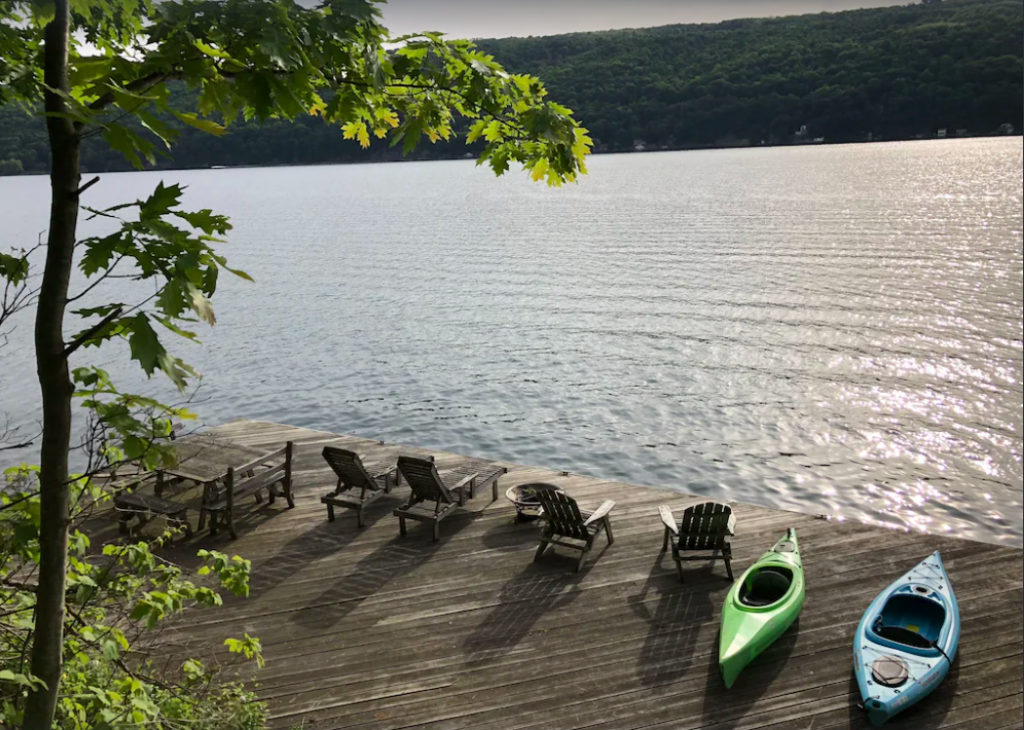 This place is super cool because it's one of those romantic cabin getaways in New York that sits inside a converted railcar with stunning views overlooking Skaneateles Lake.
In fact, the railcar itself dates back to 1936, so you'll literally be sleeping in a piece of history. While you're here, you'll also get access to a private dock that overlooks the lake, complete with reclining chairs and a table for lakeside picnics! P
lus, just outside the railcar is a BBQ and another table for hanging out and eating. It's particularly nice in the evenings, though the table does have an umbrella for those hot and sunny summer days.
However, if BBQ isn't your thing, then there's always a fully equipped kitchen and table inside for you to use.
And while you probably won't want to leave the property any time soon, its primo location inside the Finger Lakes region means that there are plenty of fun things to do nearby.
Basically, this place is a little slice of heaven and you should book your stay now!
Plus, it's a place that you can easily share with the entire family since it sleeps up to 7 people across 3 rooms. So, this is a truly one of a kind cabin that will be lots of fun for kids, and for more intimate vacays too.
Just be aware that because you're inside a vintage railcar, it's pretty cozy. But that can be a bonus, too, especially if you're looking for one of the more romantic cabin getaways in New York.
So, if you're looking for one of the more unique and best cabin getaways in New York, this is it!
Price: $330 per night.
8. Cabin 5 – Three Pines Lodging & Marina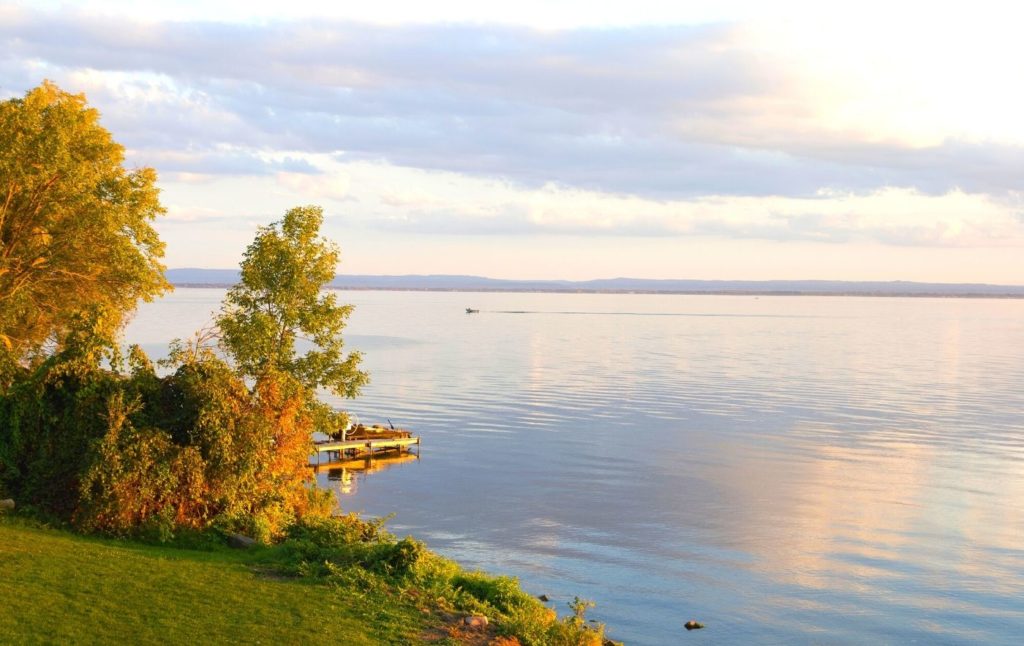 This amazing cabin is located on the Northeastern shore of Oneida Lake and once you arrive, you'll never want to leave.
For starters, the owners, Dan and Tammy, are the nicest people, and really go out of their way to make this feel like your unofficial home away from home.
Add to that a stunning lakeside location and you'll be planning all your future romantic cabin getaways in New York here!
Now, because this cabin literally sits right on the lake, guests can bring their own boat (if they're lucky enough to have one!) as one dock is included in the price.
Alternatively, you can rent one after you get here, which Dan and Tammy can easily provide you with. After all, this lake is particularly popular for fishing and ice fishing in the winter.
Really the only downside for me was the lack of kitchen equipment, and I would definitely struggle with a longer stay here. However, I DID enjoy taking all my meals out on the patio and admiring the sweeping views of Oneida Lake.
FYI, there are also only two twin beds here, so this place might not be ideal for uber-romantic getaways in New York.
Price: $175 per night
9. Rustic Ridge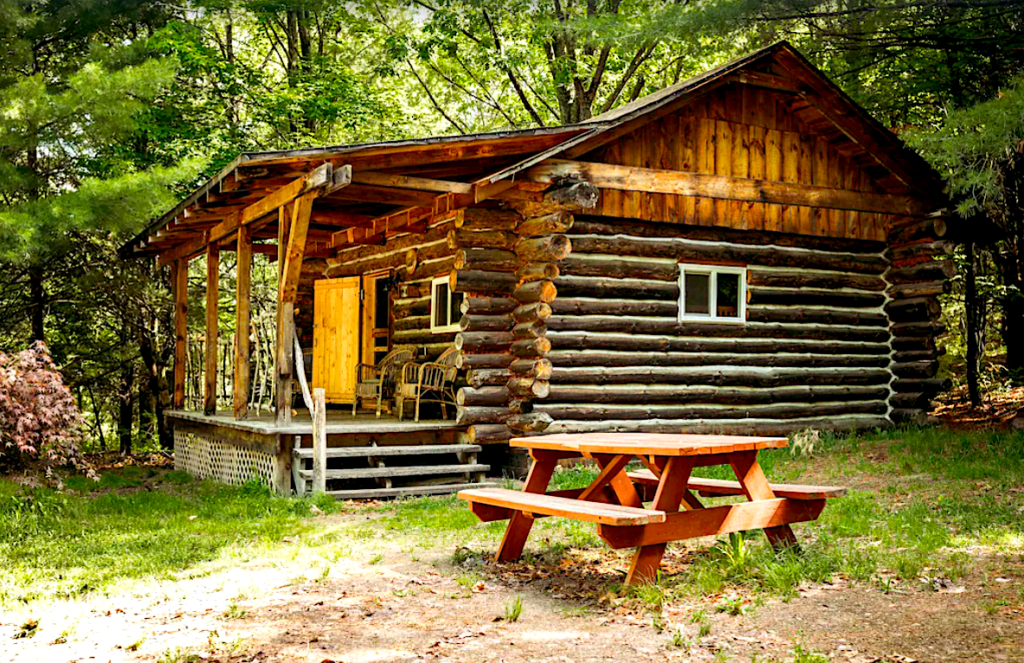 Another beautiful Finger Lakes property that is located near none other than Keuka Lake – making this one of the most remote cabin getaways in New York. It's also 100% not for anyone who hates roughing it!
And that's basically because this property doesn't have any running water or electricity, which might sound like a nightmare to some but is surprisingly refreshing. There is also an outhouse on the premises, and a traditional grill, but you won't be getting many – if any – 5G bars out here!
So, the moral of the story? Be prepared!
However, if you're into getting away from it all then this is the perfect romantic getaway for you – at least if you can manage to exist without modern amenities for a few days.
So, what are you waiting for? Book this cabin now and cuddle up at night outside next to the fire pit. Listen to the sweet sounds of nature as you fall asleep and enjoy the indoor fireplace when the weather gets a little colder.
However, this cabin is also very popular with hunters and even comes with a smokehouse to keep meat cool during your stay.
This awesome cabin can also accommodate up to 4 people, including two dogs, so it's a great family getaway for anyone looking to hunt or reconnect with nature.
Price: $99 per night.
10. Cozy Cabin – North Osceola, NY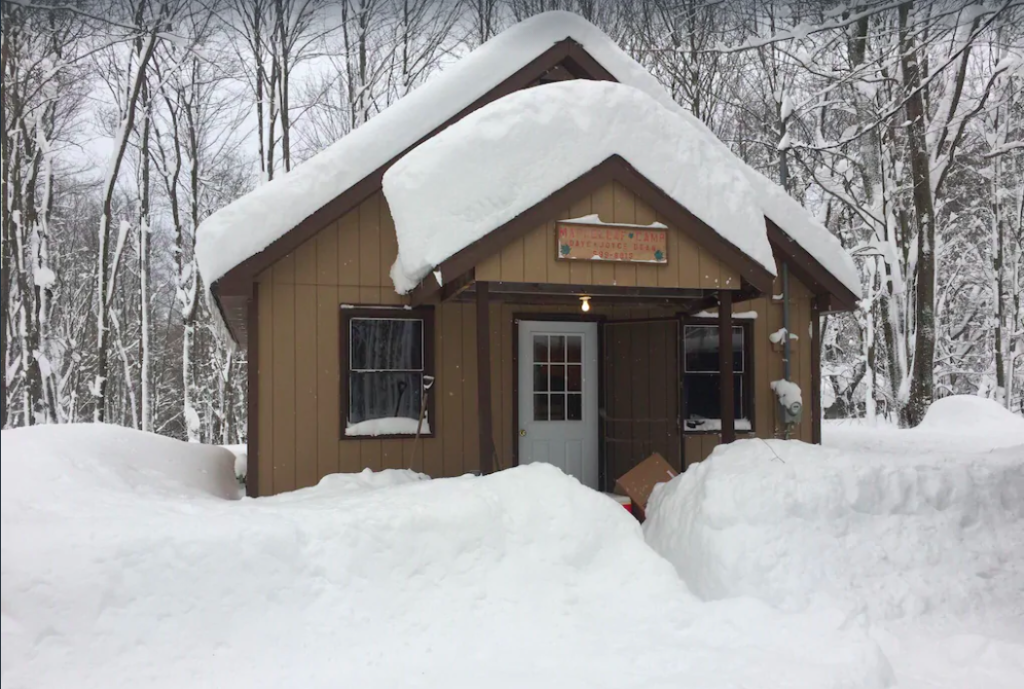 So long as you don't mind being without internet for a bit, this cozy cabin in upstate New York has everything you could possibly need and is ideal for longer stays.
In fact, it's the kind of place I'd rent out to get some writing done if I wanted to be free of distractions.
Of course, it's really ideal for nature lovers looking for secluded and romantic cabin getaways in New York. Because pretty much any outdoor activity you might want to do is available from your very own backyard here.
Therefore, you can easily hike the surrounding areas for hours, go biking, fishing or even hunting.
And if you don't mind the cold, it's also an amazing location for snowmobiling, ATVing, or ice fishing! Don't worry though, the heater inside keeps the cabin toasty.
Plus, in the summers, guests can BBQ, or hang out in the evenings around the fire pit.
Now, even though there is no internet available, games and books are provided by the property, as well as a TV and DVD player. So, you definitely won't get bored during your amazing stay.
Price: $105 per night.
Most Romantic Cabin Getaways in New York – The Adirondacks
11. Lake George Cozy 2 Bed 1 Bath Cabin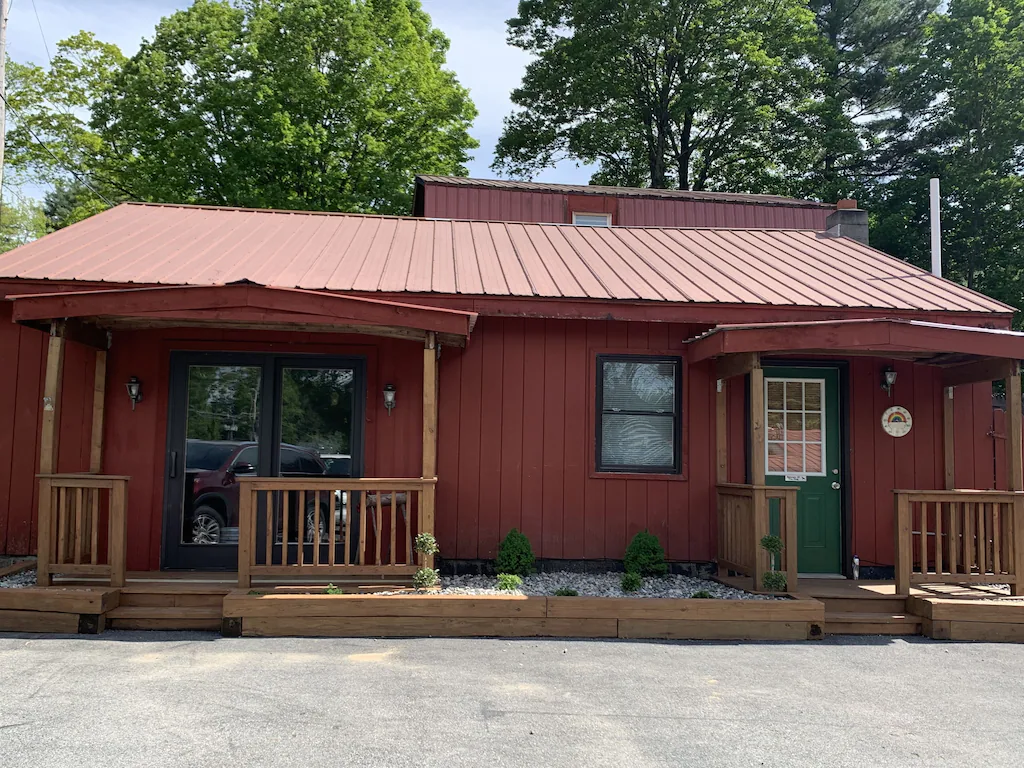 It wouldn't be one of the best and most romantic cabin getaways in New York without the possibility of water sports now would it?
That's why, you need to run – not walk- to this gorgeous, newly renovated 2 bedroom cabin near the shores of Lake George, up in the Adirondacks of New York.
It's literally only 30 miles north of Saratoga Springs and one block from the hidden gem that is Usher's Park Beach.
It's also one of the best cabin getaways in New York that is supremely spacious since 6 people can comfortably spend a long weekend here without getting on each other's nerves – well at least after you figure out how to extend the pull-out couch.
Therefore, this is a great place for family outings or groups of friends vacationing together or just a couple who would like some dang quality time to themselves!
There's even a back patio complete with a charcoal grill for anyone looking to barbecue it up like a boss!
Kelly, I believe you mentioned water sports? Well, whatever your passion for aquatic activities, this Lake George area cabin has got you covered.
Because from sailing and waterskiing to paddling, parasailing, jet skis, boat rentals and even getting yourself onto a steamboat, if you're into being active on the water, this cabin is where it's at!
Price: $179 per night.
12. Camp Lillian Gorgeous New Cabin with Mountain Views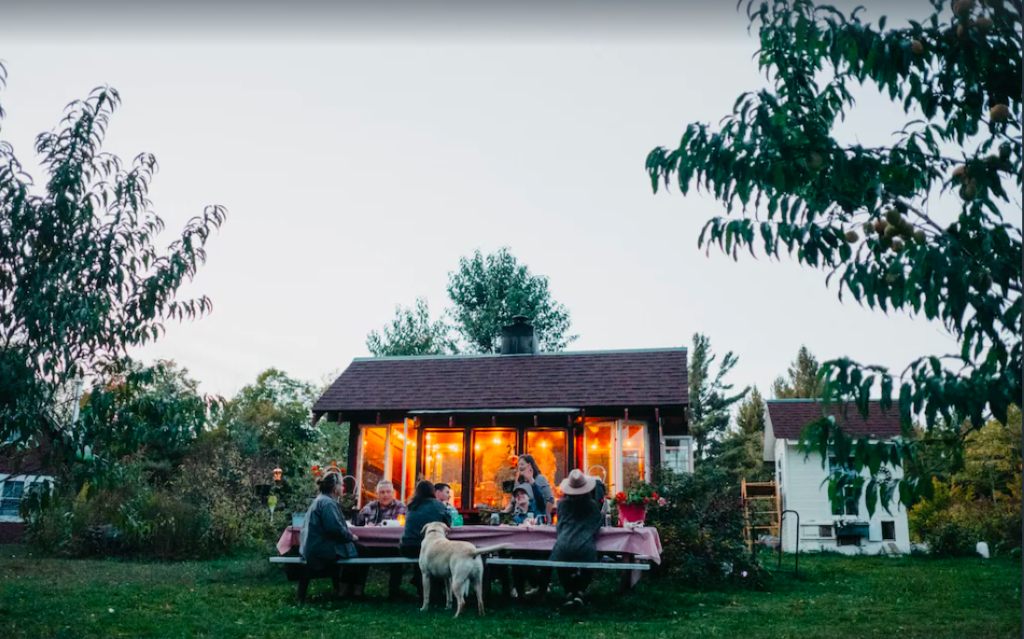 Up near the town of North River, this rustic-looking yet modern forest cabin is just begging to be used for a secluded, relaxing getaway. And you should totally get up there and do just that!
Seriously, this place was literally designed to be one of the perfect romantic cabin getaways in new York. The decor is so cozy – I'm talking rugs, throw pillows, and wood panels galore – that you can probably picture yourself wrapped up in a blanket, sitting and reading in the bay window by the light of an antique lamp. I swear it's like a postcard!
Plus, the Hudson River and plenty of lakes are nearby – great for fishing, swimming, and white water rafting. And anyone looking to conquer some peaks and go for longer hikes, Gore Mountain is just five miles away, where skiing and snowboarding are popular winter activities.
However, one of the best low-key activities here is to spend some time stargazing on a clear night in the Adirondacks. Yup, the sky will be extra bright because the air is so fresh! And if you visit this amazing cabin during the summer, make sure to take advantage of the wood-fired stone pizza oven!
Price: $180 per night.
Most Romantic Cabin Getaways in New York – The Hudson Valley
13. Big Medicine Ranch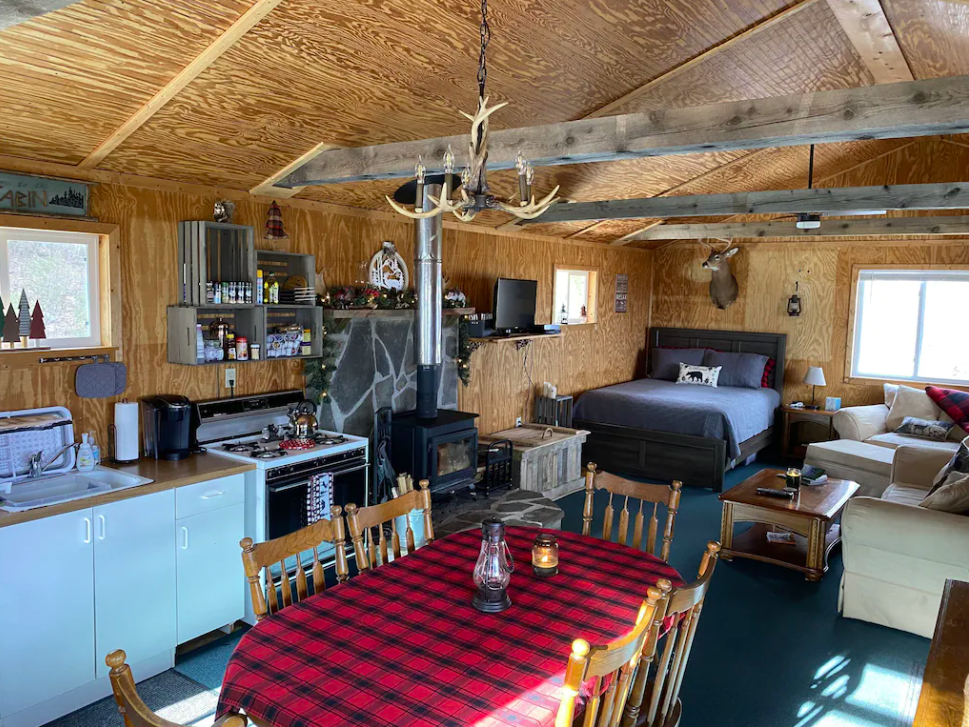 The views, y'all. The freakin' VIEWS. After all, this back-to-basics studio cabin is perfectly positioned to take advantage of the highly Instagrammable Hudson Valley.
Because this is one of those places where you really can see for miles in every direction! So, if you're looking for a true outdoor cabin experience, then this is one of the best and most romantic cabin getaways in New York for sure!
I mean, Hunter Mountain, Kaaterskill Falls, and Catskill State Park are all within 10 miles of this rental. Therefore, this cabin is sure to bring out the outdoorsman in you.
Especially since you could hike all day every day for your entire stay and not cover all the trails and green spaces that surround you. And after each trip, you get to come back, crack open a cold one, sit on the porch, and marvel at the wonderful landscape. Does it get any better than that?
And just in case you were wondering, the correct answer is of course, "no".
Now, the cabin itself has a charming living space that comes complete with a wood-burning fireplace and a fully equipped kitchen.
Although, in keeping with its back-to-basics nature, the cabin doesn't have running water – that means there's an outhouse just outside.
Plus, due to the cabin's location near a cliff and within treacherous mountainous terrain, no children are allowed. Yup, only those truly dedicated to living the simple life need apply and book this cabin right now!
Price: $225
14. The Cabin near Windham
If I had to describe this house in a sentence it would be cozy, secluded and ultra romantic. If you are looking for some quiet time with that someone special then you probably want a place that is away from the city. The Cabin is a great place to disconnect from the hustle of city life.
Bonus points since it is on lease by a superhost! Did I mention that it has been recently renovated and has the rather quaint feel that accompanies most wooden buildings?
If you love long walks, nature and the bubbling of a river close to where you stay then you have to check this place out. The interiors of the cabin are also really cozy and warm. It is normally more popular during winter since it is a ski house but the surroundings are hypnotic in summer too!
Don't fret about getting bored either. If you want something more active during your time in the area, there are loads of attractions in the area that you can visit. Including Black Dome Mountain. Oh and you can even take your dog along!
Price: $445
15. Beautiful 2 bedroom cabin Newly Renovated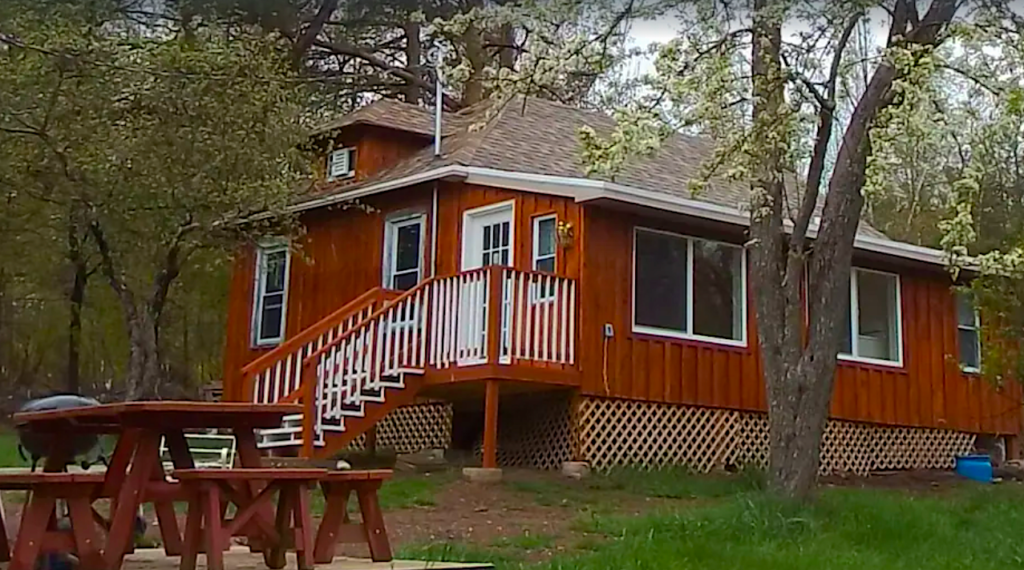 If you're looking to relax and take a break from the city, then this 2 bedroom cabin near Liberty NY will leave you feeling refreshed and rejuvenated in no time at all.
The cabin itself is just darling, with a cozy kitchen and breakfast area, and an open plan living room for some extra relaxation.
Plus, outside you'll find plenty of outdoor space for hiking, with many trails running right next to where you'll be staying.
And, if you book your room now, you'll be within easy walking distance of the local park where you can find a playground and baseball facilities, making this one of the best cabin getaways in New York for families with kids!
Lake Superior State Park is also just a short drive down the road, where you can get access to some more challenging hiking areas, as well as boating, fishing, and hunting options, and even a beach where you can go swimming.
Of course, you'll also be right around the corner from the original 1969 Woodstock Music Festival! So, head on over to Bethel NY and soak up the vibes leftover from one of the most peaceful gatherings of like-minded music lovers in history before enjoying some of the best things to do in Woodstock, NY!
Price: $138 per night.
16. Charming Secluded Mountain House with Creek View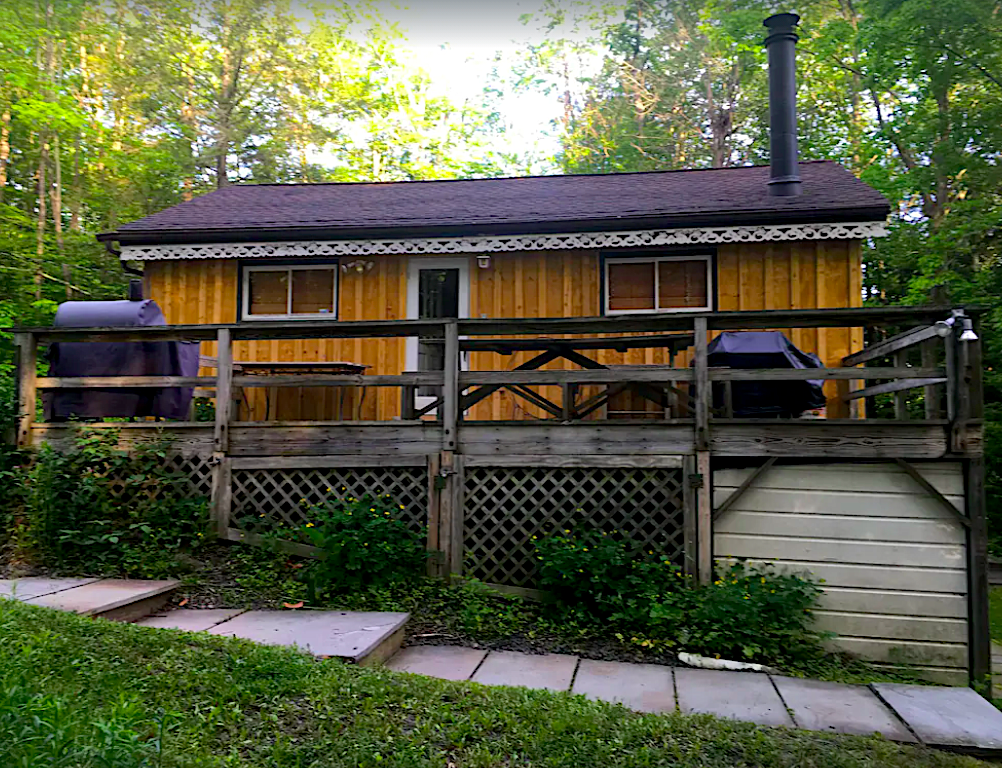 This remote 3 bedroom cabin is located just outside of Hunter, New York and is surrounded by the beautiful outdoors. More specifically, it is surrounded by Hunter Mountain and Windham Mountain on either side, with the Catskills being not far away.
That's why, throughout the winter, this is easily one of the best romantic cabin getaways in New York for skiers or snowboarders.
And the rest of the year? Well, it's ideal for anyone who loves hiking and exploring too.
After all, this gorgeous cabin sits near a creek and is surrounded by lush trees, making it feel even more cut off and remote than it actually is.
So, it's one of the best cabin getaways in New York if you want to disconnect and do your own little personal writing retreat.
Or, because this property is well spread out across two floors and can sleep up to 9 people, it's perfect for a group of friends looking to split the cost of accommodations.
Especially since it has a pool and air hockey table that might just be the highlight of any trip here (okay, okay, minus the mountains).
Additionally, the kitchen is fully equipped and stocked, along with a full bar. Each floor of the house also comes with a satellite TV and surprisingly good WiFi for a remote cabin in the woods.
Price: $350 per night.
17. German Town Country house
The German town country house is both private and luxurious. It's located on a 2 acre piece of land which just has spectacular views of the valley below it. One thing that I really love is that while the house isn't too far away from civilization, it gives you the feeling of being disconnected.
In fact, the house has everything you could possibly want. From hot water to air conditioning and even a large kitchen. It is the ideal country house. It made me feel like I walked straight into a movie!
It is very close to many hiking trails in Tivoli bays and Catskills mountains so there is a lot of outdoorsy stuff to do. In winter it is close to all the ski lodges. Oh and when it gets cold, you can throw a log of wood in your own fireplace and get cozy together. It really doesn't get more romantic than this!
Price: $149 per night
Additional New York Resources You'll Love
Well, that just about wraps up this guide to the best romantic cabin getaways in New York!
Tell me, did your pick for the best cabin getways in New York make the list? If not then let me know in the comments below.
And if you found this post helpful, be sure to join our email list and then pin this post now so that you can read it again later!