Oh, hello New Paltz, you saucy little minx you – a hopping little town in the Hudson Valley that sits right near the Shawangunk Mountains and that is home to you guessed it, SUNY New Paltz and some of the best things to do in New Paltz, NY.
Because you KNOW that if it's a college town then there have to be TONS of hella fun things to do here.
And in this ultra-rad local's guide, I'm about to reveal all my expert picks for some of the best things to do in New Paltz, NY.
After all, my brother lives just a hoot and a holler down the road in nearby Poughkeepsie. Therefore, I've had AMPLE opportunities to enjoy the full-on glory that is New Paltz over the past 30+ years (no, I will not be revealing my exact age).
So, if you want to escape the perpetual chaos of NYC and channel your inner creative then be sure to check out this charming little town.
It's brimming over with independent boutiques, artisan shops, 17th-century buildings (in the Huguenot historic center), Victorian Mansions, and more than 6,000 acres of untouched wilderness in the Mohonk Preserve – much of which can be easily explored as part of a low-key day trip from NYC.
That's why, if you're ready to visit one of the coolest towns in the Hudson Valley then continue on my friend and learn about the best hotels in New Paltz, how to get to New Paltz, the best things to do in New Paltz, and the best restaurants in New Paltz in this uber-fab guide right here.
This post may contain affiliate links. Please see my disclosure for more information. As an Amazon Associate, I earn a small commission from qualifying purchases
⏰ Looking for a great place to stay in New Platz, NY? I recommend booking the Hampton Inn by Hilton New Paltz. It has pretty casual rooms and an epic breakfast! ⏰
How to Get to New Paltz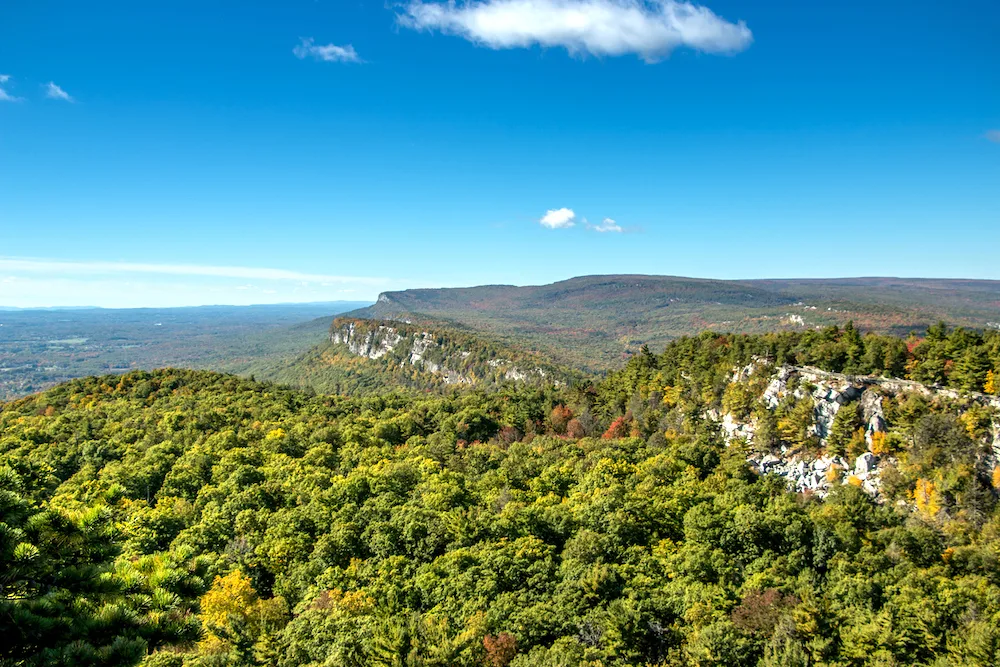 Good news travel fans, New Paltz is pretty dang easy to get to from NYC. So, you could do any one of the following.
Bus – You can easily take the bus from Port Authority directly to New Paltz. The journey will take about an hour and an half, buses depart five times a day, and tickets cost anywhere between $19 and $65. The bus is definitely direct and easier than taking the train.
Train – Not a fan of the bus? Then take the train instead. You can hop on a Amtrak train from Penn Station directly to Poughkeepsie. The train trip will again take about an hour and a half and tickets are usually around $20.
However, once you get there, you'll then need to take a bus from the train station to New Paltz, which is usually about a 30 minute ride.
Car – If you live in the city then I seriously doubt you have a car. But if you do, you can just take I-87 (aka the New York Thruway) North (if you're coming from NYC) or South (if you're coming from upstate) to exit 18 and follow the signs from there.
Depending on the traffic, it can take anywhere between an hour and a half to two hours to drive from NYC to New Paltz.
Pro Tip: Like with most destinations in the Hudson Valley, you WILL need a car once you get there since local public transportation is very much less than stellar. So, if you arrive via bus/train, be sure to rent a car upon arrival at Zipcar, Enterprise, and Hertz.
Best Hotels in New Paltz, NY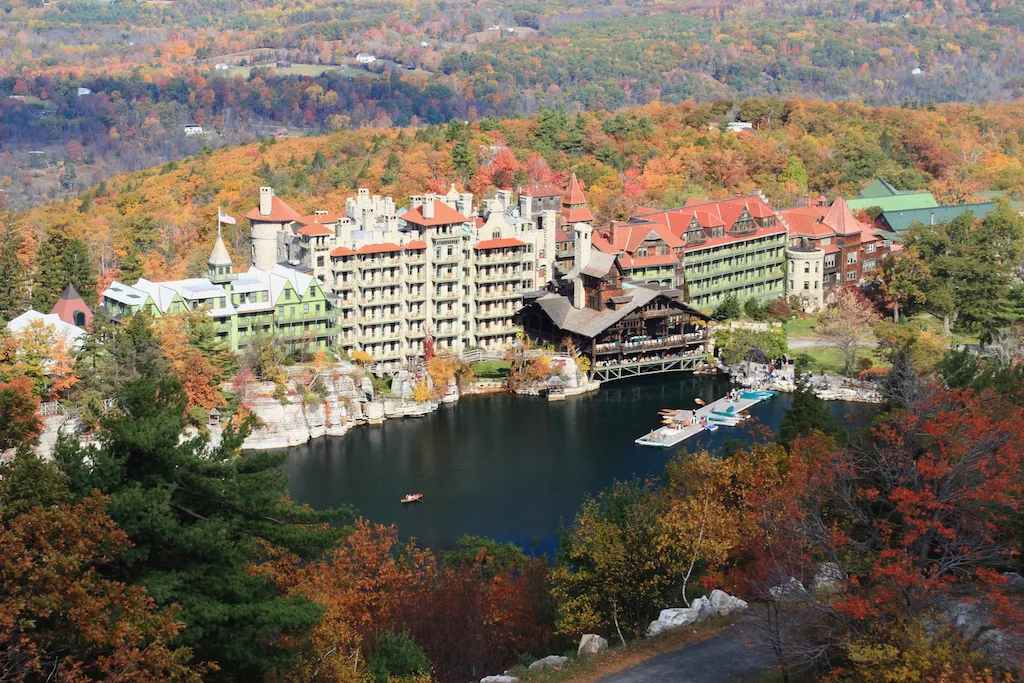 I'm not gonna lie to you. There aren't a ton of epic places to stay in New Paltz. However, Poughkeepsie is just a short drive down the road.
So, if you don't see any hotels here that tickle you're fancy here, then be sure to check out my guide to the best things to do in Poughkeepsie for even more great places to stay.
Hampton Inn by Hilton New Paltz (Budget, New Paltz) – Yeah, I know chain hotels are kind of lame. But, the price is run and this place is operated by Hilton so you know its legit. So, expect relatively casual rooms that include WIFI, Mircowaves, 46-inch TVs, and coffeemakers.
You'll also get complimentary breakfast and can even use the awesome saltwater, indoor pool – a perk that I for one think is pretty dang cool.
Harvest Inn (Budget, Pine Bush) – Just a 15-minute drive outside of New Paltz is this well-priced hotel. It's nothing fancy but it's comfortable, clean, and has relaxed rooms that come with everything you need for a great stay.
There's also a complimentary continental breakfast, in addition to an outdoor pool and an in-house café that serves coffee, wine, and local craft beer.
Black Creek Bed and Breakfast (Mid-range, Highland) Less than 10 miles from New Paltc is this stunner of a bed and breakfast. Not only do the owners take great pride in the unparalleled service they provide, but rooms are well-appointed with art from local artists, TV, WIFI, and luxurious linens.
A five-star breakfast is also included with your stay and is just one of the many highlights of this New Paltz hidden gem.
Mohonk Mountain House (Luxury, New Paltz) – Fancy AF is the understatement of the century since this luxurious resort basically has it's own private lake on-site and offers guests a variety of accommodations to choose from – like rooms, suites, cottages, etc.
Add in some snazzy, vintage decor that is perfectly balanced out by modern amenities (WIFI, fireplaces, private balconies) and you have the perfect place to stay in New Paltz.
And if all of the best things to do in New Paltz, NY aren't entertaining enough, you could always make use of the resort's 18-hole golf course, spa, kids club, outdoor/indoor swimming pools, ice rink, buffet-style meals, and afternoon tea in the lounge.
Best Things to do in New Paltz, NY
1. John R. Kirk Planetarium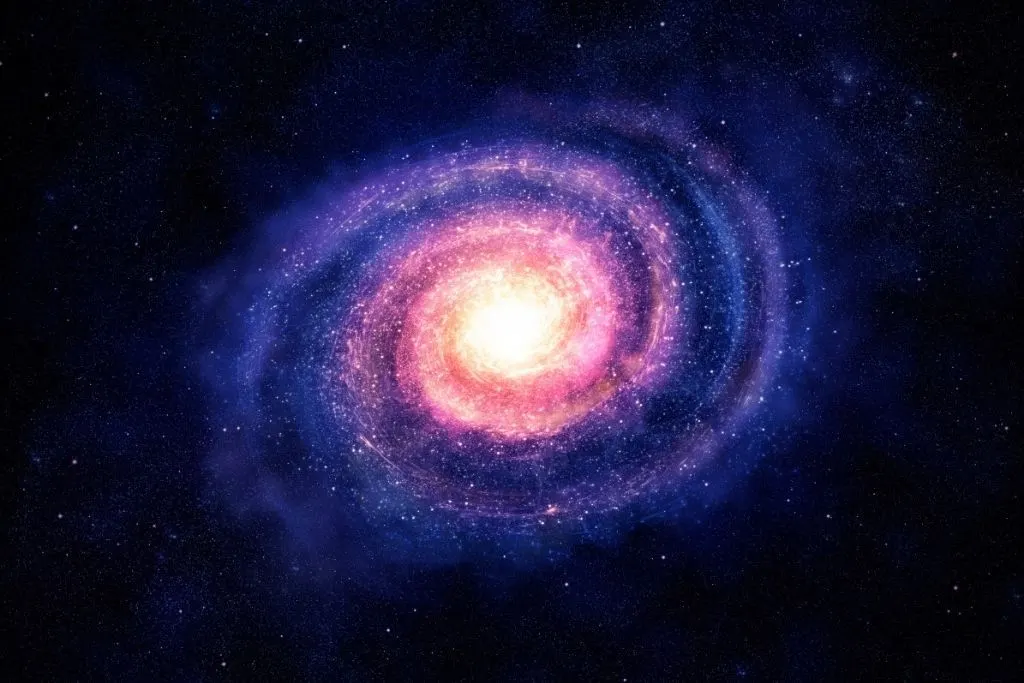 Located inside the Coykendall Science Building at SUNY New Paltz, this world-class planetarium will instantly transport you millions of miles away and into far-off galaxies – where you can marvel at twinkling stars and glittering planets that you've never even heard of.
Because this planetarium of awesome has a private, indoor theater that can seat up to 44 people. And although most of the shows – on the theater's supremely epic domed ceiling – are geared towards younger patrons, they can accommodate older visitors if you schedule a private show in advance.
After the show, guests are then welcome to the Smolen Observatory where they can use the telescope if it's a clear enough night.
Pro Tip: Tickets for shows typically become available two days before the event. You can also visit the Samuel Dorsky Museum while you're here.
Address: Coykendall Science Building, SUNY, New Paltz, NY 12561
Hours: The facility is open to the public on the first and third Thursday of the month when school is in session. Performances are held from 7:30 pm to 9:30 pm in the winter, from 8:30 pm to 10:30 pm in the spring/fall, and from 9:30 pm to 11:30 pm in the summer.
Price: The shows are free but you must reserve tickets in advance.
2. Walk Down Main Street
As the name might suggest, Main Street is at the beating heart of this trendy little Bohemian-chic college town. So, stroll down New Paltz's main thoroughfare and experience some of the best things to do in New Paltz, NY.
Trust me, you'll find anything and everything you could ever want here, including cute coffee shops, vibrant art galleries, chic boutiques, and delicious restaurants that serve up Thai, Mexican, Indian, American, and even Vietnamese cuisine.
Plus, many of the buildings here are actually historic. So, be sure to have those cameras at the ready as you explore local faves like Groovy Blueberry (vintage clothing store), Water Street Market (open-air market with cool antique finds and Himilayan-style art), A Tavola Trattoria (great Italian place), Main Street Bistro (great for brunch), Inquiring Mind Bookstore/Cafe, and more.
3. Explore Minnewaska State Park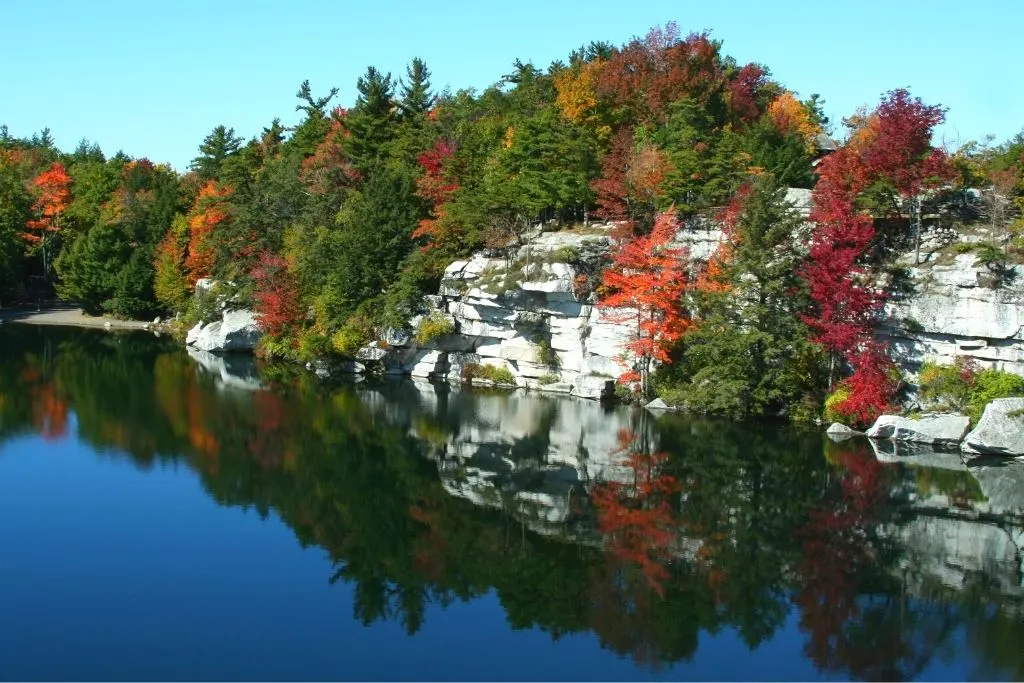 Tucked away among the Shawangunk Mountains is this natural oasis in Ulster County, NY. It's filled with countless waterfalls, pristine lakes, dense forests, sheer cliffs, and stunning overlooks that can all be enjoyed from more than 35 miles of carriage roads and 50 miles of trails.
So, as you hike, bike, or walk your way through the park, be sure to visit Lake Minnewaska, Sam's Point, and Samuel F. Pryor III Shawangunk Gateway Campground (a tent-only campground) if you'd like to spend the night in the outdoors being serenaded by local wildlife.
Pro Tip: There are no garbage cans in the park so be sure to take all your trash with you when you leave.
Address: 5281 Route 44-55, Kerhonkson, NY 12446
Hours: Open daily at 9:00 am and closes around dusk.
Price: $10 per car.
4. Get Creeped Out at Mohonk Testimonial Gateway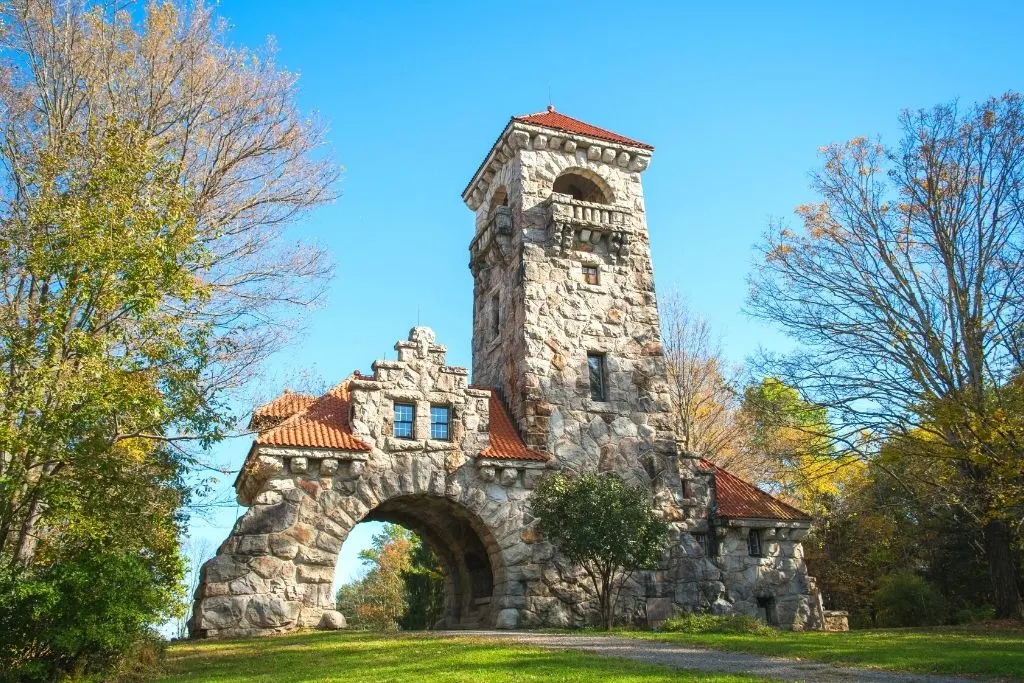 Long ago, in a galaxy not-so-far away, this elaborate structure served as the gateway/official welcome point for a swank-erific mountain resort.
In fact, it welcomed visitors to the area for more than 30 years but was soon abandoned when the aforementioned resort closed in the early 20th century.
Since then though, this stunning gateway actually made a cameo in the 1985 horror movie classic, The Stuff and is now a designated historic landmark in the town of New Paltz.
So, be sure to take some sweet, sweet photos while you're here before exploring the nearby Mohonk Preserve since this gateway is now a brand-spankin' new trailhead.
Yeah, the aptly named Testimonial Gateway Trailhead is a 6-mile trail that will take you along Pin Oak Allee, through Brook Farm, and eventually lead you – via a cyclist path – to the town of New Paltz itself.
Address: 5-9 Gatehouse Road, New Paltz, New York
Hours: Open daily from 9:00 am to 5:00 pm.
Price: $15 for hikers and $20 for bikers/climbers/horseback riders since it's part of the Mohonk Preserve.
5. Check Out Mohonk Preserve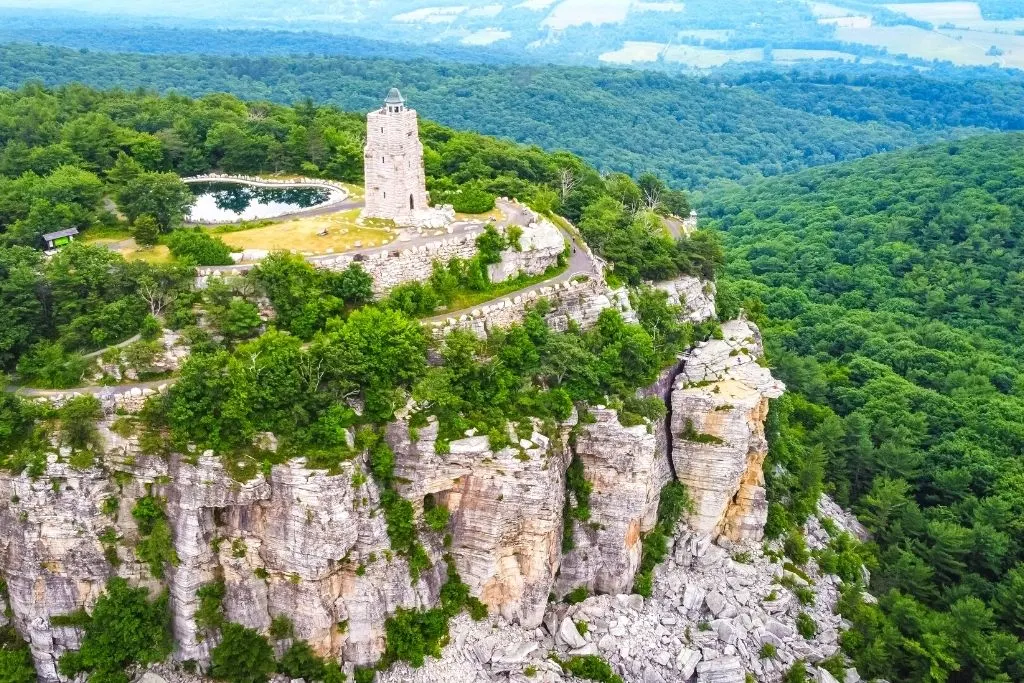 Another fantastic wilderness area that you absolutely must visit when enjoying some of the best things to do in New Paltz, NY is Mohonk Preserve.
It's an expansive area that covers a whopping, 8,000 acres of land – including the idyllic Shawangunk Mountains – that is home to some of the most picturesque natural landscapes in the region.
As a result, it features a wealth of hiking trails, carriage roads (75 miles worth), and rocky outcrops that outdoor enthusiasts will love exploring while planning the perfect New Paltz itinerary.
So, if you're into hiking, biking, or horseback riding (try the Spring Farm Trailhead for this) then this will be the perfect place for you.
However, this is especially true if you're into rock climbing since this park is home to the awe-inspiring Gunks climbing cliffs, which consist of more than five linear miles of climbing surfaces.
Yeah, there are quite literally thousands of routes to choose from as you take on some of the best climbing areas on the east coast.
Address: 3197 Route 44 55, Gardiner, NY 12525
Hours: Open daily from 9:00 am to 5:00 pm.
Price: $15 for hikers and $20 for bikers/climbers/horseback riders.
6. Robibero Family Vineyards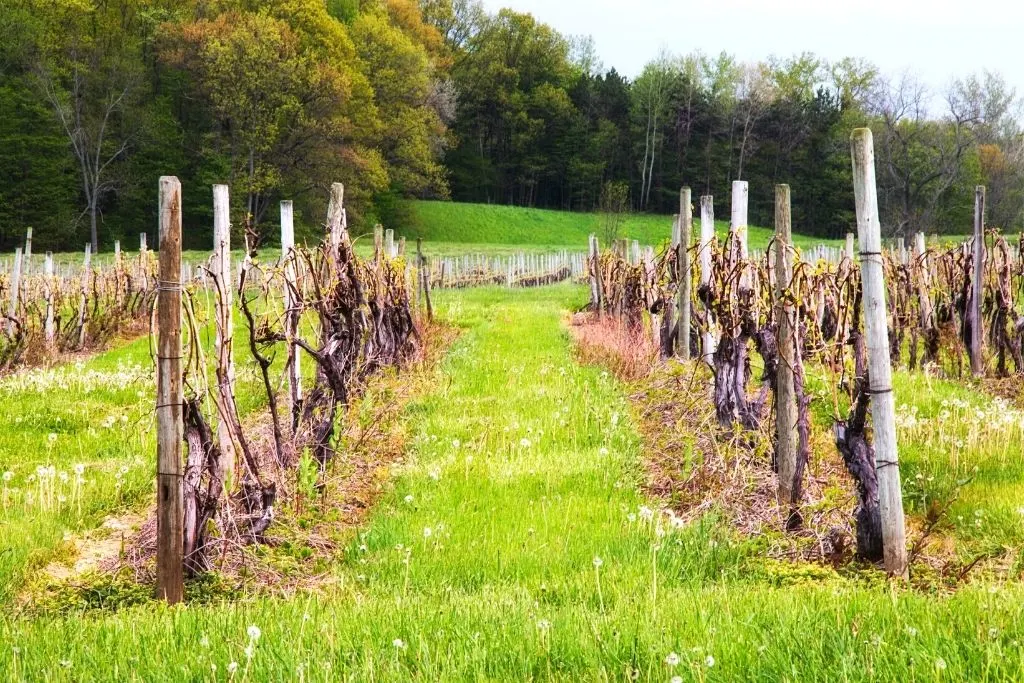 Want to get your drinky drank on while enjoying some of the best things to do in New Paltz, NY? If so then meet your new best friend – the Robibero Family Vineyards.
After all, this gorgeous family-run, artisanal winery sits on 42-acres of land and is an ideal place for wine connoisseurs and newbies alike.
So, learn all about the wine making process in their cellar, stroll through the enchanting stretches of grape vines, and relax on their outdoor, covered deck with a glass of delicious, award-winning wine in hand.
Added bonus? All of the wines manufactured here are truly one of a kind and cannot be found anywhere else. But, if you find a vintage that you fall head over heels in love, not to worry because you can always order more online.
Oh, and just in case you were wondering, no, they don't accept reservations and operate on a first come, first serve basis only. They also serve food at the winery and have great wood fired pizza on the weekends when the oven is working.
Pro Tip: Stop by on Saturday and Sunday between 2:00 pm and 5:00 pm to enjoy some live music.
Address: 714 Albany Post Rd, New Paltz, NY 12561
Hours: Open daily from 11:00 am to 6:00 pm.
Price: Wine Tastings are $20 per person, includes a selection of four different wines, and feature an 11oz logo wine glass that you get to take home with you.
7. Check Out some Local Art Galleries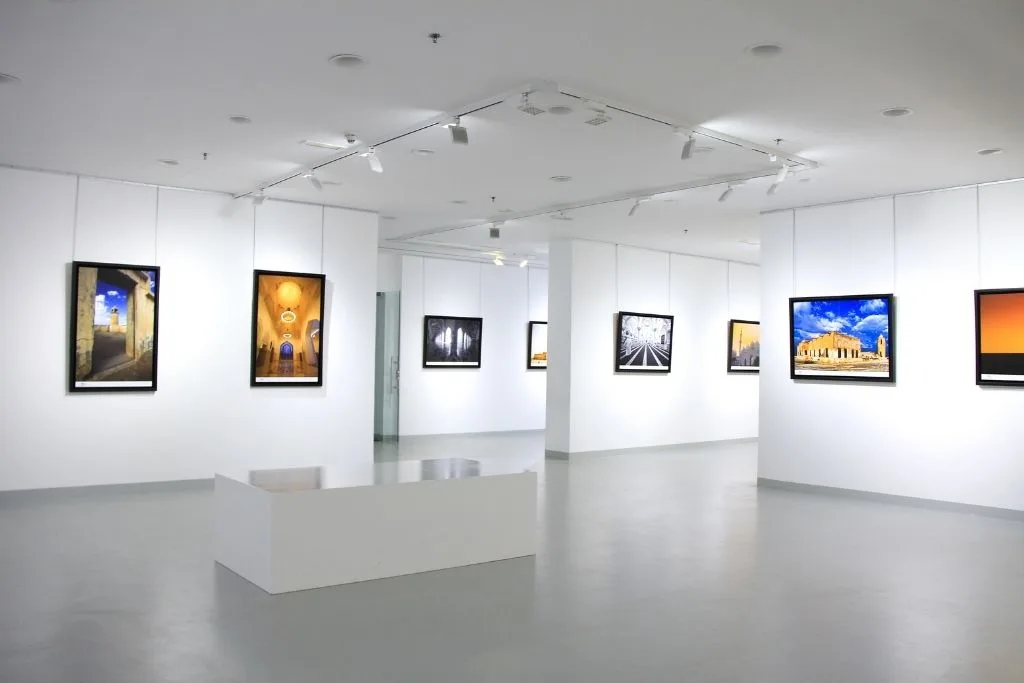 Like any trendy AF small town in the Hudson Valley, New Paltz has its fair share of fly like a G-6 art galleries. So, if you're looking to get your art swerve on while enjoying some of the best things to do in New Paltz, NY, then here are a few of my personal faves.
DM Weil Gallery – Honestly, this is probably the single best art gallery in New Paltz. Not only is all of the modern fine art on display here super fun, but staff are super friendly and don't pressure you into buying anything.
Plus, this expansive, totally vibrant collection is routinely paired with complimentary wine, espresso, small treats (they had me at free wine), and impromptu performances on the in-house, Steinweg piano from 1911.
Samuel Dorsky Museum of Art – I mentioned this place before but this art museum can be found on the SUNY New Paltz campus and is home to a permanent collection, as well as various select temporary exhibits that regularly rotate in and out fo the facility. The emphasis here is also on showcasing pieces. from local, Hudson Valley artists.
Unison Arts Center – This place has a really cool sculpture walk for you to enjoy and regularly hosts a variety of different cultural events that might be uber-appealing if you're a hardcore culture vulture like me.
Mark Gruber Gallery – Another nice little fine art gallery that you can check out while you're in town. Not my all time fave but a good place to go if you really enjoy art.
8. Go Back to Yesteryear on Huguenot Street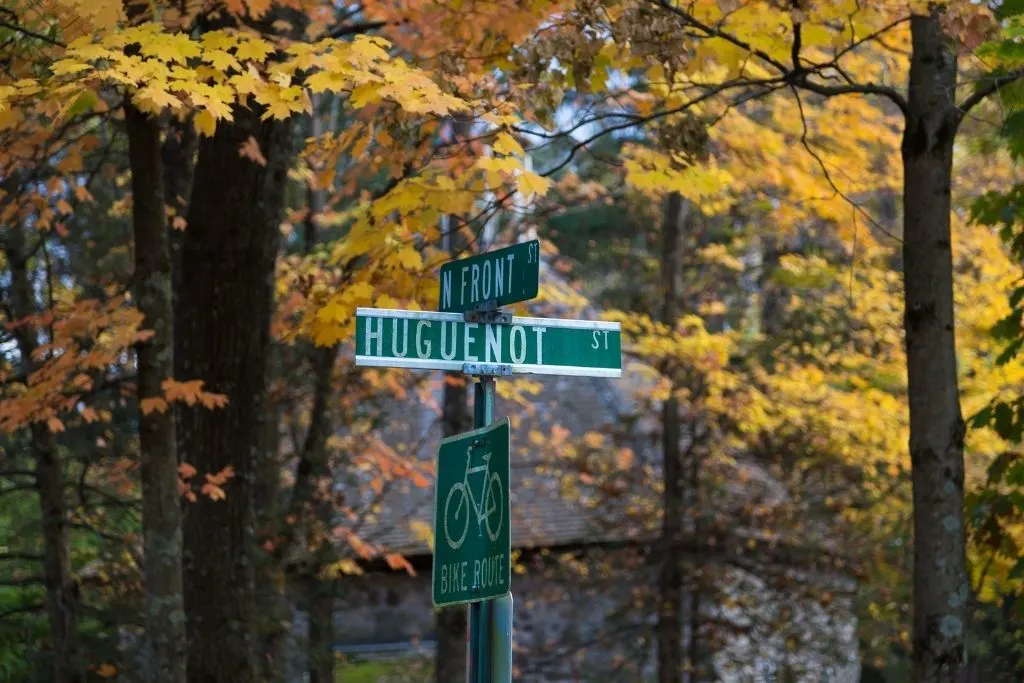 You know how I said that New Paltz was a historic place? Well, that fact is extremely evident on Huguenot Street where you can see a wealth of architectural relics from the town's Colonial past.
In fact, this area was originally developed on this very street towards the end of the 17th Century – by the French Huguenots (hence the name of the street)- which is also why the 10-acre area surrounding Huguenot Street is now a designated, National Historc Landmark District that overlooks the Wallkill River.
So, take a leisurely stroll and marvel at the historic architecture here, including seven colononial-era homes, one church (a reconstructed French Church from 1717), and a wigwam that is a replica of a structure used by the Esopus tribe.
And if you REALLY love history, be sure to stop into one of the area's stone house museums, which detail the unique story of local settlers. You can even download a free walking tour of the area to truly get the most out of your visit and partake in all of the best things to do in New Paltz, NY.
9. Experience the Wallkill Valley Rail Trail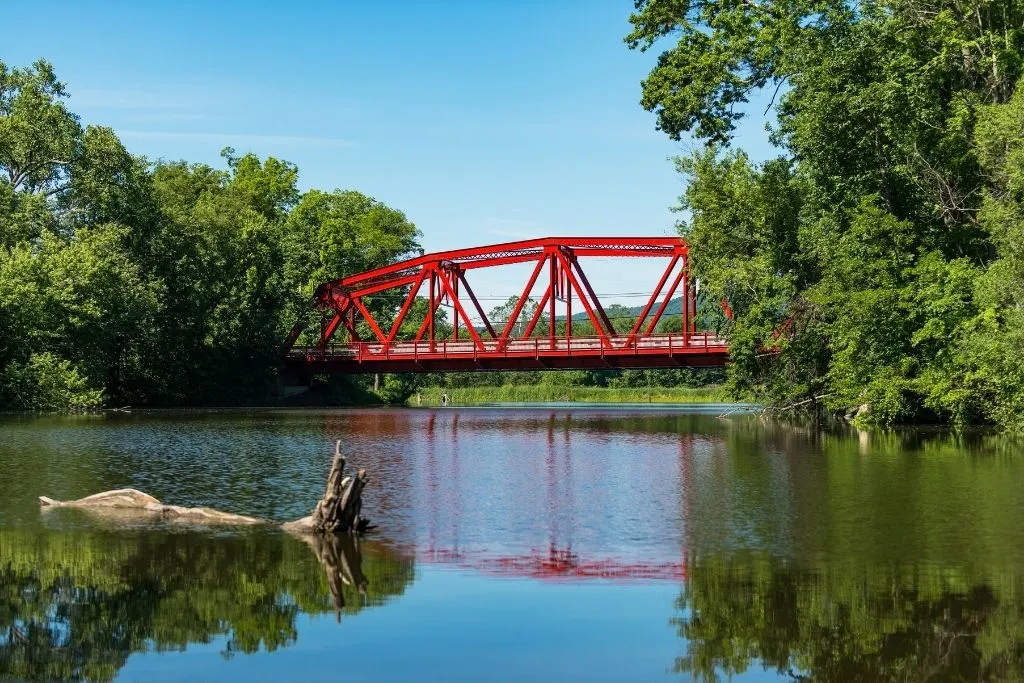 Easily one of the most scenic and best things to do in New Platz, NY, the Wallkill Valley Rail Trail is a 22.5-mile path that follows along the length of the former, Wallkill Valley Railroad.
Originally built on a one-mile section of the railway in 1991, the picturesque walkway was eventually extended to include an area that now connects the towns of Gardiner, New Paltz, Rosendale, and Kingston .
So, take a scenic walk through the region's many farms, mountains, and wide open meadows. Also be on the lookout for the trail's most scenic section at Roundout Creek.
Once here, you'll enjoy exceptional views from the historic, Rosendale Trestle bridge, which stands 150 feet above the stream below.
And if you want, you can even use the River to Ridge Trail to connect you with the previously mentioned Mohonk Preserve.
Address: 55 Plains Rd, New Paltz, NY 12561 (at Sojourner Truth Park)
Hours: Open all year long from dawn to dusk.
Price: Free!
10. See the Nyquist-Harcourt Wildlife Sanctuary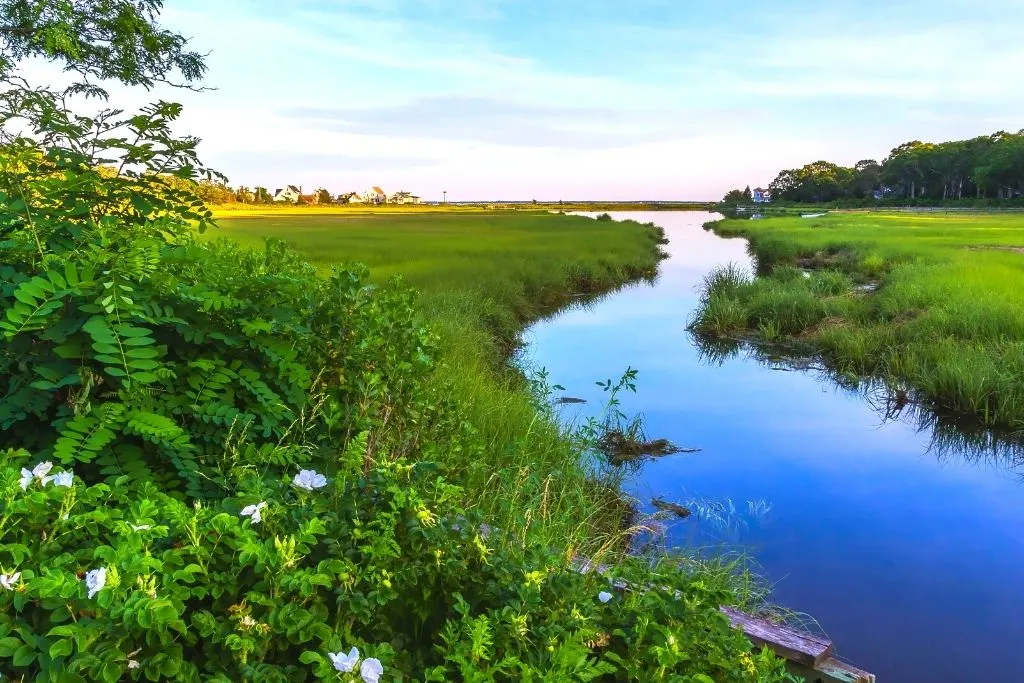 Are you sensing a theme here? Because New Paltz has wide open spaces, wide open spaces, and – oh yeah – more wide open spaces.
So, if you're a lover of all things o'natural then definitely add the Nyquist- Harcourt Wildlife Sancturary (say that five times fast) to your list of the best things to do in New Paltz, NY.
It's a pretty rad, 56-acre park just off Huguenot Street that is home to more than 140 different species of birds. So, grab a pair of bonoculars, walk along many of the pond-side trails, explore the area's wetlands, and be on the look out for great horned owls, orioles, screech owls, sedge wrens, and more.
You'll also love that this park sits along the Wallkill River and offers unparalleled views of this iconic waterway.
Address: 133 Huguenot Street, New Paltz, New York
Hours: Open daily from dawn until dusk.
Price: Free!
11. Catch a Show at Denizen Theatre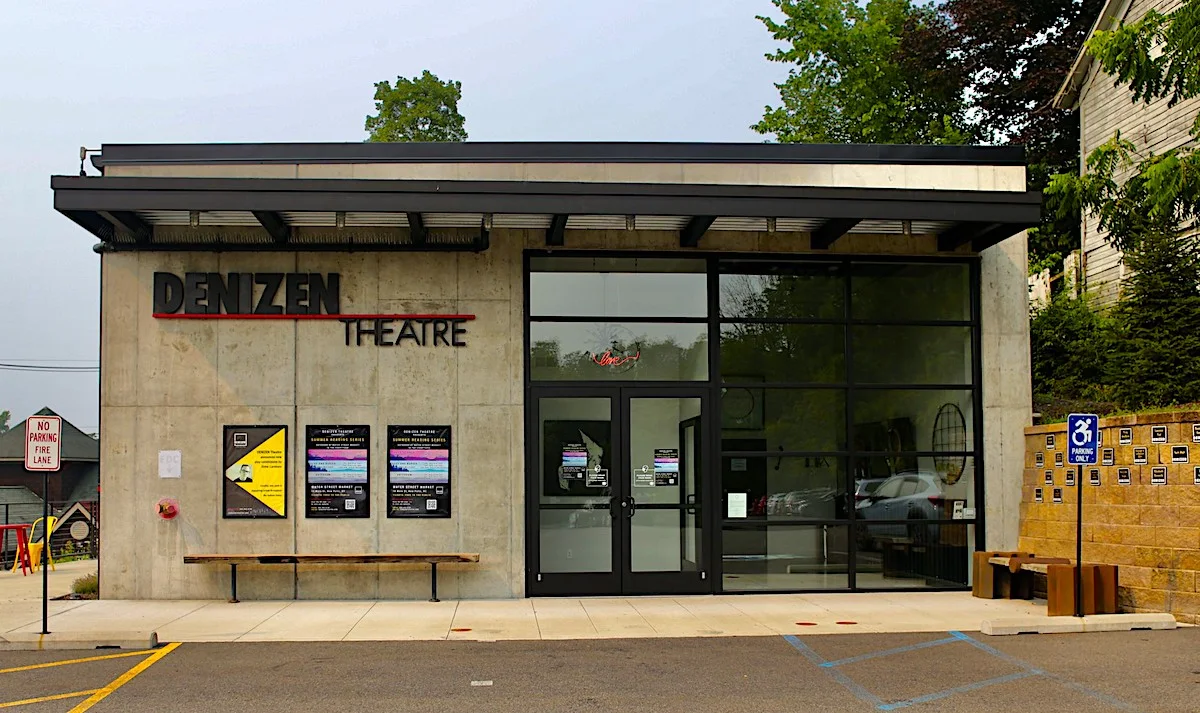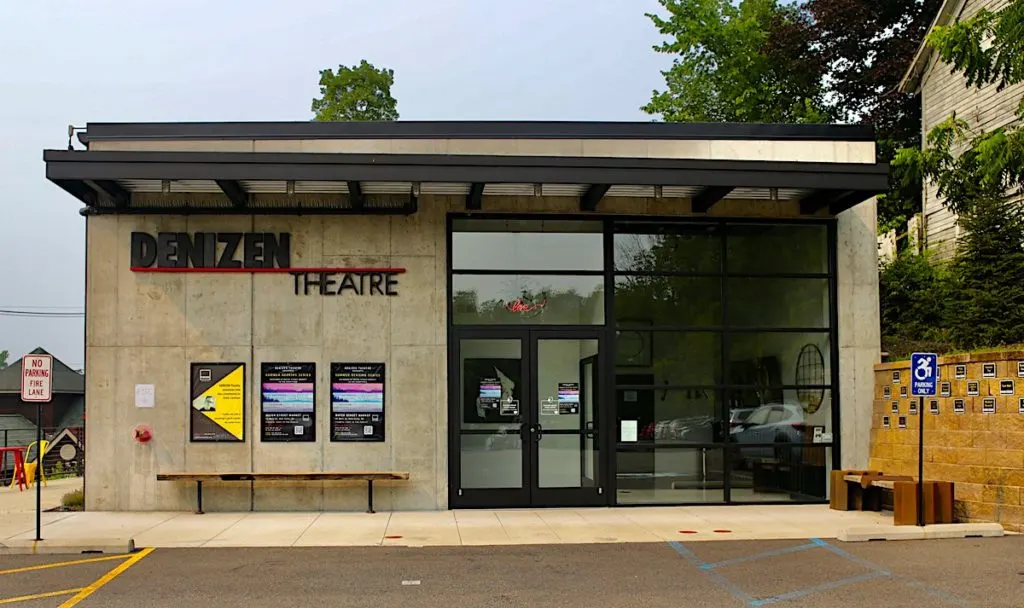 Conveniently located on Main Street, this non-profit, performing arts theater was recently opened in 2018 and features modern design elements that include high ceilings, glass facades, airy spaces. exposed brick walls, and a lobby that doubles as an art gallery.
In total, the black box theater can accommodate up to 70 people for live theatrical performances that are regularly held here on weekend evenings throughout the summer months.
However, because there is no main stage here, the set continually changes. As a result, new and exciting performances are continually brought into and out of the facility.
The entire building is also made out of concrete which totally eliminates outside noise – making this one of the best things to do in New Paltz, NY if you love live theater.
Address: 10 Main St Suite 501, New Paltz, NY 12561
Hours: Open daily from 10:00 am to 10:00 pm, except Mondays.
Price: Varies by show.
12. Grab Some Local Chocolate at Lagusta's Luscious Commissary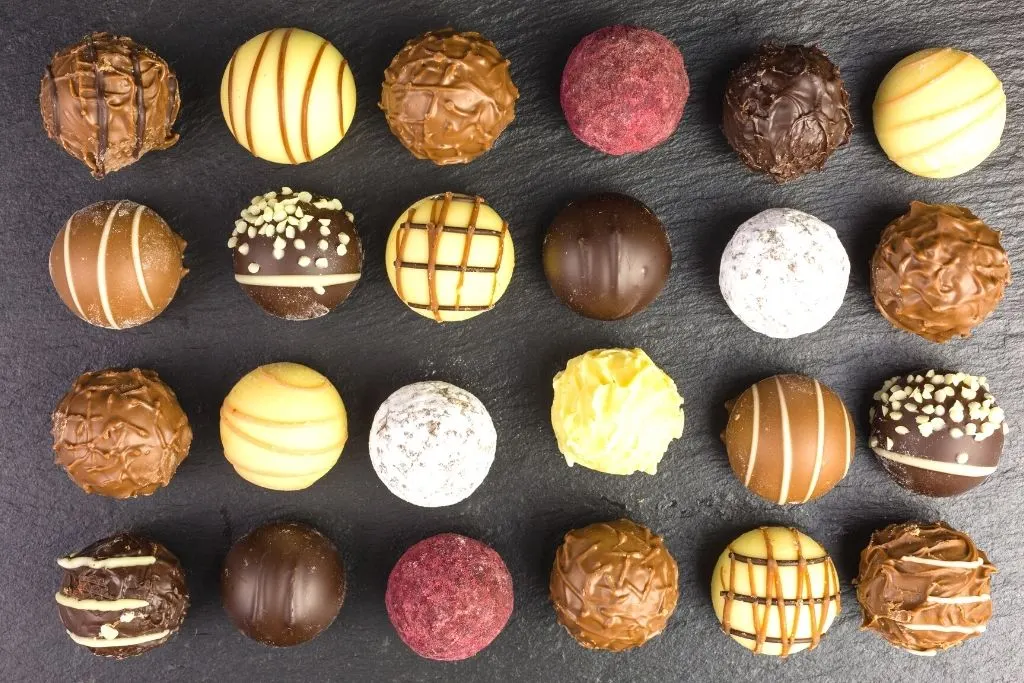 If you have a savor-tooth tiger size sweet tooth like me then be sure to hit up Lagusta's Luscious while you're in the always dreamy town of New Paltz, NY.
Because this place, well, it's variable foodie nirvana for anyone who loves chocolate since they have a premium selection of bonbons, caramels, and truffles to choose from – all of where are homemade, vegan, organic chocolates that are created using fair-trade products from local farms.
I also pinkie promise that the chocolate is actually tasty even through it's totally vegan. it also comes in unique flavors like beet-coriander, pomegranate lemon, yuzu cream, and fig/fennel.
Plus, if you REALLY like what you taste here, you can even subscribe to their chocolate of the month club and have these confectionary delights delivered right to your door.
Pro Tip: Another great, local foodie hot spot is the Coppersea Distillery. They make artisanal whiskeys using copper stills and grains/fruits that are grown on their 75-acre Farm in Wallkill Valley.
So, feel free to visit the malt house, barrel house, distillery, and tavern as part of a guided tour or making an appointment for a private whiskey tasting as you enjoy all the best things to do in New Paltz, New York.
Address: 25 N Front St, New Paltz, NY 12561
Hours: Open daily from 12:00 pm to 7:00 pm, except on weekends when they open at 10:00 am.
Price: Chocolate bars start at $8.00 each (I personally like the Pig Out Bar with caramel sauce that is infused with homemade red miso and ground, smoked local shiitake mushrooms. I know it sounds gross but think of it as a vegan bacon chocolate bar).
13. Enjoy a Meal at A Tavola Trattoria
If you're looking for an epic meal in new Paltz then try A Tavola Trattoria. Yes, the food here is a little on the pricey side (expect to spend around $100 for two) but it's totally worth since everything is made from locally sourced, farm fresh ingredients.
The interior also has this rustic, old-world Italian feel to it that make the place feel extra warm and welcoming – an atmosphere that is well complimented by fantastic service.
And while most things on the menu are pretty delicious, highlights include the sourdough bread, the mac n' truffle, and the salmon risotto.
Pro Tip: Another great place to go for a meal is Main Street Bistro. Not only do they serve great Sunday brunch but they have a fun and vibrant selection of breakfast/lunch entrees that include things like Salmon Hash and a Scooter Frittata – all of which are served to you amidst cool and totally wild decor. This place is uber-popular though so do be prepared for a bit of a wait.
Address: 46 Main St, New Paltz, NY 12561
Hours: Open Thursday through Monday from 5:30 pm to 10:00 pm.
Price: Most entrees are around $30 each.
14. Embrace the Farm Life at a Local Farm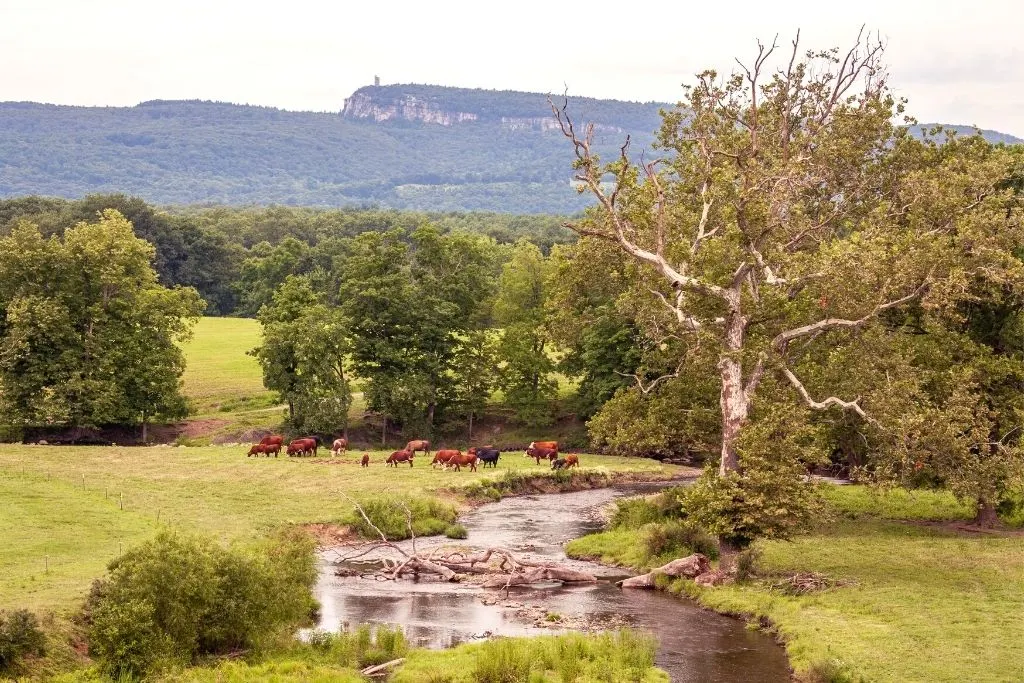 No trip to the Hudson Valley would be complete without a stop at a rustic but super cute local farm and/or apple orchard. So, if you're looking to add a farm visit to your list of the best things to do in New Paltz, NY, then here are some of my fave places to go.
Dressel Farms – A family-owned and operated 300-acre farm that is filled with apple orchards, pumpkin patches, and peach trees. As a result, they're open all year long and sell everything from apple cider donuts to honey/homemade ice cream at their on-site farm strand.
New Paltz Open Air Market – This isn't really a farm but more of a Sunday market in town that features a selection of produce, baked goods, and arts and crafts that are produced by 18 local artisans. So yeah, kind of local a farmers market but with live performances from local musicians too.
15. Grab Some Cider and Pizza at Twin Star Orchards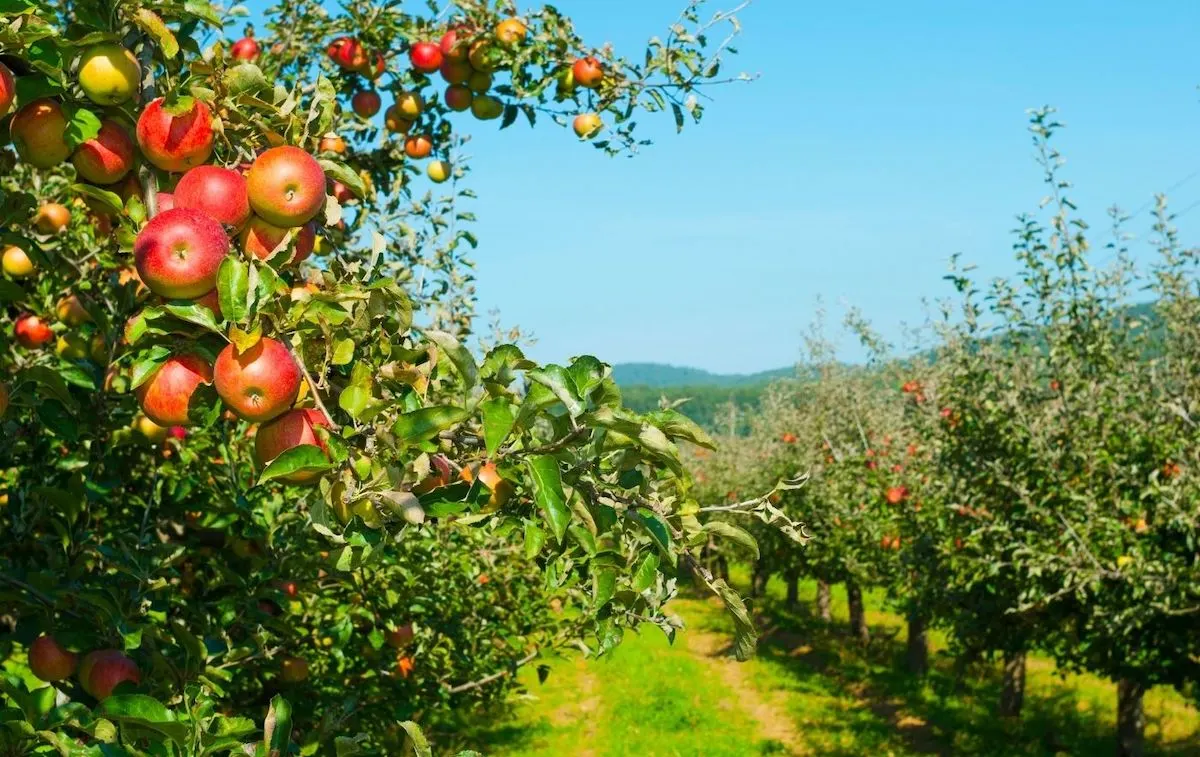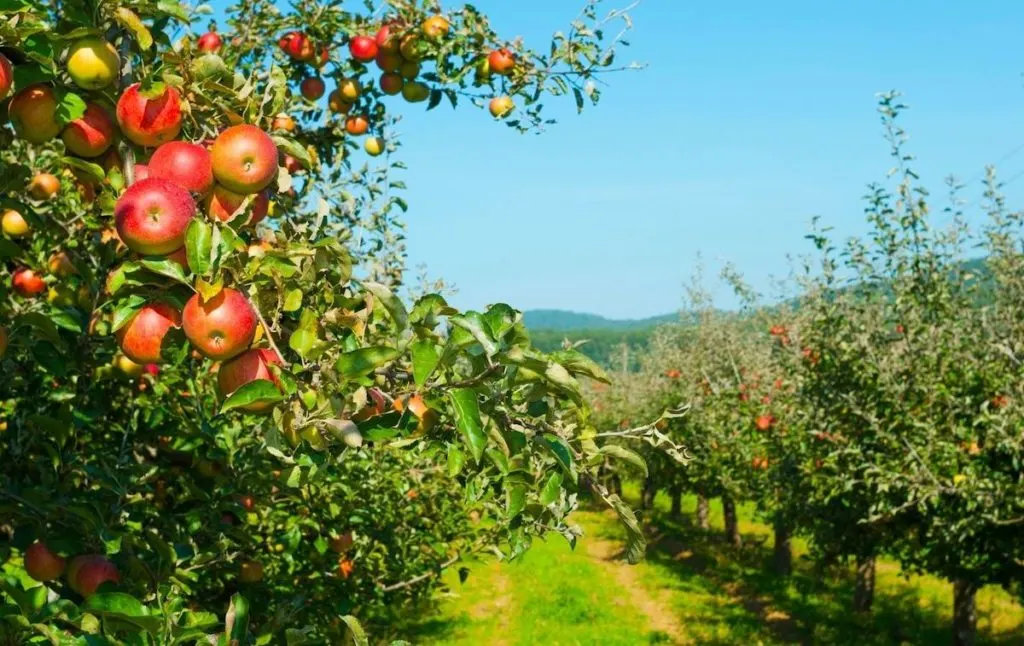 Known for their fresh cider and amazing wood-fired pizza, Twin Star Orchards is one of the best things to do in New Paltz for you if you want to sip on some craft hard cider while relaxing in a stunning outdoor pavilion that overlooks their orchard.
You can also enjoy special live music on Saturdays, between 1:00 pm and 4:00 pm, or swing by for seasonal events like their awesome pig roasts.
And while everything here is good – including the burgers – the fig and prosciutto pizza is exceptionally delicious, as are their Little Wild, Eternal Autumn, and Three of Life ciders.
Then afterward, shop til you drop at their farm stand, which sells a wide array of craft beers, spirits, and hard ciders from New York. You can also have a look at their special tasting room since it also features a ton of local products from the Hudson Valley.
Pro Tip: They also serve delicious vegan pizza too There are also no reservations so they operate on a first come, first serve basis.
Address: 155 N Ohioville Rd, New Paltz, NY 12561
Hours: They are open seasonally from April 1st through fall, on Fridays from 12:00 pm to 7:00 pm, Saturdays from 10:00 am to 7:00 pm, and Sundays from 10:00 am to 3:00 pm.
Price: Pizzas start at $14.00 each and ciders at $13.00 each.
16. Visit CopperSea Distilling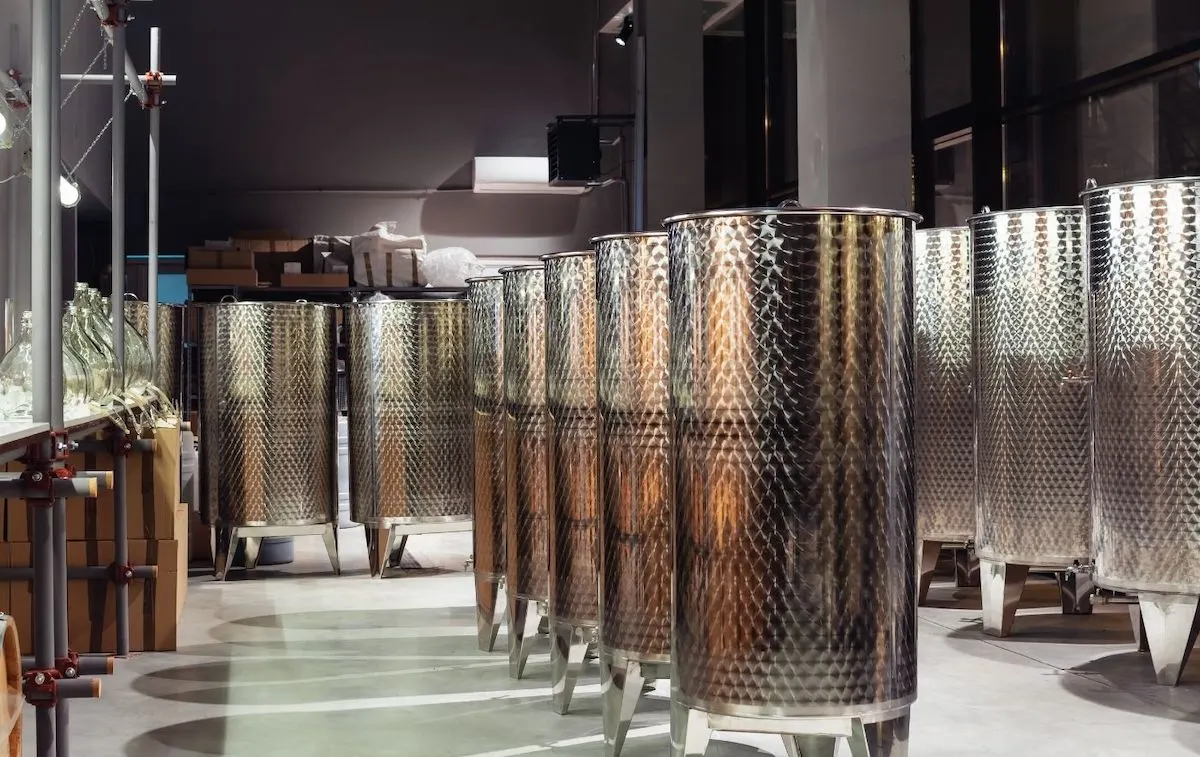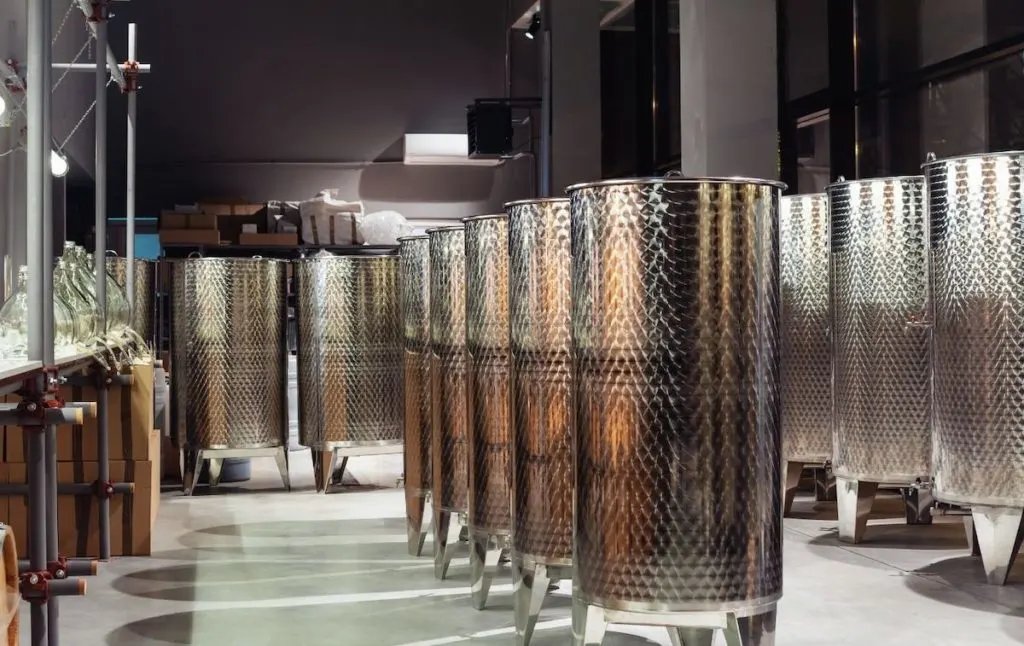 Known for revitalizing traditional whiskey, rye, and scotch production in the Hudson Valley, CopperSea Distilling specializes in "grain-to-glass" distilling on their expansive, 75-acre farm in New Paltz.
Therefore, if you're a lover of world-class spirits then this is one of the best things to do in New Paltz NY for you since patrons are welcome to visit their tasting room and sample some handcrafted spirits.
Ample outdoor seating is also available, so you are welcome to stop by and tour the facility so that you can learn about their Heritage Methods of production and see exactly how their fabulous whiskey is made.
If you can, sample their corn whiskey, Peach Eau de Vie, and pear brandy since all of these liquors are next level awesome.
Pro Tip: If you're not a fan of hard liquor, then you'll be delighted to know that they serve slushees and cocktails too. You can also sample their spirits at Springtown Tavern.
Address: 239 Springtown Rd., New Paltz, NY 12561
Hours: Open Saturdays and Sunday from 12:00 pm to 5:00 pm all year round.
17. BC's New Paltz Climbing Gym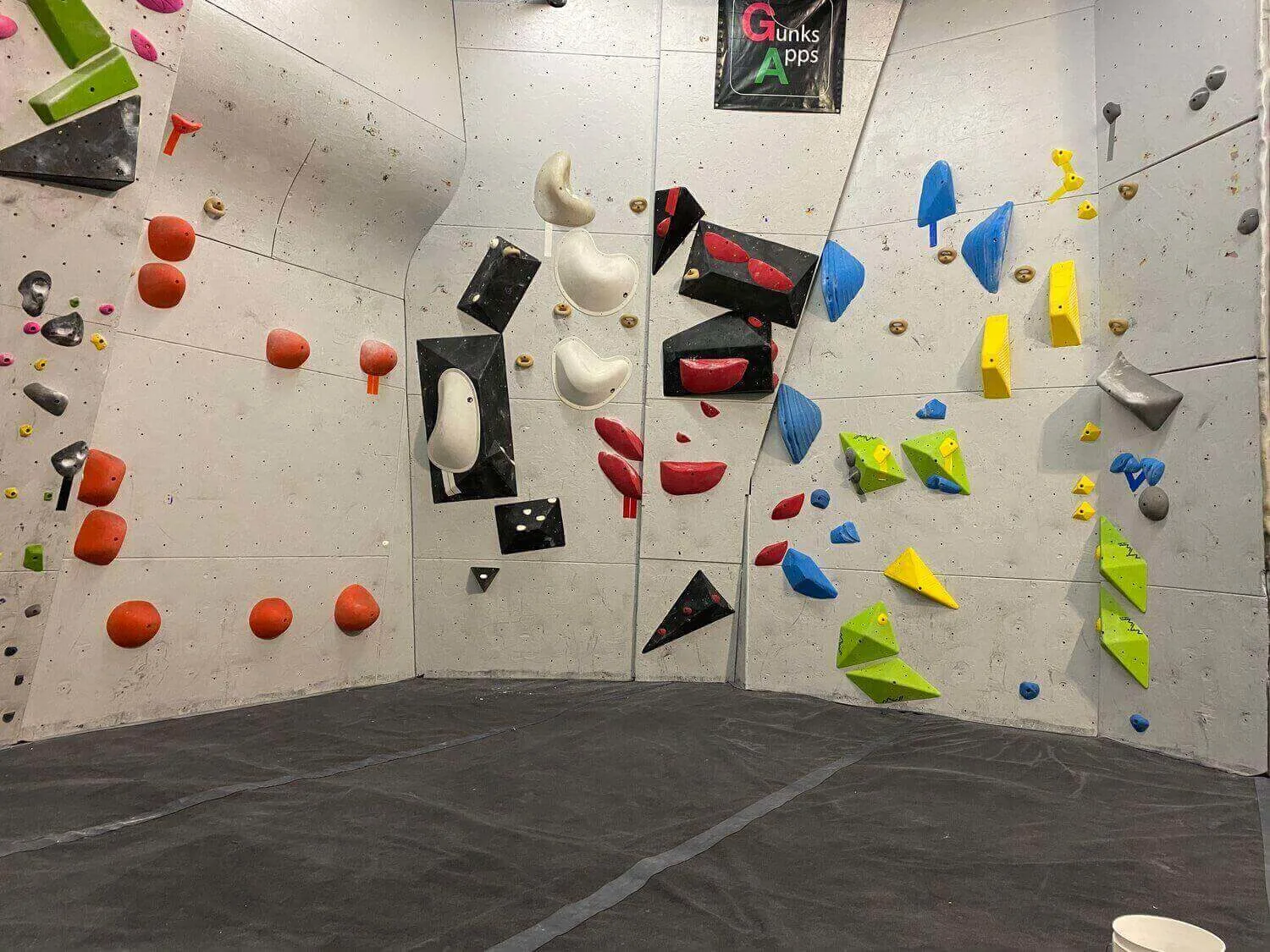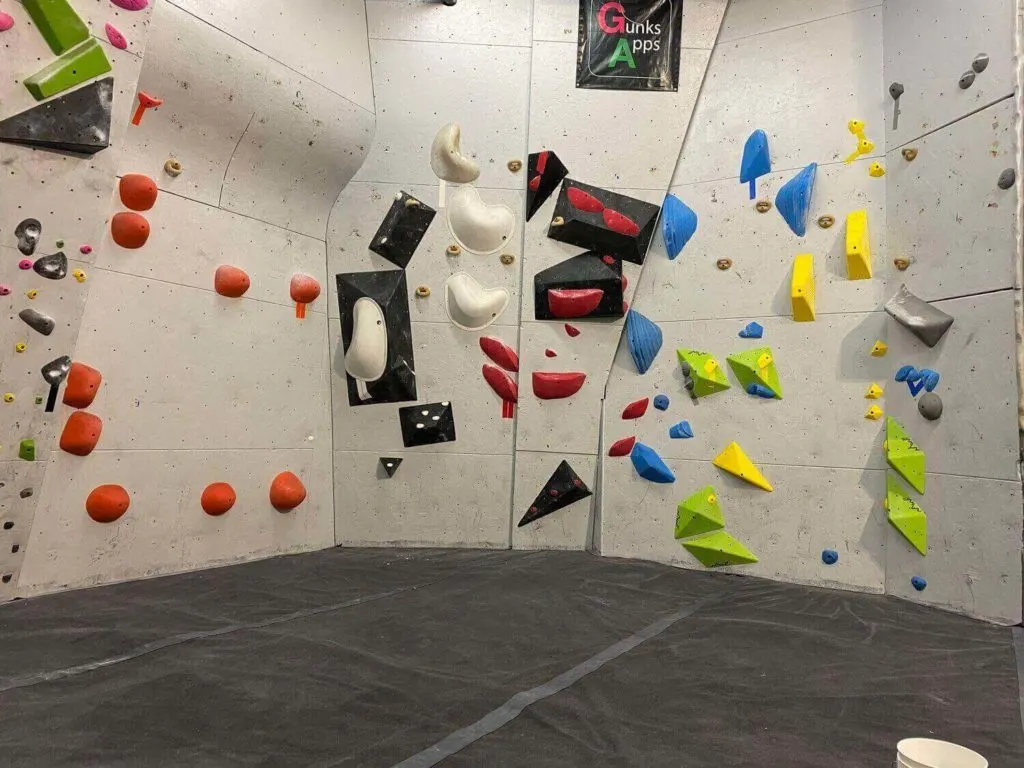 A distinctive bouldering area, BC's New Paltz Climbing Gym has a focus on "climbing action," which is apparent in the way the gym sets and resets its walls. The purpose of the routes in the climbing gym is to educate body postures and movements that may be used for climbing outdoors.
People of all body types and climbing experience levels, including beginners, young team climbers, and seasoned climbers, are welcome at BC's Climbing Gym. There are group and private training available to assist climbers to improve their mental approach, tactics, and skills.
A boutique bouldering gym with a focus on climbing mobility is BC'S Climbing Gym. As they set and reset the gym walls, it is what we constantly think about. The guiding principle is that well designed routes impart climbing-specific movement and body postures.
They provide classes to improve your abilities, tactics, and mental approach, whether you're a novice climber, an experienced climber, a young team climber, etc. Both private and group classes are available. To schedule an appointment, e-mail or contact here.
This gym is situated on the rear of the structure. It provides classes for adults and after-school training. We also offer locations for rock climbing activities and gatherings.
The climbers are given staff bilayers and harnesses. Although there is a dining room reserved just for your group, events do not include food. group discounts. convenient and kid-friendly. Free WiFi. All year long open.
Address: 234 Main St, New Paltz, NY 12561
Hours: Open on Monday from 5:00 pm to 9:00 pm, Tuesday to Saturday from 2:00 PM to 9:00 PM
18. Jenkins Lueken Orchards
Visiting the orchards is really one of the best things to do in New Platz, NY. Not only is it great to be outdoors, places like the Jenkins Lueken orchards offer fun for all age groups. The best part about this orchard is its views.
The orchard has over 500 apple trees which means there is no shortage of apples during the fruit picking season. Did I mention that they also have other fruit trees? The Jenkins Lueken orchard grows a number of fruits and vegetables so fruit and vegetable picking isn't restricted to just one time of the year.
Just a great place to go to pick berries in the summer, apples in September, and pumpkins in October. However. you can always skip the hard work altogether and just head straight for their farm store which sells produce and some nice baked goods.
Oh and during Halloween, the Jenkins Lueken orchard has some of the best pumpkins around. Now you know where to get your pumpkin fix this year!
Address: 69 Yankee Folly Rd, New Paltz, NY 12561, United States
Hours: Open everyday from 9am to 5pm
19. Garvan's Gastropub
Got the hunger pangs? Boy do I have a place that you are bound to love. Garvan's gastropub is set in an old building. When I say old, I mean really old because it was built way back in 1759! The place is designed such that you feel as if you walked back in time.
The dining room is the main highlight of the restaurant. It is pretty remarkable by how well preserved and maintained it is.
The ambiance isn't the only thing that Garvan's Gastropub has to offer. Chef Josh Paige works his magic in the kitchen. Trust me! This man has magic hands! I mean sure he has years of experience working in many prestigious restaurants in the country but the eclectic menu is a sign of pure genius in the kitchen. You have to taste the food to believe it!
Pro Tip: The food here is incredibly popular among locals and tourists. Make a reservation because it fills up incredibly quickly.
Address: 215 Huguenot St, New Paltz, NY 12561, United States
Hours: Tuesdays to Sundays: 12pm – 9pm, Mondays closed.
Things to do in New Platz, NY FAQ
What Is New Platz, NY Known For?
Despite the numerous attractions in New Platz, NY, the thing that the city is really known for is its four year university college. It has loads of undergraduate programs in multiple streams. It attracts students from all over the country.
Is New Platz Walkable?
New Platz is pretty walkable. This is especially true if you head to the downtown area of the city. In fact, walking around the downtown area is one of the interesting experiences in New Platz, NY. There are a lot of cute and quirky boutiques that you can explore.
Is New Platz A Nice Area?
New Platz is one of the best areas to live in New York. It has lots of restaurants and things to do that will keep you busy. It has all the amenities you could require and you really don't have to get out of the town. Plus, New Platz is pretty. It is one of the top choices when it comes to residential areas in the state.
What's A Fun Fact About New Platz?
Did you know that New Platz, NY is named after the Palatinate region of Germany? In German this is known as Pfalz. The French Huguenot settlers named this area Platz when they came here and used it as a refugee spot. Wondering how Pfalz transformed into Platz? Well it was a dialect difference. The settlers did not pronounce the f in the word.
⏰ Looking for a great place to stay in New Platz, NY? I recommend booking the Hampton Inn by Hilton New Paltz. It has pretty casual rooms and an epic breakfast! ⏰
Best Things To Do In New Platz, NY Map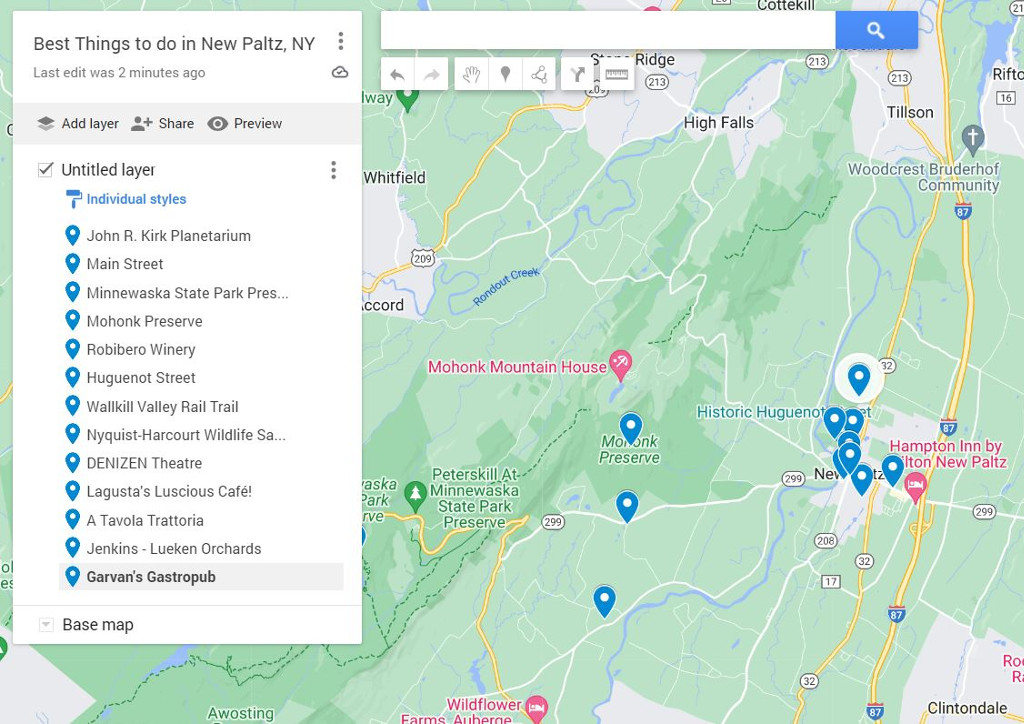 Click here to see the full map!
Additional New York Travel Resources You'll Love
And that just about wraps up this guide to the best things to do in New Paltz, NY.
Tell me, did your fave New Paltz attractions make the list? If not then let me know in the comments below!
And if you found this post useful, be sure to join our email list before pinning this post now so that you can read it again later!