If you're not out there desperately seeking some of the best waterfalls near Syracuse NY then, hi, what are you waiting for?
After all, given Syracuse's epic location in the western part of the Finger Lakes region, it's no wonder that this place is positively brimming over with some of the best waterfalls in New York state.
So, if you feel like leaving those iconic TLC lyrics behind and want to spend the day chasing jaw-droppingly beautiful waterfalls – where each one is prettier than the last – then this is the post for you!
Because I'm a 30+ year local New Yorker who has visited Syracuse more times than I can count. Therefore, I want to share all of my insider tips with you so that you can see some of the best waterfalls in NY now.
This post may contain affiliate links. Please see my disclosure for more information. As an Amazon Associate, I earn a small commission from qualifying purchases.
1. Carpenter Falls (+Angel Falls)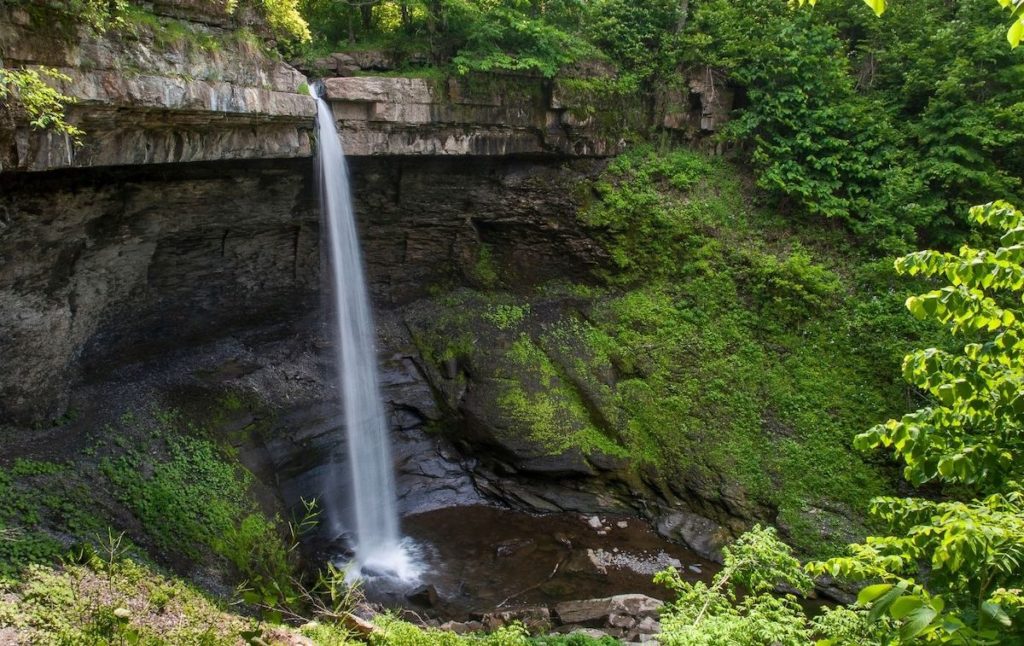 Tucked away in Bahar Nature Preserve on the west side of Skaneateles Lake, this 90-foot tall waterfall is made from a path that has been cut through the overhanging limestone by Bear Swamp Creek, creating a mesmerizing flow of water that descends into a deep pool below.
If you can, time your visit to one of the best waterfalls near Syracuse NY between spring and fall – preferably after heavy rain – so that you can see this waterfall at its best.
You can also enjoy Angel Falls too, which is a 60-foot waterfall that will remind you a bit of Tinker Falls. Just access a steep trail off the main Jug Path to get to the bottom.
Otherwise, you can use the main trail through the park to enjoy an easy 1/10th mile walk to the top of the Carpenter Waterfall.
You'll know you're going in the right direction when you begin to hear the falls. You can then continue down the trail until you reach a creek bed above the falls that will lead you to stunning views of the gorge below.
From here, head back to the parking lot and either continue down the 1-mile long Old Jug Path to the bottom of the falls (it's steep so be careful), eventually taking several unmarked trail branches to the lake
Just know that although it's easy to see Carpenter Falls from above, it can be difficult to make your way behind and below the falls to enjoy this natural wonder from other vantage points.
Pro Tip: Visit at an off time since the lot at Park at the intersection of Appletree Point Road and Carver Road is small and only has spots for six cars. Although, you can check for overflow parking on Appletree Point Road.
2. Chittenango Falls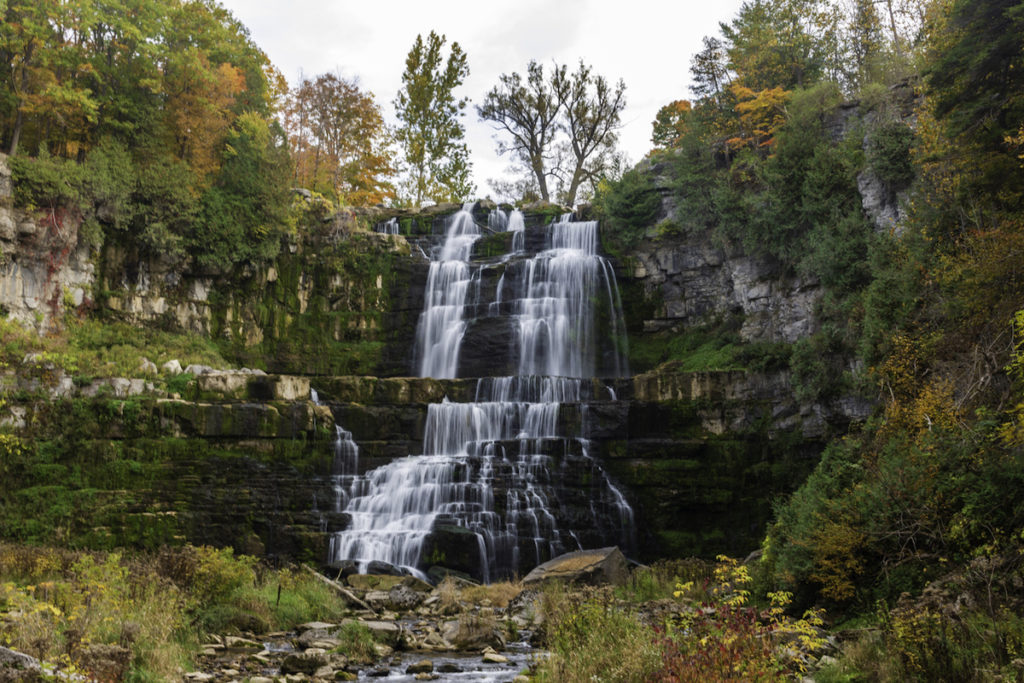 Located in a state park of the same name near Cazenovia Lake, this is one of the best waterfalls near Syracuse NY that is also the tallest on this list.
In fact, this waterfall is so tall that it's actually the same height as Niagara Falls – standing at an incredible, 167-feet with water cascading down a series of mossy rocks.
However, for the best panoramas of this majestic waterfall, hike the trail here from the top (tons of great photo ops here) to the bottom so that you can admire this awe-inspiring waterfall from many different angles. It is one of the best trails in Upstate NY.
There's really only one trail here that is less than a 0.5-miles long so it'll be difficult to get lost. And while the hike down to the gorge below (a 170-foot descent) is fairly easy, it does mean that you'll have to climb up hundreds of steps to get back to the top – a trek that may be difficult for some visitors.
Also, be on the lookout for the elusive, Chittenango Ovate Amber Snail which is only found here in this 194-acre park and nowhere else on the planet.
Pro Tip: For another great shot of the waterfall, try hiking to another viewing area using a short but steep trail that takes you over a bridge and across a creek. I would also try and visit in Spring for maximum flow or fall for beautiful foliage since this waterfall can be less them impressive in the summer.
Distance from Syracuse: 21 miles or a 33-minute drive.
3. Cowshed Falls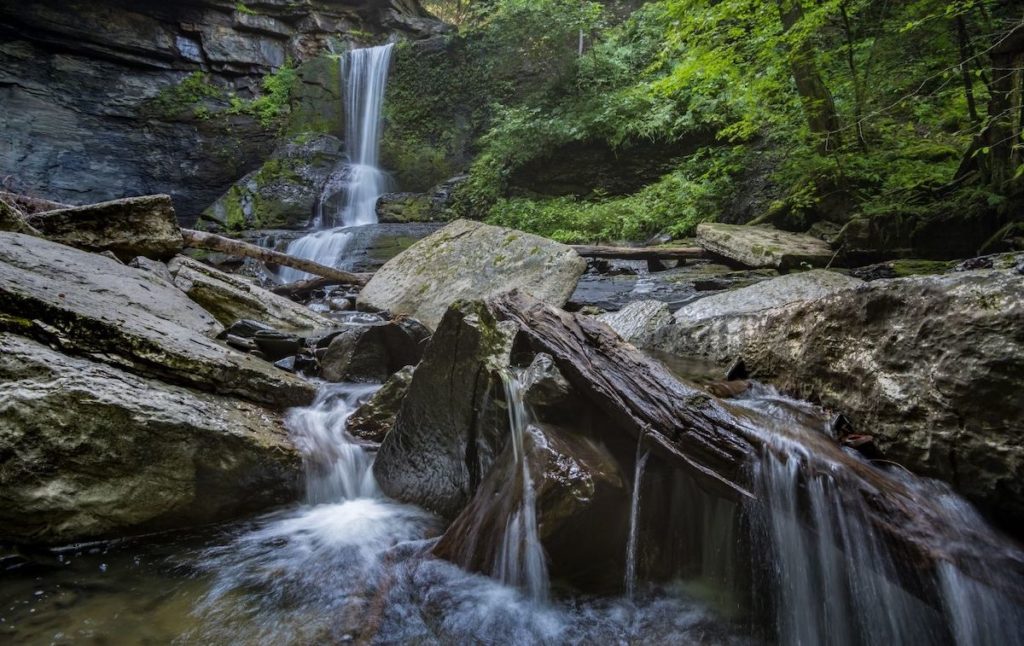 This small but beautiful 30-foot tall waterfall sits near the head of the Gorge Trail in Fillmore Glen State Park.
So, if you want to see one of the best waterfalls near Syracuse NY in person, just park in the large parking lot near the main entrance of the park and take the Gorge Trail for about 1/4 of a mile to the base of the falls.
And if you have a bit of extra time, continue down the Gorge Trail to see some of the four other waterfalls that are scattered throughout the park, like the 40-foot tall, Upper Falls at the end of the Gorge Trail (the trail's about a mile one-way to the falls).
Also, although this park is open all year long, many of the trails here are closed during the winter, like the Gorge Trail. So, plan accordingly and try to visit in either the spring or fall if you can.
Pro Tip: If the water is high enough (usually in the spring) take the Gorge trail above the waterfall and check out another fantastic waterfall there too.
Distance from Syracuse: 46 miles or about a 50-minute drive.
4. Marcellus falls
There are so many gorgeous waterfalls near Syracuse NY but unfortunately many of these are on private property. Lucky, if you are looking to spot some without a hike, you can stop at one of the roadside waterfalls like the Marcellus falls.
It is absolutely perfect if you don't intend to hike anywhere or get wet. In fact, I find that Marcellus falls is a great place to stop on a road trip. There is a gorgeous bridge that gives you a spectacular view. The falls have been made a 10 foot dam that was constructed. The water flows over the structure and the view is impressive.
Pro tip: You can stop at the fishing access and walk from there for a better view. Note that Marcellus falls is on private property so you can't get up close and personal with the waterfall.
Distance from Syracuse: 14.6 miles or a 19 min drive.
5. Guppy Falls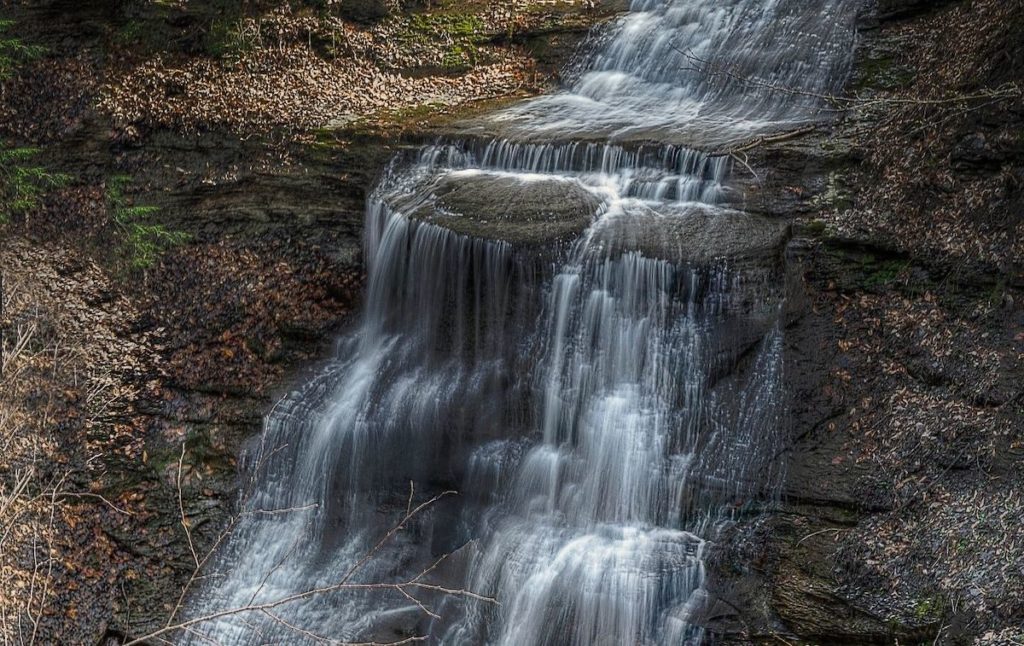 This 20-foot tall, cascade waterfall tumbles over shale bedrock in the Skaneateles Conservation Area and is best viewed in either late spring or early summer since, well, it almost completely dries up when there's not a lot of rainfall.
But, if you plan your visit for the right time of year, park your car in the small gravel/dirt parking lot on the west side of Gully Road, and then make your way to one of the best waterfalls near Syracuse NY. It sits at the end of a well-defined path that is only about 200 yards away from the parking lot.
However, if you're feeling a bit energetic, you can always use a moderately difficult, 1.5-mile trail (round trip) to check out another swimming hole (about a 1/3 mile in) and to visit the Upper Falls (at the end of the trail) too. It is one of the intriguing hikes in the Finger lakes region.
Pro Tip: This is a multi-use area so you may find hunters and loggers on the property, particularly during hunting season in May, November, December.
Distance from Syracuse: 20 miles or a 28-minute drive.
6. Salmon River Falls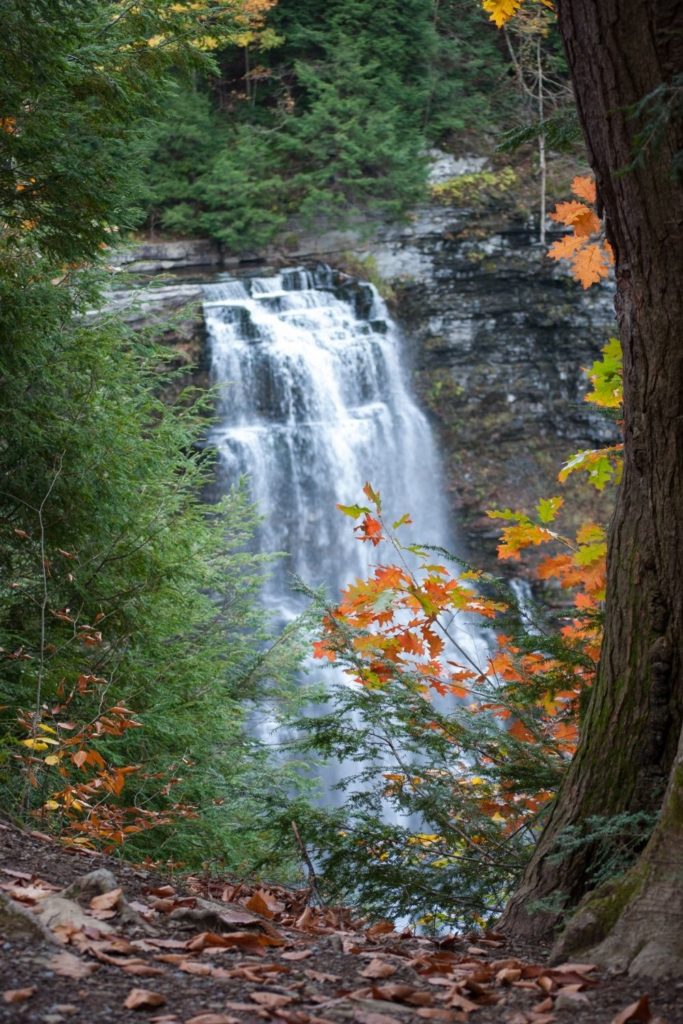 This is another one of the most stunning waterfalls near Syracuse NY that stands at 100-feet tall and that is located near the small village of Altmar in Oswego County.
Now, upon arriving at the 110-acre Salmon Unique Area, park in the 30 car parking lot and allow yourself at least 15-minutes to view the waterfall.
It sits at the end of the main Falls Trail, which is a short, easy gravel trail that takes you 1100-feet to the central overlook area.
Additionally, there are two other overlook platforms that sit at the top of the gorge and that allow you to peek through the forest and get a unique view of the waterfall.
There are also several other trails in the area that are well worth exploring, including the Gorge Trail, The Riverbed Trail (it's only 66 feet long and takes you above the waterfall), and the Upper Falls Trail.
Pro Tip: There is really no bad time to visit one of the best waterfalls in New York. Spring features increased flow, autumn features stunning foliage and winter results in a stunning frozen waterfall.
Distance from Syracuse: 45 miles or a 50-minute drive.
7. Un-named Waterfall in Fillmore Glen State Park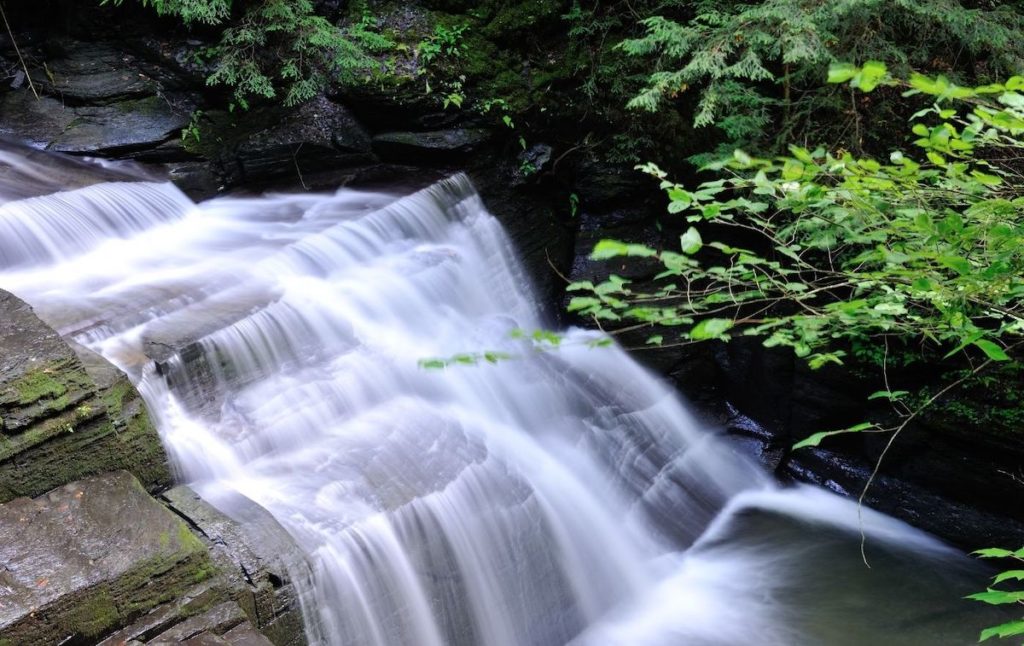 This is another one of the best waterfalls in Syracuse NY that can be found in the enchanting, Fillmore Glen State Park. It sits along Dry Creek, stands at a substantial, 60-feet tall, and can be accessed using the park's North Rim Trail.
Therefore, you can get here by hiking all the way to the end of the Gorge Trail and then catching either the North or South Rim Trail since they both snake along opposite sides of the gorge.
Distance from Syracuse: 46 miles or about a 50-minute drive.
8. Buttermilk falls
Named after the Buttermilk creek, the Buttermilk falls is the result of the water flowing down a steep gorge in the National park which also is named after the creek!
I absolutely love this place because it has a pavilion that accommodates 73 people and it has a 2 day rental that you can snag for as much as $100 for two days. In fact it is one of the popular falls near Syracuse NY that people head to.
If you love hiking and are up for some exercise, then there are a number of trails and even a lake that you can visit. One of the favorites is the Gorge and Rim trail. It is just 2.6 miles and is a loop. So you can start and end without having to backtrack.
Pro tip : Another draw is that you can take your dog along. The downside however is that only two dogs are allowed at the campsite at a time so you may want to reserve your spot. Dogs need to also be on leash when on the trail.
Distance from Syracuse: 58.5 miles or a one hour drive.
9. Pratts Falls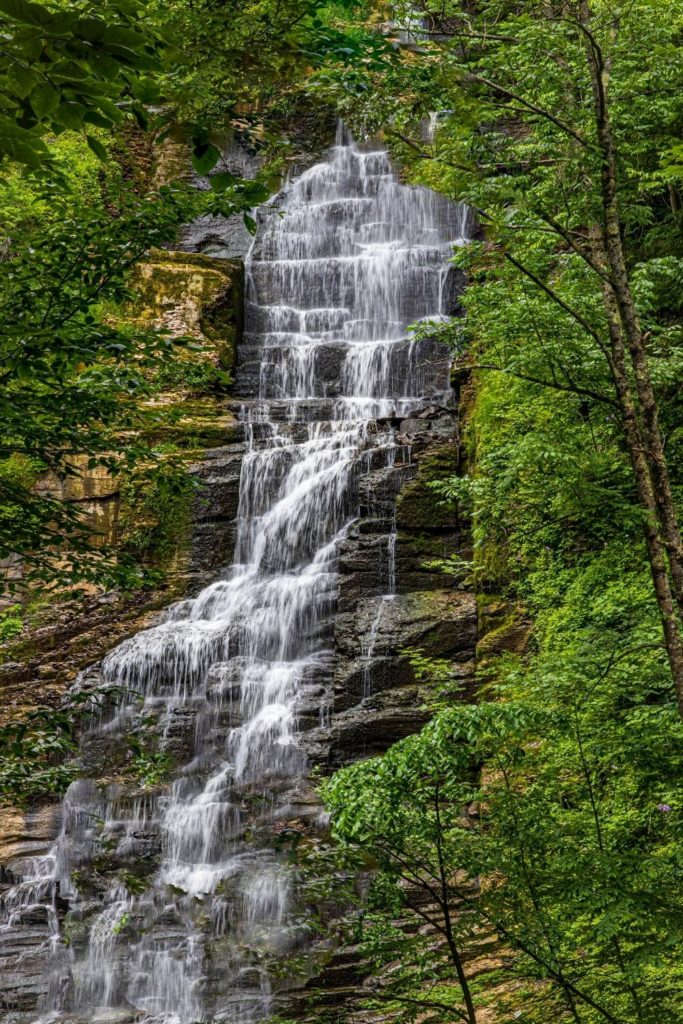 Easily one of the most impressive waterfalls near Syracuse, Pratts Falls towers 140-feet above you and sits inside the aptly named, Pratts Falls Park.
Additionally, this lovely little park features a large, 40-car parking lot where you can quickly park your car before checking out the falls itself.
So, be sure to visit the viewing platform near the parking lot before taking the easy, half-mile, Falls View Trail down into the gorge and towards the base of the falls. Keep left and you'll eventually hit another platform where you can take sweet photos of the falls again.
Pro Tip: Keep your eye out for remnants of an old mill that sit near the waterfall and that were part of the county's very first settlement here. The park is also closed between November and March so obviously, don't visit then.
Distance from Syracuse: 15 miles or about a 25-minute drive.
10. Tinker Falls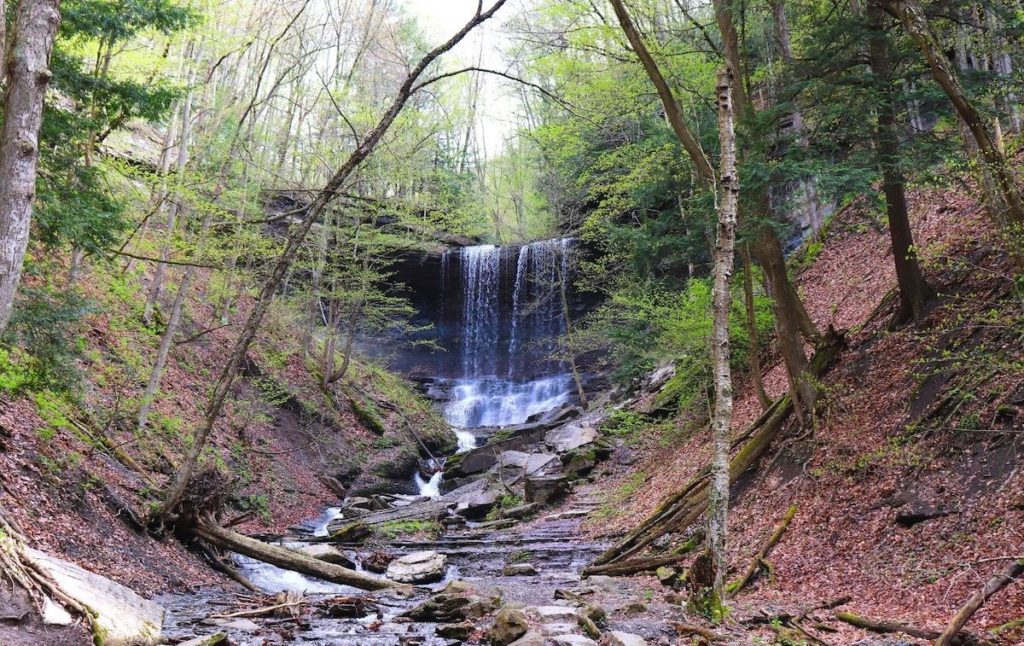 Definitely one of my favorite formations on this list of the best waterfalls near Syracuse NY, Tinker Falls is hidden away in Labrador Hollow and actually features two distinct waterfalls – one 50-foot waterfall down the overhanging rock at the top and one 30-foot cascade waterfall near the base of the falls itself.
And, luckily for you, the waterfalls sits a mere 1500 feet away from the parking lot, which consists of two separate lots that are on either side of the trailhead and that can accommodate up to ten cars.
So, if you're in the mood to hike, admire the falls and then continue along the Gorge Trail (there are some great views along the way). Take it over a creek and go behind the falls itself for some great photo ops.
Afterward, use a moderately difficult, 1.5-mile dirt path to get to the Hang Glider Launch. It's a route that will take you to the top of the falls and then on a charming hike through the woods that culminates in some of the best views in the region.
Distance from Syracuse: 22 miles or about a 30-minute drive.
11. Delphi Falls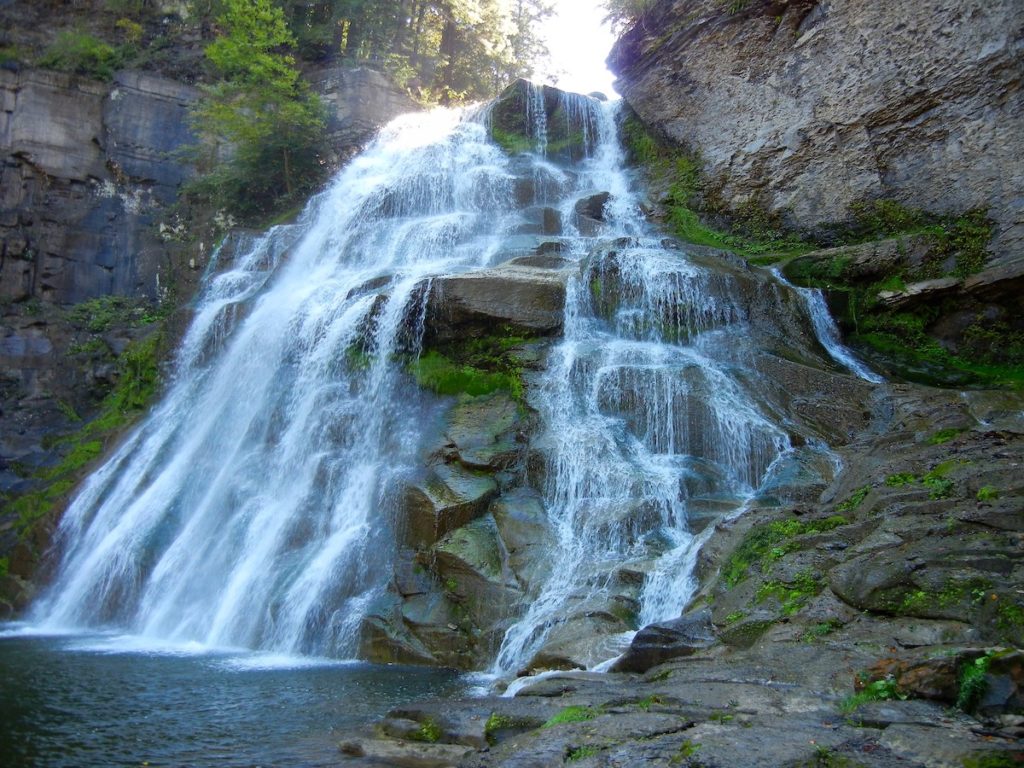 Believe it or not, Delphi Falls County Park is home to two unique waterfalls – the lower, 65-foot tall Delphi Falls and the upper, 52-foot tall falls.
Sadly though, only the Delphi, cascade-style waterfall is currently accessible via a 700-foot long gravel pathway from the main parking lot to the base of the falls.
Apparently, though, new and slightly more intense trails are currently being developed to bring visitors to the upper falls.
Pro Tip: Please don't wander off the designated trail since the park has been closed in the past because way too many visitors were doing this.
Distance from Syracuse: 22 miles or about a 30-minute drive.
12. Wolcott Falls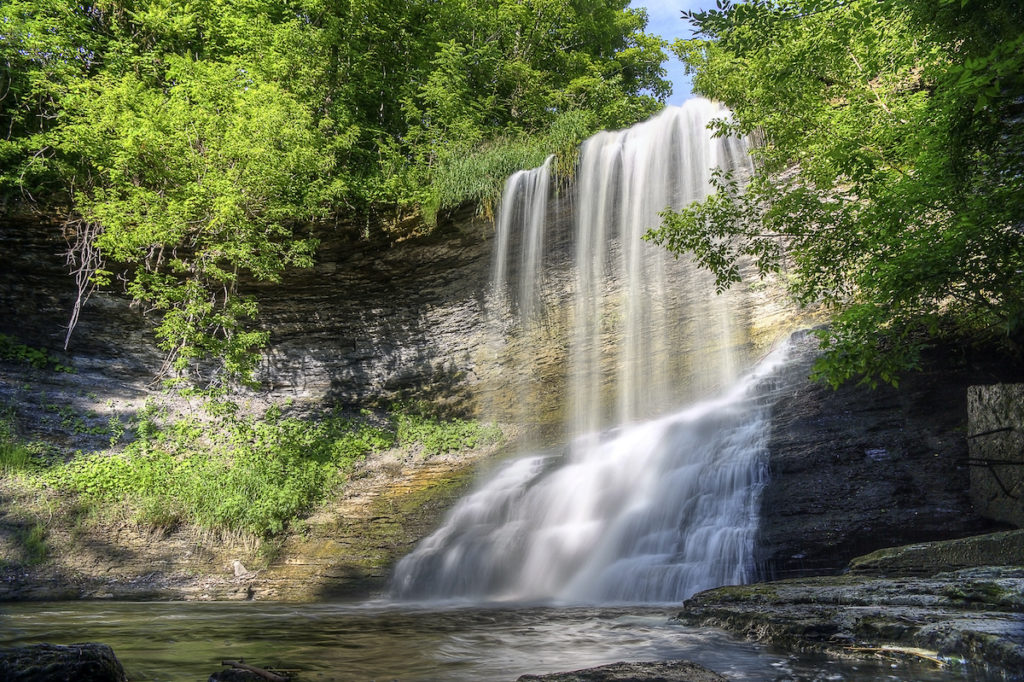 If you have time and are up for a great day trip, head over to Wolcott Falls Park and check out one of the most stunning waterfalls near Syracuse NY.
It's a mesmerizing, 34-foot tall, almost free-falling, hella wide waterfall that consists of a series of small ribbons of water.
It's also a super accessible natural landmark since the waterfall is a mere one-minute walk from the main viewing platform, which is adjacent to the parking lot and features a wealth of informative signs about the area.
Afterward, use another trail to go on a 10-minute walk to the base of the falls. Just be careful since this path can get quite slippery.
Pro Tip: This is one of the few waterfalls on this list that is all lit up in the evening and that you can visit at any time of year.
Distance from Syracuse: 40 miles or about a 50-minute drive.
13. Three Falls Woods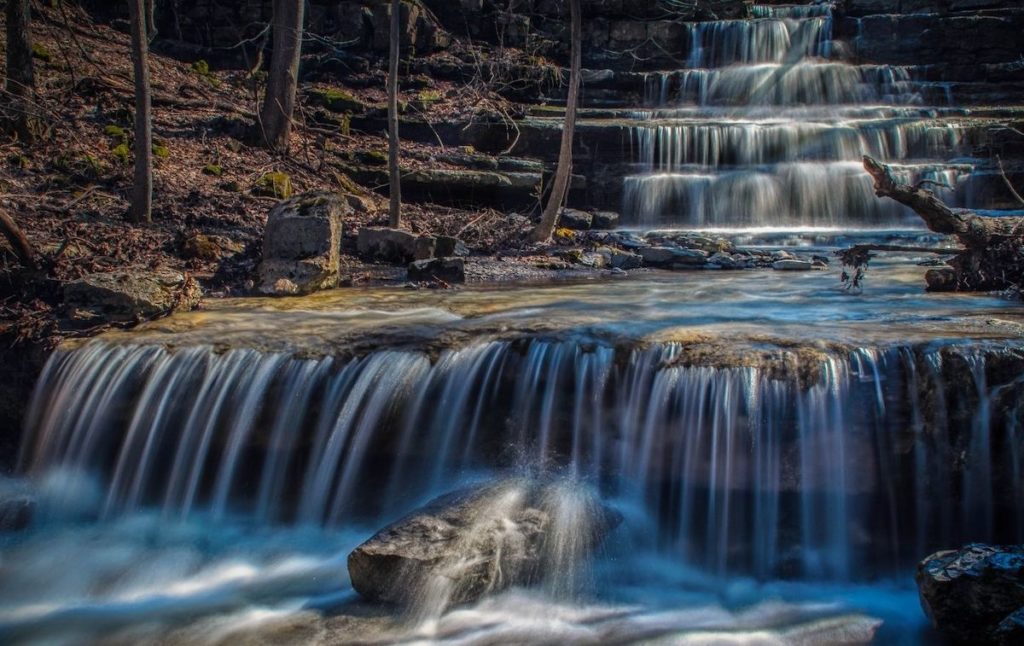 As the name suggests, this beautiful park right outside of Syracuse is home to three separate waterfalls – Staircase Falls, Tall Twins Falls, and Cascade Falls (as seen from left to right).
Now, if you want to see these ethereal falls for yourself. just access one of the trails off of Route 173 and Sweet Road and take them into the forest for about a mile until you hit the waterfalls.
However, the most direct and easy-to-follow route can be found using the trail from the parking lot on Sweet Rd, and going south from there.
Or, if you want, you can head down into the gorge while you're here for a better view of the falls as you enjoy this easy to moderate hike through the woods.
But, you really can make this hike as short or as long as you want since there are many branching and alternate paths throughout the area.
Pro Tip: These waterfalls are extremely susceptible to water-level changes. Therefore, be sure to visit when water levels are high, like right after a recent rainstorm. You can also find parking at the CNY Land Trust parking area off of Sweet Rd.
Distance from Syracuse: 11 miles or a 15-minute drive.
14. Edwards Falls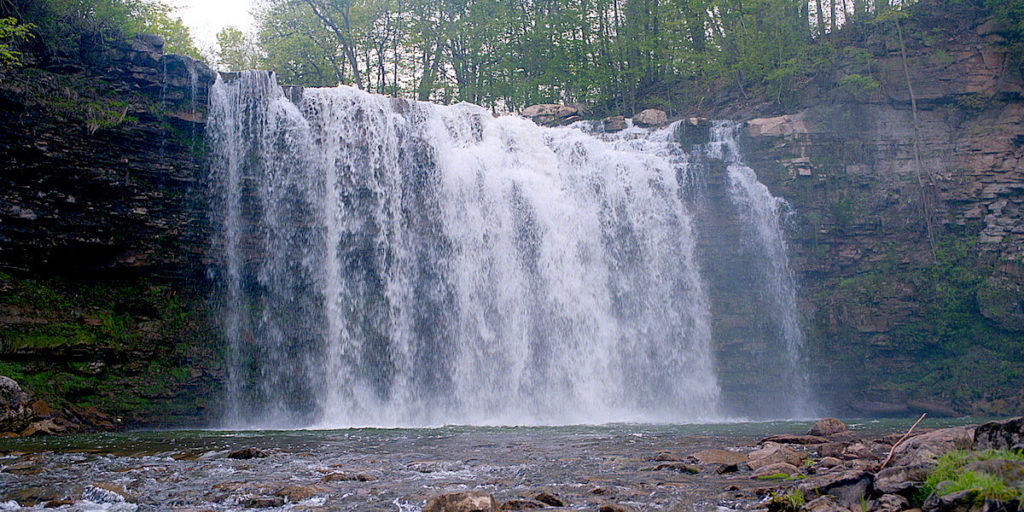 Yes, Edwards Falls may be one of my favorite waterfalls near Syracuse NY. But, it's also one of the most difficult to get to!
That's because no one really knows who owns the trail from Bluffview Drive (where you'll park your car on the side of the road) to this awesome, 70-foot tall waterfall.
You also can't use the area right beneath the falls since, well, that's private property (insert a huge sigh here).
So, what's a human to do? Well, you can hop on the trail at the southern end of the Suburban Park Apartments and take that paved trail into the forest.
Continue until you find a dirt path that will take you up a steep incline. You'll then use a series of switchbacks to naigate down to the creek.
From here, you can either wade through the creek or do a bit of boulder hopping along the gorge wall until you find the waterfall.
Pro Tip: Before you leave, don't forget to visit the 30-foot dam that is upstream from the waterfall and visible from the road.
Distance from Syracuse: 13 miles or a 20-minute drive.
15. Fellows Falls
Another one of the cool waterfalls near Syracuse is the Fellows falls. It is just 21 miles away so it is easily something that you can do in a day.
The Fellows falls is a cascading kind of falls. You will find that there are a total of 4 waterfalls in the area. So you can walk from one to the next. Two of these however are on private land and have restricted access.
Among the two waterfalls that you can access, you will find that the first one is two tired and it is 35 feet in height which makes it pretty impressive. The other which is probably the more scenic waterfall. It is multi tired but isn't quite as high because it cascades from just about 15 feet. It is nonetheless very pretty.
Pro Tip: The best time to visit the Fellows falls is in spring or early summer. The flow of the stream is very dependent on the rainfall so if you visit after a few days of rain, you will probably see the Fellows falls in its full might.
Distance from Syracuse: 21 miles or a 27 min drive
16. Bucktail Falls
Bucktail falls is a gorgeous waterfall that cascades over a 35 foot drop. It is a lesser visited waterfall in the area and that is because it is located on private property. Before you write it off, know that the owner doesn't mind visitors as long as they are respectful of the property. So just ask before you wander in.
You will find that Bucktail falls is absolutely gorgeous and pristine. The dense forest provides such a good place to disconnect from the city buzz. If you love nature, you will find that biodiversity here is pretty incredible.
Pro Tip: Do not go climbing here. It is not safe. Also, you will notice that people have started leaving trash behind and littering this pristine location. Please don't do this. Not only is it bad for the area, the waterfall could eventually get closed off to future visitors.
Distance from Syracuse: 20 miles or about a 30 minute drive.
Best Waterfalls Near Syracuse FAQ
What Is The Name Of The Most Famous Waterfall In New York?
The most famous waterfall in New York is without doubt the Niagara falls. People come from all over the world to see this cascading beauty. If you are headed here, make sure to plan your itinerary carefully because the Niagara falls area can get pretty crowded. Oh and make sure to pack well. You definitely need some good clothes because you are bound to get wet!
What Is The Mysterious New York Waterfall?
This one is pretty interesting. The mysterious New York waterfall is the Eternal flame falls. Yeah! You heard me right! This is a small waterfall that is located in Chestnut Ridge Park. What makes this waterfall unique is the natural gas that is emitted at the waterfall's base. When lit, this produces a flame which can be seen all year round! Pretty cool, right?
What Is The Highest Waterfall in Upstate New York?
If you want to be astounded by the sound and sight of water crashing down from a great height, I would recommend visiting Taughannock Falls. It is the tallest free falling waterfall in the state. The water cascades off a cliff which is 215 feet high so it really is a sight to behold!
Map of the Best Waterfalls Near Syracuse NY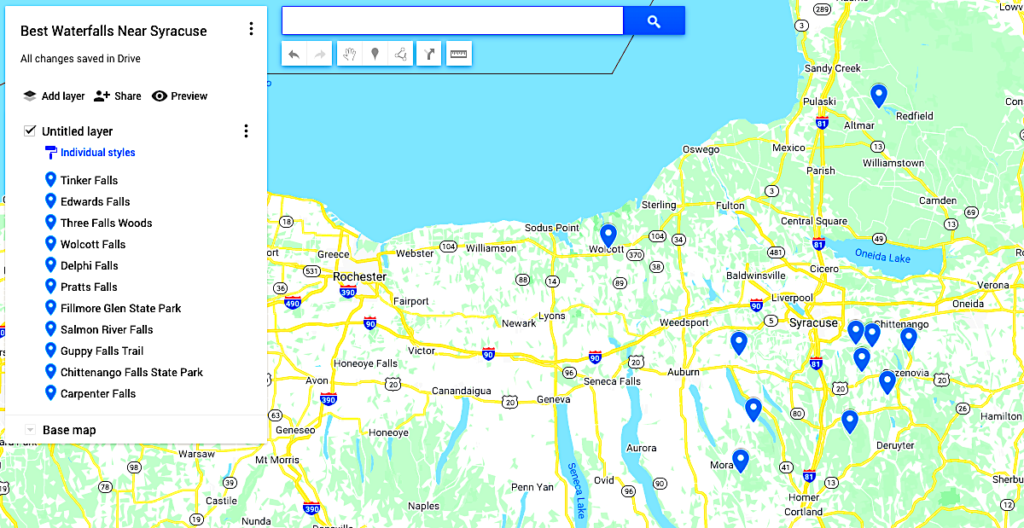 Additional New York Resources You'll Love
There you have it! That just about wraps up this guide to all of the best waterfalls near Syracuse NY!
Tell me, did your fave waterfalls in New York make the cut? If not then let me know in the comments below!
And if you found this post useful, be sure to join our email list before pinning this post now so that you can read it again later!