Ready to get down and dirty inside some of the best caves in New York? If so then this list is 110% for you! Because a lot of this state's greatest natural treasures lie just beneath the surface.
They quietly sit there, waiting to be discovered by intrepid explorers such as yourself. So, embrace the fine art of spelunking (aka caving) and explore the labyrinth of awe-inspiring caverns, underground lakes, long-forgotten fossils, and subterranean waterfalls that New York is known for.
Yes, it will be dirty. Yes, it will be wet and cold. And yes, you'll probably run into creepy-crawly things like bugs and bats. But, if you're a true adrenaline junkie then these caves are not to be missed during your next trip to New York.
Just be sure to avoid abject misery by wearing moisture-wicking clothes and by having a headlamp/flashlight handy before you explore many of these epic caves.
Pro Tip: Do NOT shine your light directly at any bats since this might wake them up and disrupt their natural sleep pattern.
This post may contain affiliate links. Please see my disclosure for more information. As an Amazon Associate, I earn a small commission from qualifying purchases.
1. Howe Caverns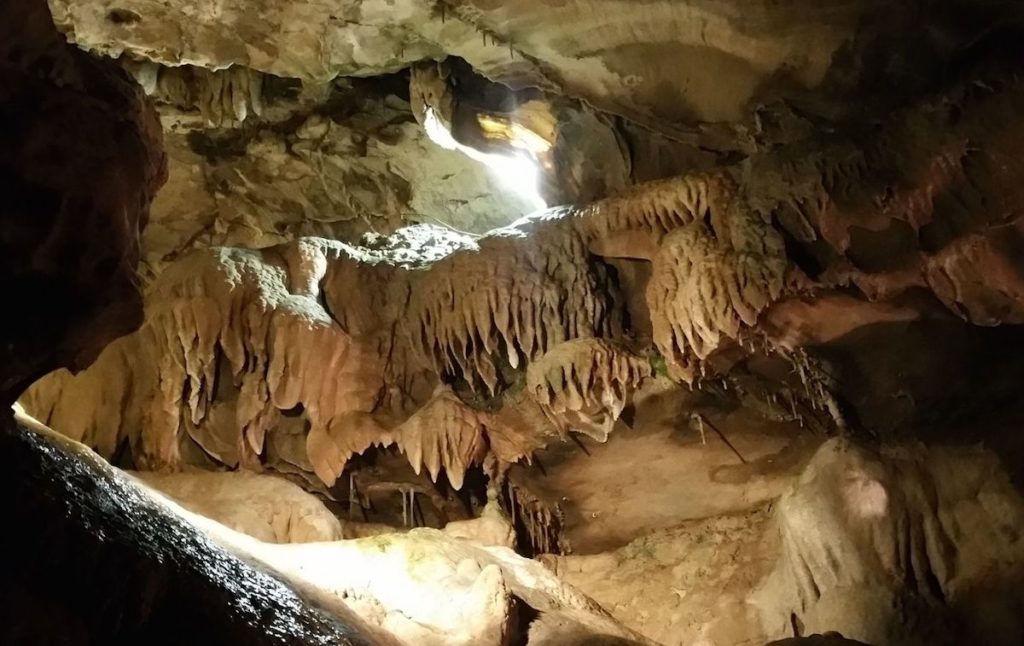 Howe Caverns is definitely the most well-known cave in New York. In fact, it's actually the second most-visited natural attraction in all of New York state – only surpassed in visitation by the ever-beautiful Niagara Falls.
Opened to the public in 1929, Howe Caverns lies fifteen stories beneath the surface! And you can explore this underground wonder through a 90-minute cave tour. You'll even get to enjoy a cool subterranean boat ride as part of the experience.
And if a 90-minute excursion just isn't enough time for you to enjoy Howe Caverns and one of the best caves in New York, then there are plenty of other activities here too.
You can take a signature rock discovery tour, which includes a guided visit to lesser-known parts of the cave. As an alternative, you can take the adventure tour instead, complete with two hours of spelunking!
There is also the lantern tour, the family flashlight tour, and even a private tour, so there are loads of options for you to choose from.
Last but certainly not least, if you happen to be visiting around a holiday, the Howe Caverns may have a themed excursion for you. For example, around Halloween, there's the haunted cave tour that's filled with mysterious music, gruesome costumes, and nerve-wracking stories!
Can you say creepy? After all, can you think of a spookier place to celebrate the scariest holiday of the year?
2. Secret Caverns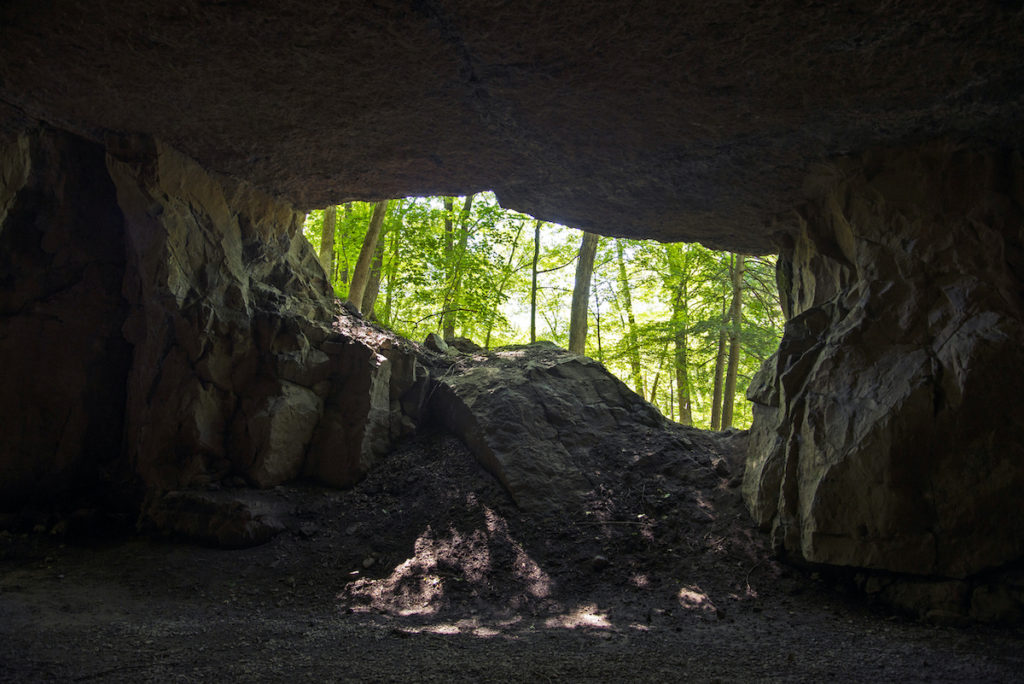 Believe it or not, Secret Caverns is located right next door to Howe Caverns. So, as you can probably already guess, that means it's not much of a secret anymore. But, that doesn't mean you should miss out!
Plus, Secret Caverns has quite a funny discovery story. See, in 1928, two cows actually fell into a hole, and unearthed Secret Caverns! After that, a local engineer decided to see what else was down there, and the story of these fantastic New York caves began.
Despite the fact that the Howe Caverns and the Secret Caverns are right next to each other, they are two completely separate cave systems. They don't ever connect, which means both are some of the best caves in New York and worth visiting.
However, to explore Secret Caverns, you'll need to book a tour. Then, you'll get to visit an underground wonder that's nearly 150 feet below the surface!
You'll even get to touch the cave walls and mineral formations – something that you can't do in many of the best caves in New York, especially while on a guided tour.
All of that said, the main highlight of the Secret Caverns is the gorgeous 100-foot underground waterfall! As one of only a dozen or so easily accessible subterranean waterfalls in the world, it's certainly a cool sight to see.
3. Lockport Caves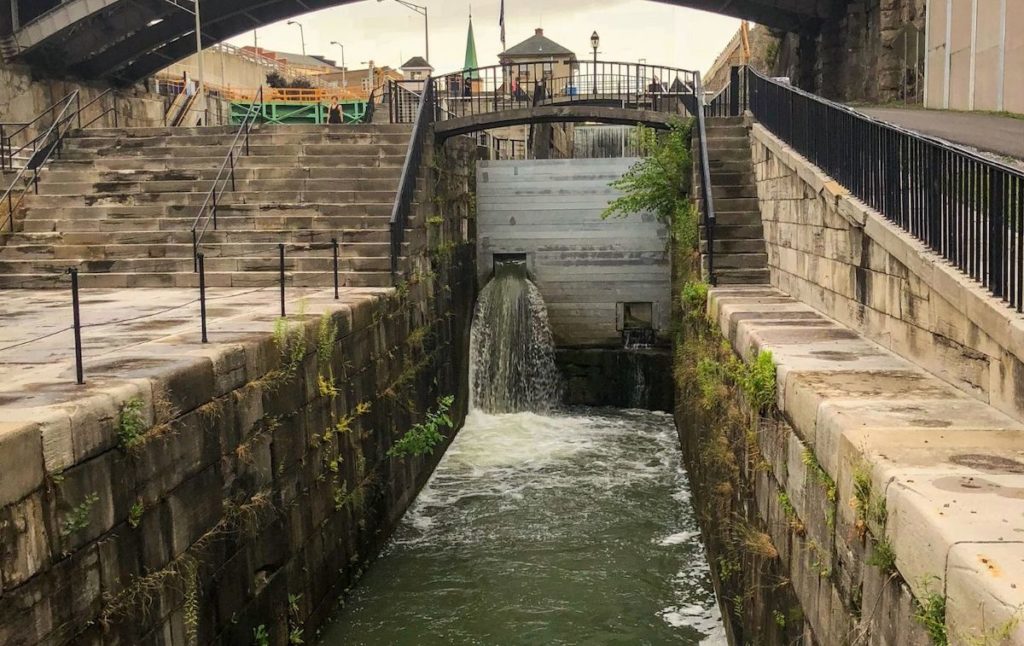 The Lockport Caves are actually a pair of man-made caves that are situated about 30 minutes away from Niagara Falls.
See, these caves were originally built between 1858 and 1900 as a hydraulic water system – a system that successfully transferred water from Lake Erie to local businesses in Lockport, New York.
As can be expected from any caves built as part of a water system, the Lockport Caves are known for their subterranean boat rides. So, you'll be able to sail along this calming, yet eerie waterway and take in the majestic limestone walls – all while sitting a cool 40 feet below the surface!
In addition to a boat ride, tours also include a walking portion that showcases dangling stalactites, sharp stalagmites, and even some artifacts from the construction workers who created these caves over a century ago!
Also, like Howe Caverns, the Lockport Caves offer visitors a variety of holiday-themed tours to choose from.
For example, each October, you can book a haunted cave lantern walking tour that is brimming over with spooky vibes. It's especially fitting considering the fact that these caves were once featured on an episode of Ghost Hunters.
Who knows? Maybe a ghost will pay you a visit during your Lockport Caves tour.
4. Dover Plains Stone church
Grab your hiking shoes because you are going to need them when visiting the Dover Plains Stone church. Be forewarned. The trail can get slippery but it is worth the effort.
Carved out by the brook, the entrance way of the cave is triangular and it resembles the steeple of a church. That is where it got its name. Full disclosure! This is not a real church.
Getting to it is easy. You will find the trail just off Route 22. The whole path is lined with maple trees which makes it a really pretty trail. Definitely one of my favorites. The church is also interesting. A fissure in the roof allows sunlight to filter in, illuminating the cave walls. It gives it a very otherworldly feeling.
Aside from a large monolith in the cave, there is also a waterfall. You won't see it clearly from the outside though it cascades over 30 feet. If you listen you'll hear it.
The Dover Plains Stone church is one of the most popular caves in New York and since it is an easy destination to reach, expect to see tourists around. I didn't find the trail overtly crowded but then again, I may have been lucky.
5. Natural Stone Bridges and Caves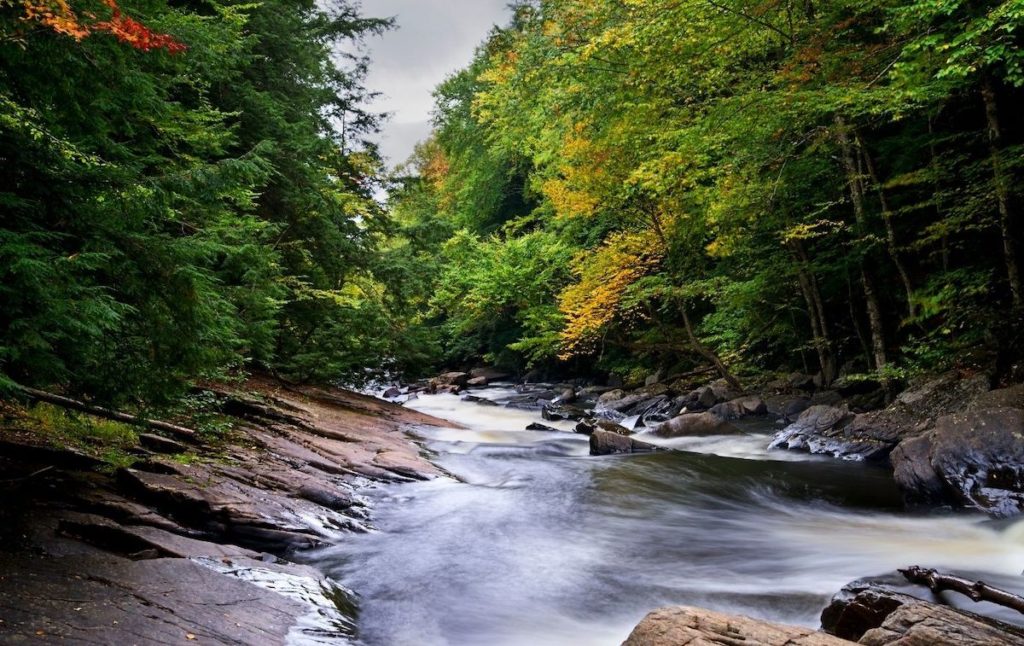 Situated in the Adirondack Mountains, just about a half-hour away from Lake George, are the Natural Stone Bridge and Caves.
They are easily some of the best caves in New York. Plus, before you reach the Natural Stone Caves, you'll see the Natural Stone Bridge. It's basically a natural marble arch that is ridiculously amazing.
Because for hundreds – if not thousands – of years, this arch has managed to seemingly defy gravity.
So, once you take an absurd number of pictures of the Natural Stone Bridge, you can continue onto the Natural Stone Caves.
And as the largest marble cave entrance in the eastern U.S., this is definitely a special attraction. It's actually still slowly but surely being carved out by Trout Brook, so it's getting slightly bigger every day!
You also have a few different options when it comes to exploring the Natural Stone Bridge and Caves. First, you can take a self-guided tour of the premises. But if you'd prefer to have a guide with you, you can book one of the guided tours, including the summer adventure tour or the winter weekend tour.
6. Clarksville Cave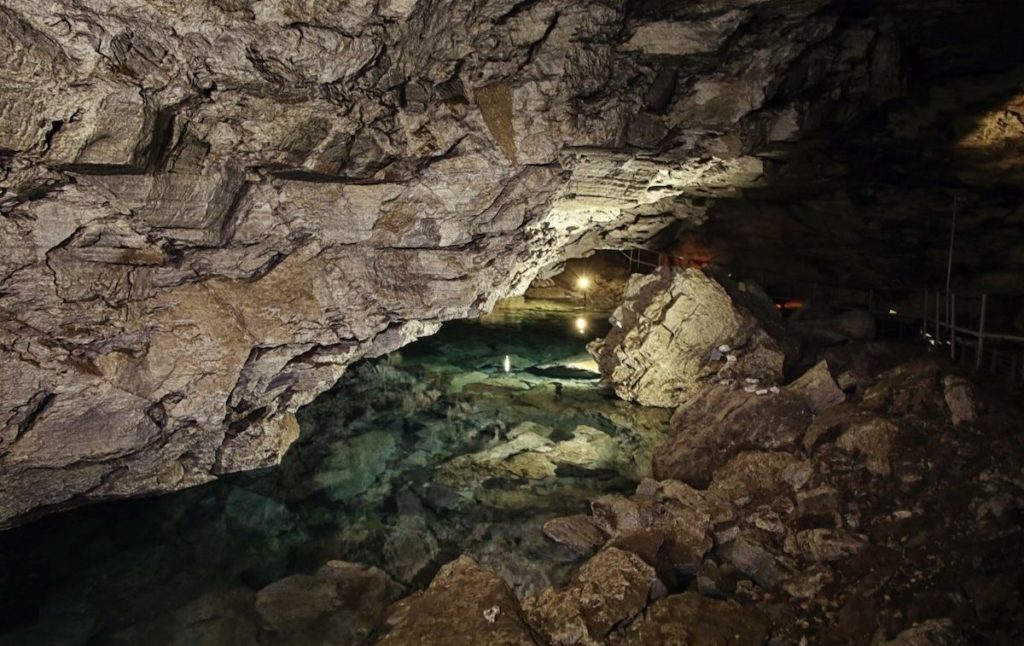 Located in the town of the same name, the Clarksville Cave is perfect for hardcore adventurers. After all, with a length of 4,800 feet and three different entrances, there's definitely a lot of ground to cover.
So, as you make your way through the passages, you'll find yourself crawling and squeezing in between incredibly small spaces.
Therefore, keep an eye out for stalactites, stalagmites, and various other incredible cave features. It's also important to note that this cave is very much NOT for people who are claustrophobic. Therefore, do keep that in mind before visiting.
Eventually, these tight and narrow passageways open up into spaces with historic petroglyphs. Other areas open up into beautiful turquoise lakes.
As a matter of fact, experienced divers can actually scuba dive in these subterranean lakes. Doesn't that sound like an amazing, truly unique experience?
It's also important to note that Clarksville Cave enforces strict safety regulations. Therefore, every visitor must travel in at least a group of three and wear a helmet, knee pads, and have three different sources of light.
7. Cave of the Winds
Niagara falls is on almost everyone's bucket list. But did you know that there is a gorgeous cave that you can explore just near the falls? Well, near the falls is an understatement. The Cave of winds is located behind the Bridal falls.
In fact, it was originally named after the Greek God of wind aka Aeolus, this cave is quite a popular attraction. Don't worry about hiking and the likes. The cave is easy to visitr. An elevator will take you down to the cave level and there are a series of platforms that allow you to view the cave. The decks are removed however in winter.
Visiting the caves as part of a tour can take about 4-5 hours so come prepared. The tours are well worth it because it is a very immersive experience. Usually you would be provided with a raincoat by the tour company. I would suggest wearing appropriate footwear though since the area is really wet and you don't want to go back with soaking socks.
Note that some tours also include a visit to the Canadian side of the falls. You would need to carry your passport along with you but make sure that it is well protected.
8. Ella Armstrong Cave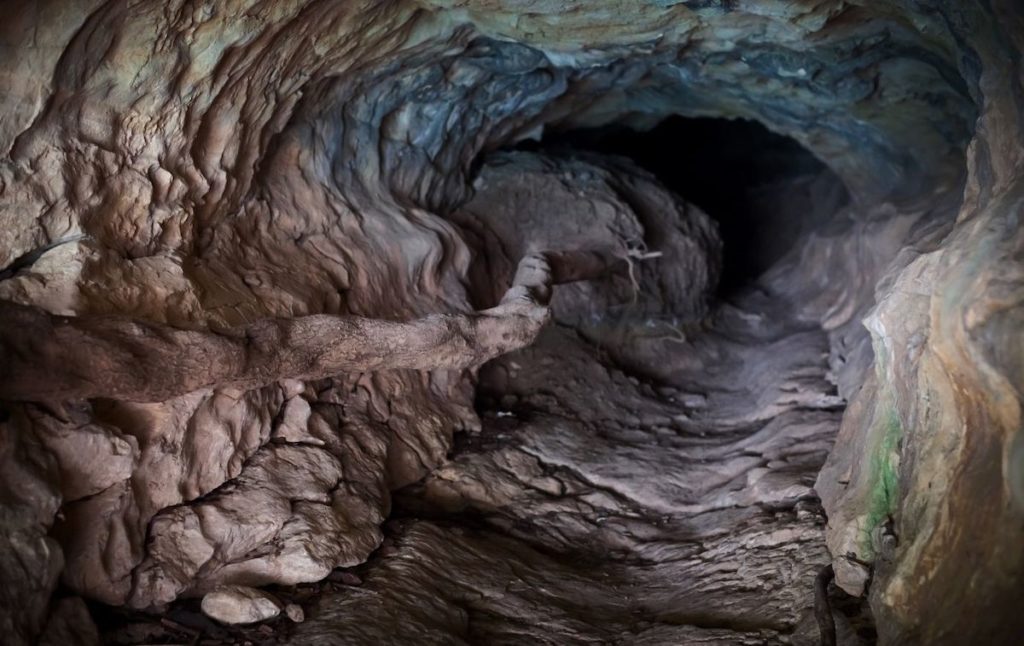 The Ella Armstrong Cave is one of the most difficult caves in New York to explore. But before I get into the ins and outs of exploring this natural wonder, let's talk about its fantastic history.
Ella Armstrong was a famous cave explorer in the 1800s. As you can imagine, there weren't many female cave explorers at that point in time. But, Ella didn't let that stop her.
And her efforts paid off in 1879 when Ella discovered the entrance to what is now known as the Ella Armstrong Cave. She then carved her name into the cave, so that everyone would know of her amazing discovery.
Today, you can retrace this famous explorer's footsteps by descending into the cave's entrance via a 23-foot drop. And once you reach the base of the entrance, you'll be able to see Ella's now 150-year-old inscription here! From there, you'll have loads of cavernous space to explore!
Also, it's important to note that the Ella Armstrong Cave does close on occasion to protect hibernating bats that sometimes make their home inside one of the best caves in New York.
9. Knox Cave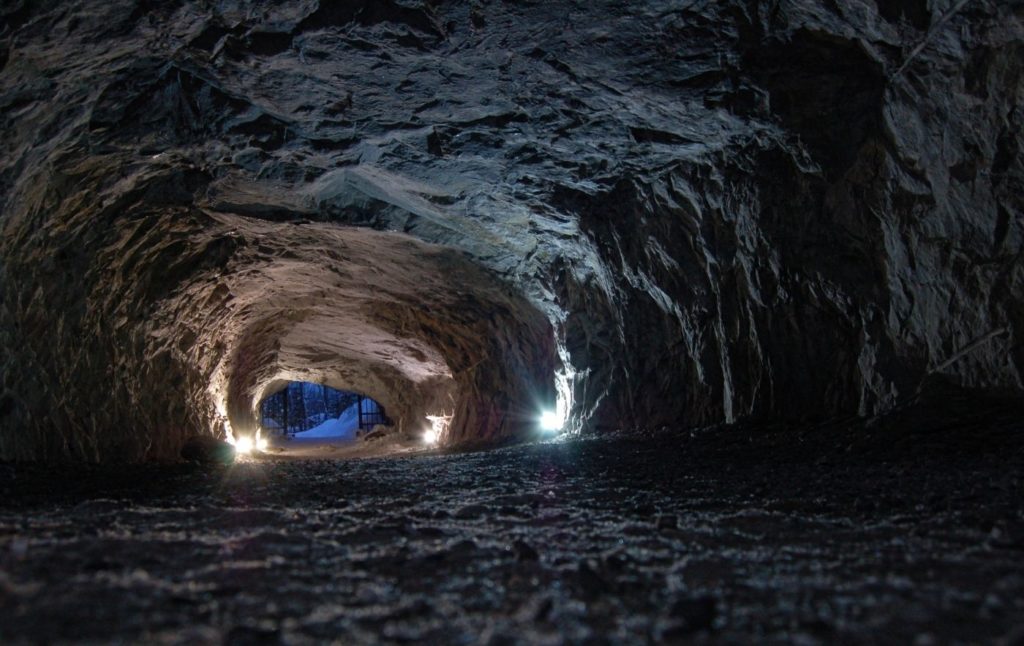 Not far from Ella Armstrong Cave is Knox Cave. Therefore, you could easily visit two of the best caves in New York in a single day.
Plus, Knox Cave is actually a set of two different caves that are known as Knox and Crossbones Cave. It's also important to note that neither of these caves is suitable for beginners.
First, though, let's talk about Knox Cave. It was first discovered in 1787 and is one of the oldest known caves in New York. It's also an ideal place for intermediate-level spelunkers to improve their caving skills.
Then, there's Crossbones Cave. As the name implies, this cave certainly isn't for the faint of heart. In fact, it's so difficult to access that Crossbones Cave wasn't discovered until the early 2000s. As a result, very few visitors have had the pleasure of experiencing this hidden gem.
This cave is also for advanced spelunkers only. So, you'll need advanced vertical training to even get permission to access Crossbones Cave.
And, like nearby Ella Armstrong Cave, Knox Cave sometimes closes to protect the bats that live there – something that usually happens between May and October.
10. Ellenville Fault Ice Caves at Sam's Point Preserve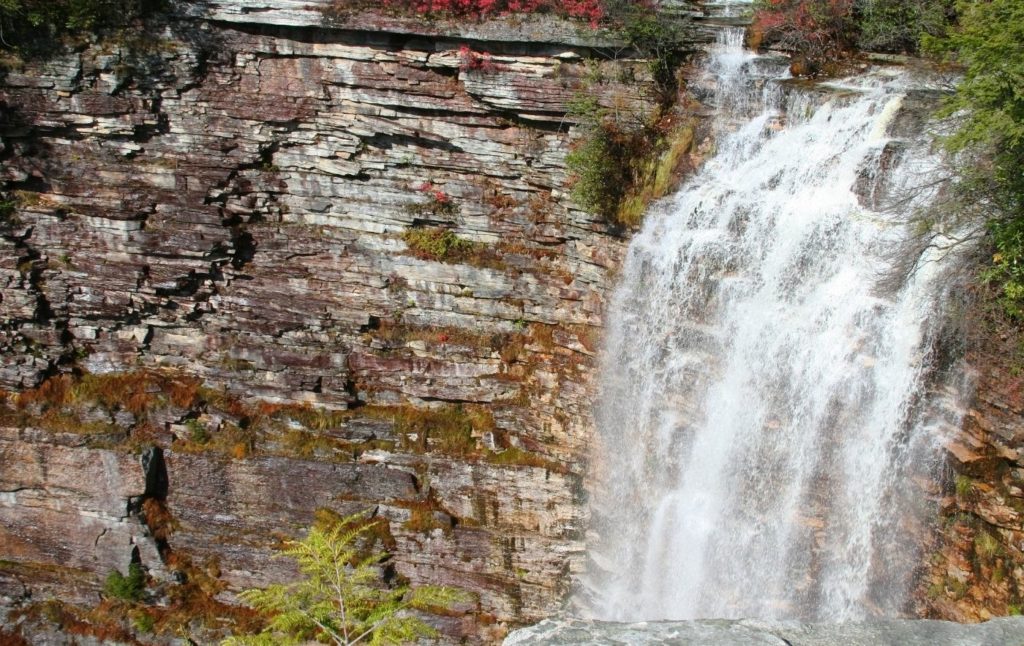 The Ellenville Fault Ice Caves at Sam's Point Preserve are arguably some of the coolest caves in New York.
Because as the name implies, these caves don't have walls of stone like the others on this list. Rather, they are filled with ice!
And if that weren't enough to convince you to make the trip, the Ellenville Fault Ice Caves are situated in the largest known exposed fault system in the entire country!
To understand how cool these New York Caves really are though, you need a bit of a science lesson.
Now, as I mentioned earlier, the Ellenville Fault Ice Caves are located on the Ellenville Fault, which is the largest fault of its kind in the U.S.
These faults – or fractures in the surface of the earth due to major rock movement – then create deep crevices that remain unexposed to the heat of the sun.
As a result, the Ellenville Fault Ice Caves retain their frozen temperatures all year long. In other words, even if you decide to visit during the summer, you'll still be able to see this one-of-a-kind cave in New York.
Since these caves remain frozen throughout the year, they have a very unique – and very cold – microclimate.
This means that there's a unique set of plants that live inside these caves and that can't be found anywhere else in the area, including dwarf pitch pines, hemlocks, mountain ashes, and black spruces – species that are typically only found in frigid alpine regions.
Pretty cool, right? Now, to reach this unique cave system yourself, you'll have to hike four miles round-trip to the Sam's Point Overlook and to the Ice Cave Trail.
For safety purposes though, this is one of the best hikes in the Catskills that closes between late fall and early spring (the Ice Trail, not the entire hike to Sam's Point).
11. Caves of Sellecks Karst Preserve
The series of four caves at Sellecks Karst Preserve in Carlisle, New York all have something different to offer.
First, there's Selleck's Cave, which is the largest of the four. This cave has over 1,000 feet of subterranean paths for you to explore. But, in order for you to reach this subterranean area, you'll need to tackle a 20-foot drop first.
Then there's Levys Cave, which is known for a small stream that flows through it. Next, there's Cave 575 which is arguably the coolest one. It is filled with dozens of fossils that are from hundreds of years ago!
And last but certainly not least, there's the Natural Bridge Cave (which is different from the Natural Stone Bridge and Caves mentioned above).
This cave is more of a natural limestone arch than a cave, but it's certainly a cool sight to see. So, between all four of the best caves in New York mentioned above, you can easily spend hours at Selleck's Karst Preserve.
Oh, and while you're here, be sure to keep an eye out for the hidden underground waterfall!
12. Onesquethaw Cave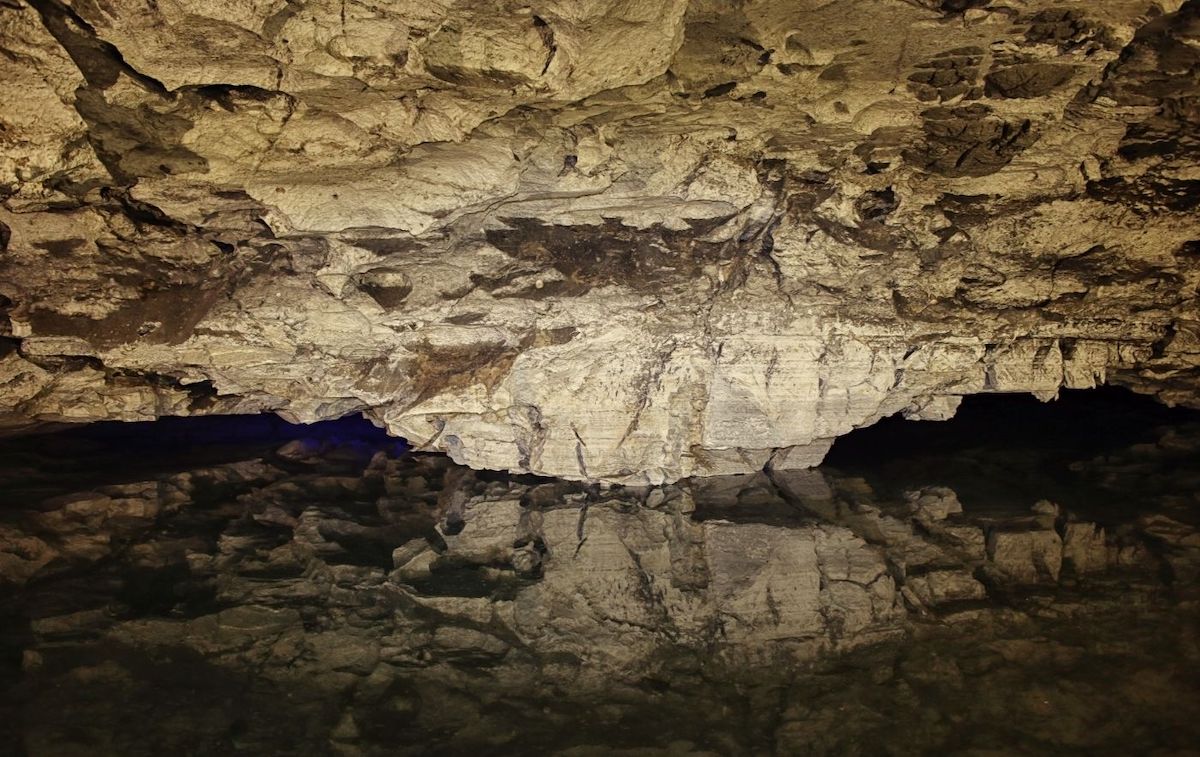 If you're looking for one of the most under-the-radar caves in New York, you'll definitely want to check out Onesquethaw Cave.
And part of the reason why Onesquethaw Cave is under-visited is that it's so hard to find! S
See, it's situated in the little town of Voorheesville, New York and you'll probably need the help of a local or a spelunking aficionado to give you more specific directions.
But, if you do happen to make it to Onesquethaw Cave, congratulations! You've already accomplished something that most people haven't been able to do.
As a reward, you can explore a one-mile-long mapped passageway – an area so long that it's believed to be the second-longest cave in the county. That's also a lot of subterranean ground for you to cover here too!
However, after significant rainfall, Onesquethaw Cave may flood. Consequently, the cave will be closed during heavy rain and when there are predictions of heavy rain.
13. Caves at Bentleys Cave Preserve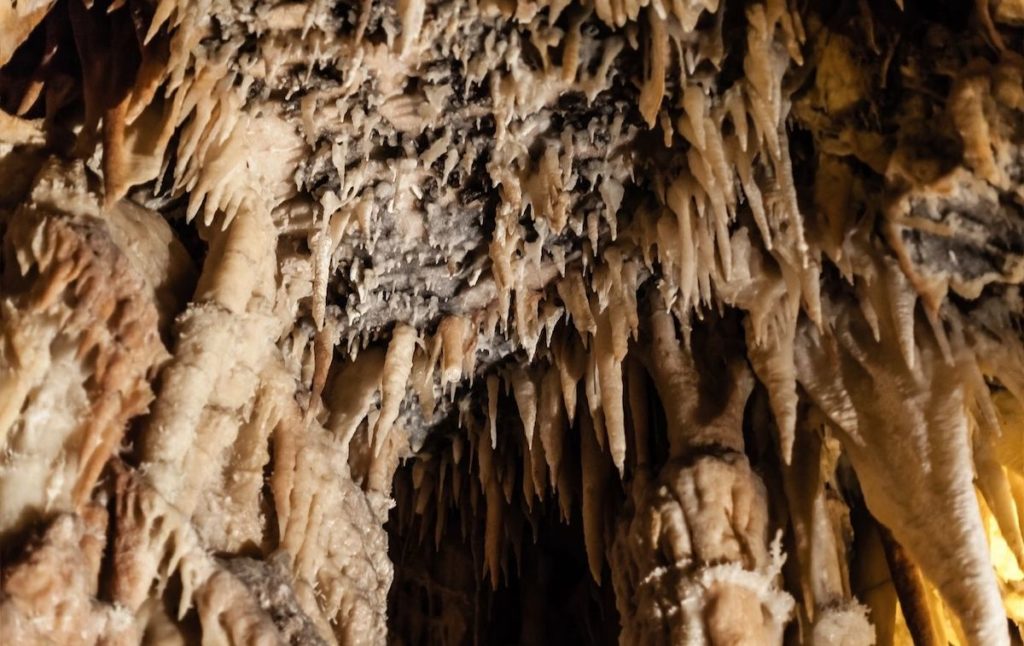 Situated on a five-acre property in the small town of Berlin, New York, Bentley's Cave Preserve is home to a pair of lovely caves.
But the small size of this property hides the enormous cave system down below. As a matter of fact, given the unassuming nature of these caves, they were actually used as an illegal gambling hideout once upon a time.
Now, the larger of the two caves at Bentley's Cave Preserve is Bentley's Cavern. This cave boasts over 1,000 feet of subterranean tunnels for you to explore, both by walking and crawling. There's even a quiet stream flowing through the cave, making it slightly larger every day.
However, once you get through the tight, wet crawl section of Bentley's Cavern, the walls open up to reveal a large cavern with loads of cool chambers.
From here, you can experience the second cave, known as the Dry Valley Cave. This smaller cave wasn't discovered until 1991 and is a fantastic place that is just waiting to be explored.
Caves In New York FAQ
Does New York Have Caves?
Not only does New York have caves, some of them are pretty spectacular. Secret Cavern for example even has an underground waterfall. How cool is that? Howe Caverns on the other hand is a limestone cave network that wows everyone who visits!
What Is The Biggest Cave In New York?
Howe Caverns is the biggest cave in New York. Would you believe that it is also the second most visited natural attraction in the state? I'm not kidding! Every year about 200,000 people visit these caves to gaze at this gorgeous natural wonder.
What Is The Deepest Cave In New York?
Here again, Howe caverns tops the list as the deepest cave in New York.
Are There Catacombs In New York?
Yes! New York has its own catacombs. Old St. Patrick's Cathedral catacombs is home to the mortal remains of nine Archbishops of New York. It is also the resting place for other notable Catholics from the area.
What Is The Largest Cave In the USA?
While the Howe Caverns is large, it isn't the largest cave system in the USA. This title is held by Mammoth cave in Kentucky. The cave system expands out over 400 miles!
Map of the Best Caves in New York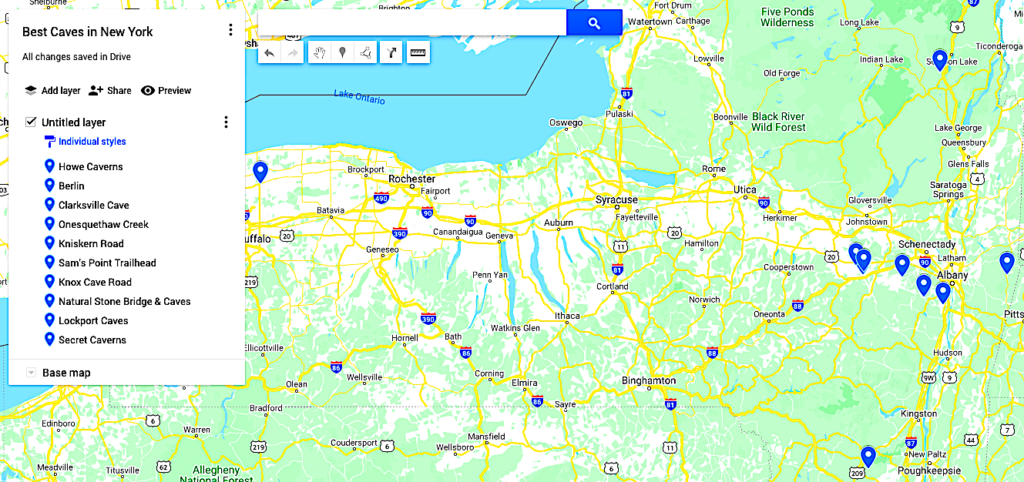 Additional New York Travel Resources You'll Love
There you have it! That just about wraps up this epic guide to all. of the best caves in New York!
Tell me, did your favorite caves in New York make the list? If not then let me know in the comments below.
And if you found this post useful, be sure to join our email list before pinning this post now so that you can read it again later!